8 Audio Accessories On Sale for Labor Day
Music and podcasts are likely a part of your everyday routine, and you can make them all more enjoyable with these deals on high-quality sound gear that'll fit your lifestyle without busting your budget. To get the Labor Day sale prices on each item, just enter the promo code GOFORIT15 at checkout through September 7.
1. 1voice Bluetooth 100 Percent Wireless Earbuds; $28 (with code GOFORIT15)
These wireless earbuds utilize Bluetooth connectivity for convenient mobility and feature an ergonomic design that will fit comfortably in your ear without slipping.
Buy it: The Mental Floss Shop
2. Altec Lansing Alt-500 Turntable; $64 (with code GOFORIT15)
The best of the past and present are available together in this modern turntable. The three-speed system brings you music like a typical record player, but with the added convenience of Bluetooth connectivity, allowing you to pair the turntable with your own speakers.
Buy it: The Mental Floss Shop
3. Aunu Audio M50 True Wireless Headphones; $85 (with code GOFORIT15)
These headphones don't just play audio—they actually pair with an app to translate over 30 languages for you while you listen. They're water resistant, Bluetooth capable, ergonomically designed, and uniquely multilingual.
Buy it: The Mental Floss Shop
4. Humbird Bone-Conducting Speaker; $23 (with code GOFORIT15)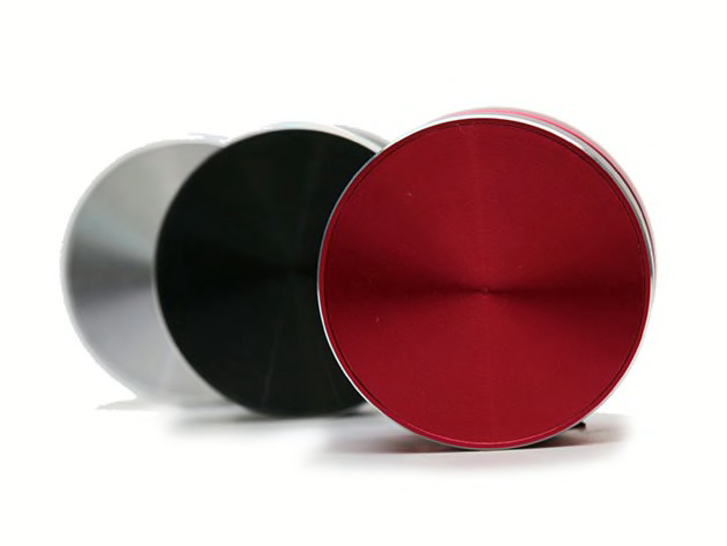 This speaker uses bone conduction technology to leverage the materials you set it on for optimal listening. It's able to amplify sound up to five times louder than your phone speaker when placed on hollow surfaces, so different desks and tables in your home will provide different results. You can pair this speaker to your phone's audio and experiment with the perfect listening location.
Buy it: The Mental Floss Shop
5. Rokblok: The World's Smallest Wireless Record Player; $76 (with code GOFORIT15)
You've probably seen modern record players come in all sorts of unique shapes and sizes, but chances are, none are as tiny as this one. Simply set the 4-inch RokBlok speaker down on your record of choice and it will begin playing it. If you want better sound, pair it with a Bluetooth speaker for a fuller experience.
Buy it: The Mental Floss Shop
6. Freshetech Splash Tunes Bluetooth Shower Speaker (Blue); $17 (with code GOFORIT15)
Stick this Bluetooth-enabled suction-cupped speaker right onto your shower door and sing along to your favorite tunes to unwind after a rough week.
Buy it: The Mental Floss Shop
7. Treblab X5 True Wireless Bluetooth Earbuds; $51 (with code GOFORIT15)
Whether you're working out, running errands, or tackling some yard work, you'll need headphones with wireless mobility if you want to bring some music along with you. These buds are designed to reduce outside noise for clear and crisp audio while listening to your favorite album or during a hands-free call.
Buy it: The Mental Floss Shop
8. Versafit Wireless Sport Headphones (Covert Gray); $85 (with code GOFORIT15)
If you're nervous about losing or breaking your tiny earbuds, this wireless set will hook securely around your ears to put your mind at ease. The memory wire hooks are sweat-proof and ready for action with 13 hours of battery life.
Buy it: The Mental Floss Shop
Prices subject to change.
This article contains affiliate links to products selected by our editors. Mental Floss may receive a commission for purchases made through these links. If you haven't received your voucher or have a question about your order, contact the Mental Floss shop here.