Get an Extra 15 Percent Off an Air Fryer, Mattress, and More During This Post-Labor Day Sale
Another Labor Day may be in the books, but you can still take advantage of some great deals on mattresses, air fryers, and more by using the code MFSAVE15. The code, which expires on September 9, can save you an extra 15 percent on the products below.
1. Yaasa One Mattress; $467 (with code MFSAVE15)
This mattress features cooling infinity foam that provides both contoured and cozy support with an emphasis on breathability, meaning you won't overheat as easily in the middle of the night. And due to the Yaasa's unique design, it can be used on top of any surface without needing a box spring.
Buy it: The Mental Floss Shop
2. Paula Deen 9.5-Quart Family-Sized Air Fryer; $119 (with code MFSAVE15)
You've probably heard the hype around air fryers, and now you can try one out for yourself with this Paula Deen–endorsed model. The family-sized basket fries, bakes, roasts, and even reheats for up to 10 people. The nonstick ceramic coating makes it easier to clean following a meal, and there are cooking tips right on the oven itself, so you'll know the best temperature to set for French fries, meat, and pizza just by looking at the lid.
Buy it: The Mental Floss Shop
3. Gourmia Coffee Maker With Built-In Grinder; $85 (with code MFSAVE15)
Now that your daily trip to the local café next to your office has been disrupted, you've probably discovered all the ways your coffee at home just doesn't stack up. This Gourmia coffee maker is a top-notch alternative, designed to brew you that fresh, barista-quality cup of joe you've been missing. This model even features a built-in grinder, allowing you to experiment with different beans for the perfect pour.
Buy it: The Mental Floss Shop
4. 5-in-1 Air Purifier With HEPA Filter $93 (with code MFSAVE15)
This five-in-one air purifier can improve your home's air quality by capturing 99.97 percent of the dust and allergens that are lurking around every corner. The four built-in filters and negative ion generator work to capture and neutralize impurities like dust mites, smoke, pollen, pet hair, and viruses in the air.
Buy it: The Mental Floss Shop
5. Theorylamp Circular LED Light; $85 (with code MFSAVE15)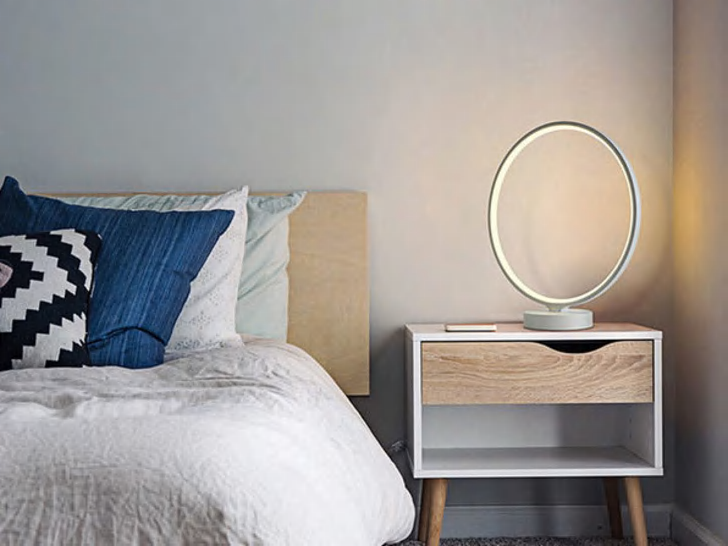 This modern LED lamp features seven different colors, six lighting modes, and four brightness levels, which adds up to more than 150 combinations to pick from. That means you can customize your lighting to fit virtually any mood you may be in with the push of a button.
Buy it: The Mental Floss Shop
6. Bibb Home Down Alternative Microfiber Comforter; $34 (with code MFSAVE15)
This hypoallergenic comforter is perfect for the person who wants to sleep in a cloud all four seasons of the year. It's filled with a polyester down alternative that's cozy in the winter and lightweight enough to still cover up with during the summer.
Buy it: The Mental Floss Shop
7. Sukasu Osami Japanese 3-Piece Chef's Knife Set; $34 (with code MFSAVE15)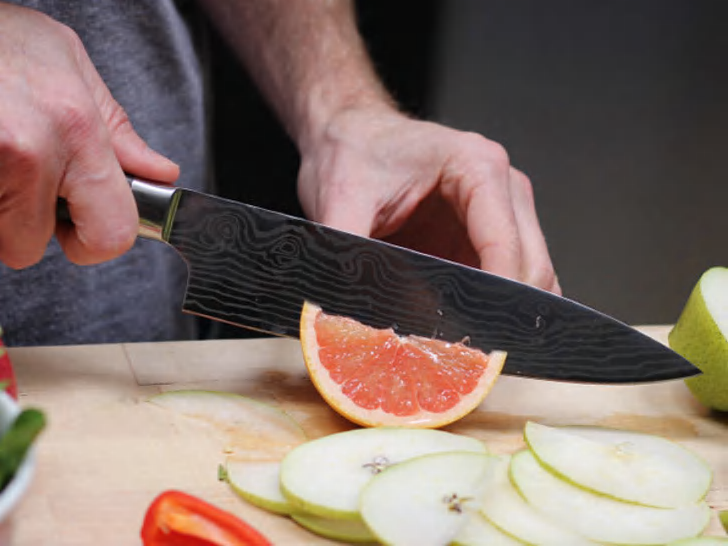 If you've watched shows like Top Chef for hours on end this summer, you've probably realized that your kitchen is seriously lacking in impressive tools for slicing and dicing. To fill out your collection on the cheap, opt for these Sukasu Osami knives, which have the grip and sharp blade any culinary professional would expect, at a price an aspiring chef will love.
Buy it: The Mental Floss Shop
8. Foot Vibe Deluxe Massaging Footrest; $127 (with code MFSAVE15)
Take a load off with this deluxe 20-speed foot massager to soothe your aching feet and calves. This thing gets in there like a human masseuse, with vibrations that reach toes and arches for a thorough rub. With nine massage settings to pick from, chances are you'll find the perfect one to relieve your foot woes.
Buy it: The Mental Floss Shop
9. Sleep Yoga Multi-Position Body Pillow and Cover; $51 (with code MFSAVE15)
This tri-section pillow can be placed into whatever position you need for improved lumbar support and posture. Side sleepers can place it in between their legs at night, and then prop it up against the couch the next day while they work from their laptop. It's all about custom comfort in a WFH world.
Buy it: The Mental Floss Shop
10. Bamboo Comfort 4-Piece Luxury Full Sheet Set; $25 (with code MFSAVE15)
Upgraded bedding is the ultimate symbol of adulting. This hypoallergenic microfiber and bamboo set will give you a cozy and cool night's sleep that will keep wrinkle-free and hold its color (the types of things adults care about).
Buy it: The Mental Floss Shop
Sale ends September 9, 2020. Prices subject to change.
This article contains affiliate links to products selected by our editors. Mental Floss may receive a commission for purchases made through these links. If you haven't received your voucher or have a question about your order, contact the Mental Floss shop here.