What Happened to Secretariat?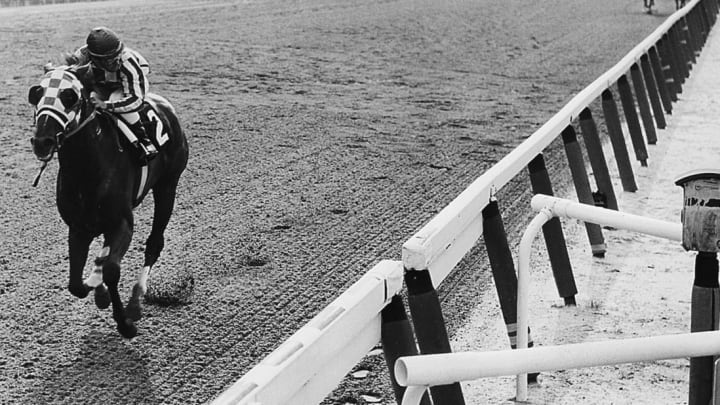 BOB COGLIANESE/MCT/Landov / BOB COGLIANESE/MCT/Landov
Secretariat is obviously one of the most celebrated equines in the history of horse racing.
He won the Triple Crown in 1973, setting records in all three of the races that comprise the series—the Kentucky Derby, the Preakness Stakes, and the Belmont Stakes. He was also the subject of a hit movie a few years ago, and, of course, enjoyed regular appearances on The Late Late Show with Craig Ferguson:
But a racehorse has a relatively short career, and a relatively long life—they can live up to 30 years. So what happened to Secretariat when his winner's circle days were over?
Well, for one thing, he spent a lot of time breeding. The owners of winning thoroughbreds can make big bucks this way. One of Secretariat's sons, Canadian Bound, was the first horse to sell for more than a million dollars, bringing in $1.5 million in 1976. Unfortunately, Canadian Bound didn't live up to the high expectations—in fact, none of the 600 horses Secretariat sired really did. The next generations have fared a bit better; the horse's great-granddaughter won the Belmont Stakes in 2007.
Though horses can live for three decades, sadly, Secretariat wasn't one of them. At the age of 19, the celebrated horse developed laminitis, an inflammation of the tissue that bonds the hoof to the bone. The condition is painful for the horse and extremely hard to treat. After a month of treatment did nothing to ease Secretariat's pain, the red stallion was euthanized on October 4, 1989. Buried at Claiborne Farm in Kentucky, the legend was given the honor of being buried whole, a rare occurrence for racehorses. Typically, the burial includes just the head, heart, and hooves.
By the way, according to owner Penny Chenery, the horse was named by her father's secretary, Elizabeth Ham. Ham suggested the name because she had formerly worked for an American diplomat at the United Nations in Geneva, which was home to the old League of Nations secretariat. The name was actually their sixth choice—the first five (Scepter, Royal Line, Something Special, Games of Chance, and Deo Volente) were already being used.