The Stories Behind 5 T-Shirt Brands You Wore in the '90s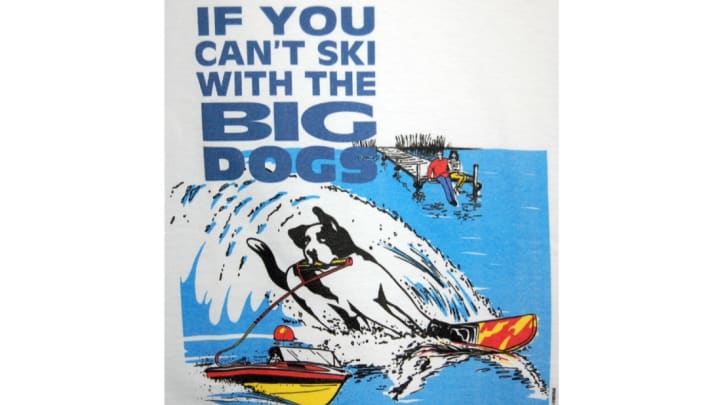 ebay / ebay
In the 1990s, there was nothing more important than being extreme and having a rude 'tude. It was a decade when people stopped being polite and started getting real, and everyone had the T-shirts to prove it. Here are the stories behind the companies that pumped out the raddest and baddest cotton tees.
1. Big Dogs
Big Dogs T-shirts are easy to spot thanks to the eponymous cartoon St. Bernard and in-your-face slogans like, "If You Can't Fish With The Big Dogs, Stay On The Dock," "Anger Management Classes…PISS ME OFF," and, "How's My Driving? Call 1-800-BITE-ME." When the Big Dog isn't railing against bad fishermen or bad drivers, he's boasting about his drinking problem ("When I Read About The Evils of Drinking, I Gave Up Reading!"), musing on the awesomeness of sexual intercourse ("People That Say 'It's Better Than SEX' Aren't Having The Right Kind of SEX!"), or talking politics ("When Did 'For The People By The People' Become 'Screw The People?!'").
According to its website, Big Dogs Sportswear "was conceived in 1983 by friends during a weekend river-rafting expedition." While corporate mythology should always be taken with a grain of salt—especially when it appears under a header marked "THE LEGEND"—the Big Dogs brand's origin story goes like so: "Before the adventurous group made its way down the choppy white waters, each was presented with a pair of oversized, vividly colored shorts. Everyone loved the shorts and one enthusiastic member exclaimed, 'Man, these puppies are BIG!'"
At its peak, there were 231 Big Dogs brick-and-mortar stores, each one full of 'tude-heavy tees, boxer shorts, and sweatshirts. The last of these stores closed in 2009, however, and in a letter to customers (complete with a "From The Desk Of The Big Dog" image), CEO Andrew Feshbach wrote, "Over the past 10 years, it became increasingly difficult to maintain a viable company due to the massive competitive pressure from huge mall retailers like The Gap or the giants like Wal-Mart."
Big Dogs still exists online (the label itself is under The Walking Company umbrella), so you can pick up a "Big Dogs of the Caribbean" parody shirt from the comfort of your home.
2. No Fear
Launched in 1989 by twin brothers Mark and Brian Simo, No Fear quickly became one of the most popular sportswear companies in the country—and the most popular sportswear company so staunchly against being scared.
The Simo brothers were motocross racers and tree surgeons from Chicago who split their time between the Midwest and Florida. Surprised at the prevalence of Speedo-style bathing suits on Florida's beaches, the brothers (along with partner Jeff Theodosakis) decided to make an alternative: baggy surf shorts. According to the LA Times, they "sold their motocross bikes and bought sewing machines" and started Life's A Beach Surfwear out of their Chicago garage. They moved to Carlsbad, California in 1985 and teamed up with artist Mark "Boogaloo" Baagoe, who designed the company's "Bad Boy Club" logo.
Life's a Beach proved to be immensely popular, and the brothers started a new line: No Fear. "No Fear was our second company which was dubbed as dangerous sports gear," Baagoe, who designed that logo as well, recalls. "No Fear was all about dangerous sports goods: boxing, big wave riding, extreme fighting, mountain climbing, guys on skis killing big mountains, skaters, surfers hitting 100-foot waves, drag racers...that sort of stuff."
No Fear initially sponsored motocross teams, but soon branched out to other adventure sports. The brand became synonymous with the "X-treme" culture of the 1990s, and it posted hundreds of millions of dollars in profits during the middle of the decade.
While T-Shirts and logo-heavy clothing were the No Fear empire's bread and butter, they had their extreme fingers in many extreme pies—like when they lent their name to the 1995 Super Nintendo game Kyle Petty's No Fear Racing:
No Fear trademarked more than 50 slogans like "Fearless" and "So Cal," and the company was rather litigious and aggressive in defending its brand (check out this failed lawsuit against someone making "NO SPILLS, NO THRILLS" T-Shirts, and this letter to Senator Orrin Hatch supporting the Anti-Counterfeiting Act of 1995).
As the '90s gave way to the far less extreme aughts, No Fear refused to go gentle into that good night. They opened outlet stores in 2000, partnered with Pepsi in 2004 to produce energy drinks, and launched an annual music tour in 2007. The extreme ride couldn't last forever though, and No Fear, Inc. filed for bankruptcy protection in 2011.
3. B.U.M. Equipment
Let's get this out of the way first: "B.U.M." doesn't stand for anything—it's an acronym in spirit only. B.U.M. Equipment's puff-printed logo first appeared on sweatshirts in 1986. Seattle clothing designer Derek Federman created the look in his garage and soon sold the brand to Chauvin International, Ltd., an L.A. manufacturing company owned by businessman Morty Forshpan. (Federman left in 1988 after disagreements over B.U.M.'s direction.)
In a 1993 L.A. Times profile, Forshpan—who wasn't a clothing designer by trade and "acknowledges he's never picked up a sketch pad"—attributed the label's success in the early '90s to celebrities like Wayne Gretzky and Jason Priestley, who wore the simple athletic gear in public (the article is unclear about whether or not they were getting paid). "The customer can identify with these people," Forshpan told the L.A. Times reporter while showing him "a Billy Ray Cyrus concert program featuring the singer in a B.U.M. sweat shirt."
B.U.M.'s sales were estimated to be around $300 million in 1994, but its growth was not sustainable and the company began losing money. In 1995, B.U.M. was named in a lawsuit filed by 68 Thai garment workers who "toiled in alleged prison-like conditions" in El Monte, California before being freed by federal authorities.
B.U.M. Equipment filed for bankruptcy in 1996.
4. Big Johnson
For fans of penis puns and buxom cartoon women, Big Johnson T-shirts must have represented a cultural apex. The shirts, which flew off shelves at boardwalk stores across the country, featured E. Normus Johnson, a bespectacled pervert who maintained various small businesses with slogans that weren't exactly Oscar Wilde-ian in their wordplay:
-Big Johnson's Bar & Casino: Liquor Up Front, Poker in the Rear
-Big Johnson Landscaping: Call Us When It's Time to Trim a Little Bush
-Big Johnson Contractors: We Don't Stop Until You Get Drilled, Nailed and Hammered
Big Johnson is a subsidiary of Maryland Screen Printers, a company started in the late '80s by Garrett Pfeifer and his brother Craig. After the 26-year-old Pfiefer quit his job as a tax attorney, he and his brother sold bootleg T-shirts at football games to make a quick buck. Encouraged by the small venture's profitability, they decided to take it full-time.
According to Baltimore City Paper, Big Johnson didn't come into play until a local DJ named Batman "brought the two brothers a breast-happy T-shirt design that had been drawn by a...frustrated ex-history teacher named Al Via."
Via was hired full-time, and he started cranking out bawdy designs for the brothers. According to Pfeifer, Al's strength was the ability to "create a complicated scene on a T-shirt—some of them have 40 or 50 people—and make it feel organized and readable." That, and the penis puns. Via came up with the first official Big Johnson shirt in 1989 and it was an immediate hit in stores in Baltimore's Inner Harbor. The brand's popularity peaked in the mid-'90s, and Inc. Magazine named Maryland Screen Printers one of America's fastest growing companies in 1993 and 1994.
All this popularity didn't come without its share of controversy. Big Johnson tees were banned at Walt Disney World Resorts because of their lewd designs. In 1995, E. Normus Johnson was caught up in a legal fight when a man was ordered to remove Big Johnson T-shirts from his store, which was located inside the National Fire Academy in Emmitsburg, Maryland. According to the Baltimore Sun, the shirts featured "sexual innuendoes about firefighters and women...[and] prompted complaints from women who were training at the fire academy." The store's owner filed a federal lawsuit claiming his First Amendment rights were being violated, but dropped the suit when he was offered more retail space in the building (he still wasn't allowed to sell the shirts).
Big Johnson still exists, albeit in a much smaller capacity. Maryland Screen Printers' focus today is primarily on blander designs for clients like Major League Baseball. No penis puns there, although we're sure it's pretty tempting.
5. AND1
"The revolution began on the streets of Philly in 1993," an old version of the AND1 website boasted. In reality, it started as a project at the University of Pennsylvania's Wharton School of Business. Grad student Seth Berger and a group of friends developed a brand that was all about basketball—and only basketball—and they intended to use streetball culture as a way to slip into the market.
"We want to be the number-one basketball company in the world," Berger told the Philadelphia Inquirer in 1996. He actually came close—at its peak in the mid-'90s, AND1 managed to become the second biggest basketball brand (in terms of market share) in the U.S.
Signing much-hyped teenager Stephon Marbury and controversial all-star Latrell Sprewell (right after he choked his coach) to wear AND1 shoes helped the company's popularity, but the brand initially made its name via T-shirts. These featured a "faceless and raceless" character known only as "The Player," who, according to AND1, was "an icon" who "made it okay to talk trash as long as you could back it up." The tees had slogans like "I saw a picture of your game on a milk carton'' and "Your game's as ugly as your girl," and each one was an attempt to crystallize AND1's streetball persona (which, it's worth reminding ourselves here, was invented by Wharton grad students).
The company branched out to video games and "AND1 Mixtape" streetball tournaments, but it lost a third of its value by 2005, when Berger ultimately sold AND1 to American Sporting Goods. The brand survives, but their T-shirts are far more subdued today, meaning you better hit ebay if you want to insult a hypothetical opponent with your clothing.