Hate Brown Apple Slices? Use This Simple Trick to Keep Them Fresh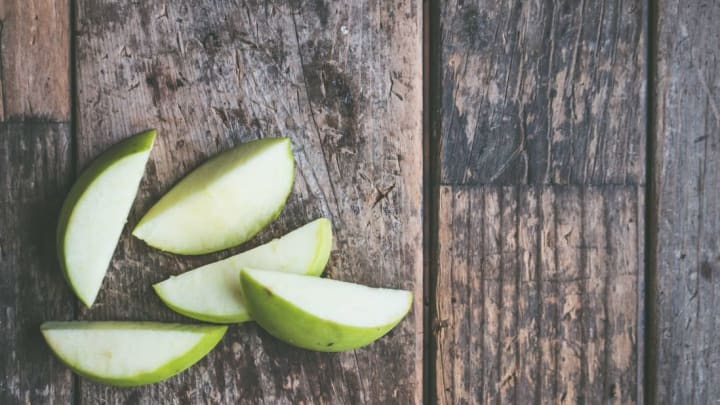 Jessica Lewis, Unsplash / Jessica Lewis, Unsplash
Though they're perfectly safe to eat, brown apple slices aren't the most appealing-looking snack. If you love sliced apples but can't stand that fading color, eating them faster isn't your only option. All you need is a bowl of water and a bit of salt to keep your apples looking and tasting fresh and crisp long after you cut into them.
This trick for keeping apple slices from browning comes from Reader's Digest. Before picking up your knife, prepare a bowl of cold water. Stir in roughly half a teaspoon of salt for every cup of water and set the bowl aside until your apple slices are ready. Soak the slices for 10 minutes, drain them, and rinse them off to get rid of any excess salt. You can eat your apples right away or store them in a plastic bag or container for later. Either way, they should keep their appetizing white color for longer than they would without the saltwater soak.
Discoloration on an apple slice doesn't mean it's gone bad. When the enzymes inside an apple are exposed to air, they produce benzoquinone and melanins in a process called oxidation. This chemical reaction is behind your apple's rapid browning. Salt inhibits these enzymes, which slow down the oxidation process.
The saltwater trick is great for keeping apples looking fresh, but it only works if they've been sliced. Here's a tip for stopping your whole apples from going bad after bringing them home from the grocery store (or picking them straight from the tree).
[h/t Reader's Digest]