6 Ways to Help People Affected by Texas's Cold Weather Crisis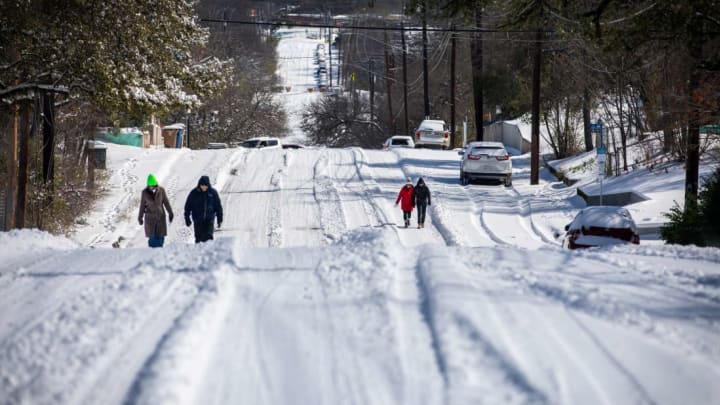 Austin, Texas, after winter storm Uri. / Montinique Monroe/Getty Images
This week's abnormally frigid weather and snow have made Texas's unhoused communities especially vulnerable, and mass power outages have left many others without heat, electricity, or water in their homes. While electric companies work to repair the damage, here are six ways to help organizations providing relief.
1. Austin Mutual Aid
Austin Mutual Aid is running a "Kick the Cold" fundraiser to provide water, hot meals, toiletries, and even hotel rooms for Austin residents in need. You can donate via GoFundMe here, and check their Facebook page for future updates.
2. Front Steps
Front Steps, a non-profit that fights homelessness in Austin, is hosting its annual blanket drive. You can choose a suitable blanket from Front Steps's list of retailer links and ship it right to the organization.
3. South Alamo Regional Alliance for the Homeless
South Alamo Regional Alliance for the Homeless (SARAH) is currently coordinating relief efforts across many shelters and warming centers in San Antonio and Bexar County. You can donate to the organization here. SARAH is also providing updates on what each shelter is offering (and what it needs) via Facebook, so it's a good place to look for smaller organizations to support, too.
4. San Antonio Food Bank
The San Antonio Food Bank is asking for volunteers to help with food distribution; if you live in or near San Antonio, you can volunteer here. If you're too far to volunteer your time, you can donate here.
5. OurCalling
OurCalling, which combats homelessness in Dallas, has worked around the clock over the last several days to convert the Kay Bailey Hutchison Convention Center into a temporary shelter. They're providing three square meals for visitors and hotel rooms for volunteers affected by power outages, so every donation helps. You can contribute here.
6. Funky Town Fridge
Funky Town Fridge is keeping community fridges stocked in the Fort Worth area, which is especially important since many shelters aren't offering food. You can donate money to the organization here, or you can ship items from the Amazon wish list (which also includes things like hand warmers, face masks, gloves, and utensils).