Vincent van Gogh's Rarely Seen Scène de rue à Montmartre to Be Put on Public Display for First Time Ever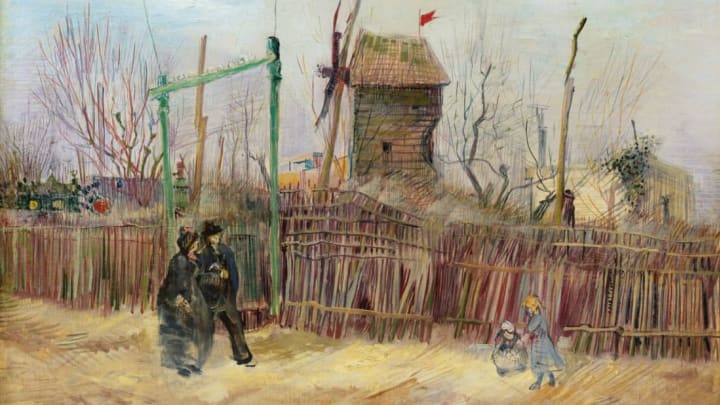 Scène de rue à Montmartre, painted by Vincent van Gogh in 1887. / Sotheby's
In early 1886, a near-penniless Vincent van Gogh left Belgium and moved in with his brother, Theo, in Montmartre, Paris. While there, he rubbed elbows with the Impressionists and other leading avant-garde artists of the era, who influenced his own painting style. So too did Montmartre—a spirited, social setting that called for much more color than the stark, work-worn communities that The Starry Night painter had depicted in the past.
During his two years living with Theo, van Gogh produced many paintings that featured Montmartre's inoperative windmills, which then played host to cabaret-goers and other leisure-seekers (an atmosphere familiar to anyone who's seen 2001's Moulin Rouge!). Most of these artworks have been seen in public by now, but one has remained in the private collection of a French family for about 100 years. Scène de rue à Montmartre, or Street Scene in Montmartre, was painted in spring 1887 and shows a couple and two children ambling past the entrance to the Pepper Mill.
Scène de rue à Montmartre, framed. / Sotheby's
Now, as Smithsonian magazine reports, the artwork is finally going on display for the first time in history. The exhibition won't last very long: the painting is in Amsterdam until March 3, after which it'll travel to Hong Kong for a few days before returning to Paris for two more viewings. Then, on March 25, Sotheby's and Paris-based auction house Mirabaud Mercier will put it up for auction—where it's estimated to fetch somewhere between $6 million and $9.7 million.
"Very few paintings from van Gogh's Montmartre period remain in private hands, with most of the series now held in prestigious museum collections around the world," Aurélie Vandevoorde and Etienne Hellman, senior directors of Sotheby's Impressionist and Modern Art Department in France, said in a press release [PDF]. "The appearance on the market of a work of this caliber and from such an iconic series is undoubtedly a major event, and indeed opportunity, for both collectors of the artist and the art market more widely."
[h/t Smithsonian]