Make the Most of Your Food Scraps With IKEA's Free New Cookbook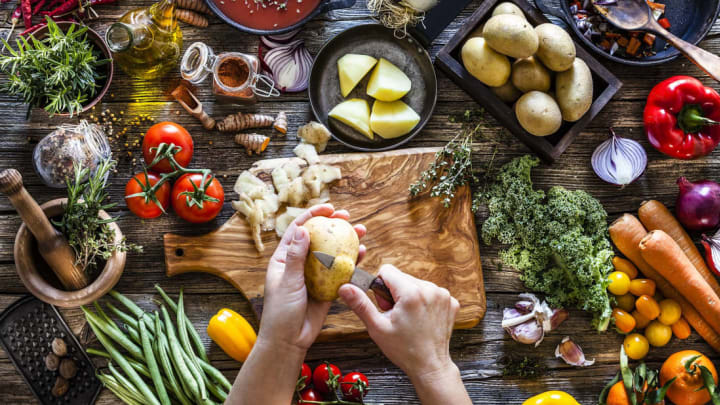 Those potato peels are ready for a glow-up. / fcafotodigital/iStock via Getty Images
Even if you dutifully compost your food scraps, it can still feel wasteful to throw out a whole bin of technically edible content. IKEA is here to help you figure out some tasty ways to eat it.
As House Beautiful reports, the Canadian branch of the Swedish retailer recently released the ScrapsBook, a free digital cookbook with 50 recipes for all your culinary odds and ends. It's available to download on Apple Books and Google Play, or you can access it directly as a PDF. The recipes were created by professional chefs across North America, so this version of "scrapcooking" is a little more sophisticated than tossing everything into a casserole dish and crossing your fingers.
"Scrapcooking is about finding the beautiful possibilities in that banana peel, radish top, or even the chicken bones you're about to toss," the intro reads. Yes, you can eat a banana peel—and there are multiple ways to make it appetizing. You could, for example, make "Banana Peel Bacon & Wild Rice Pancakes," or "Banana Peel Chutney on Shrimp." For dessert, try "Chocolate & Banana Peel Cake."
It's not all about banana peels. There are several options for giving your stale bread a new lease on life, from "Not-So-Stale Bread Pudding" to "French Press Toast" (which also calls for used coffee grounds). And wilted greens don't look so downtrodden if you mix them into "Forgotten Vegetable Stew" or "Crumb-y Green Lasagna." The ScrapsBook can even help you empty your drawer of takeout sauce packets—though you probably won't like "Sauce Packet Meatloaf" unless you like regular meatloaf.
[h/t House Beautiful]