The 15 Best Nature Documentaries, According to Fans and Critics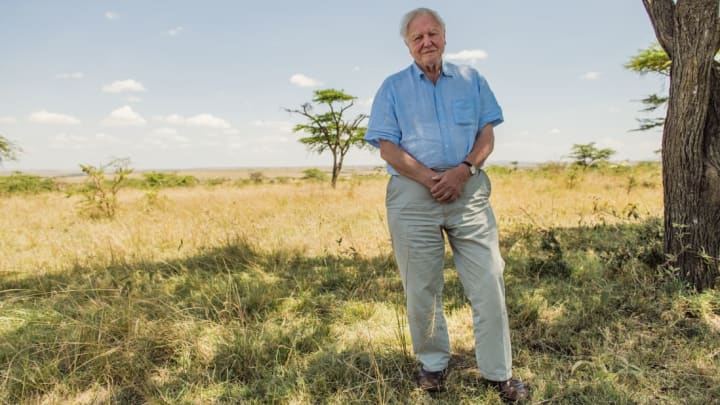 Sir David Attenborough pictured in the Maasai Mara, Kenya, in David Attenborough: A Life on Our Planet (2020). / Netflix
Whether you like to watch content that's dramatic, informative, or filled with gorgeous imagery, there's a nature documentary out there for you. With so many films streaming on various platforms, the issue is less about finding something to watch than deciding on a title. If you're looking for an engaging nature documentary to dive into, these are your best options.
The online marketplace OnBuy.com compiled this list of the top 15 nature documentaries using data from IMDb and Rotten Tomatoes. Based on ratings from both sites, the 2020 Netflix documentary David Attenborough: A Life on Our Planet is the best-received nature documentary of the last decade. It received an average score of 9.3 out of 10 from fans and critics.
Our Planet, a 2019 series narrated by David Attenborough that's also on Netflix, ranks second at 9.2 out of 10. Other documentaries on the list include the 2017 BBC series Blue Planet II, 2020's Oscar-nominated My Octopus Teacher, and the 2021 Netflix hit Seaspiracy. Documentaries like Our Planet and Blue Planet II provide a sumptuous escape to some of the world's most stunning environments. If you're looking for something with higher stakes, Seaspiracy examines the alarming ways human industries impact our oceans (though its simplified approach to science has been criticized). You can read the full ranking below.
There's no shortage of great documentaries available to stream online. Here are some of the best documentaries streaming on platforms like Hulu, Netflix, and more.
David Attenborough: A Life on Our Planet (2020)
Our Planet (2019)
Africa (2013)
Kiss the Ground (2020)
Blue Planet II (2017)
My Octopus Teacher (2020)
Virunga (2014)
Seaspiracy (2021)
Cowspiracy: The Sustainability Secret (2014)
Chasing Coral (2017)
Racing Extinction (2015)
Mission Blue (2014)
A Plastic Ocean (2016)
Before the Flood (2016)
The Ivory Game (2016)