The 10 Most Photographed Gardens Around the World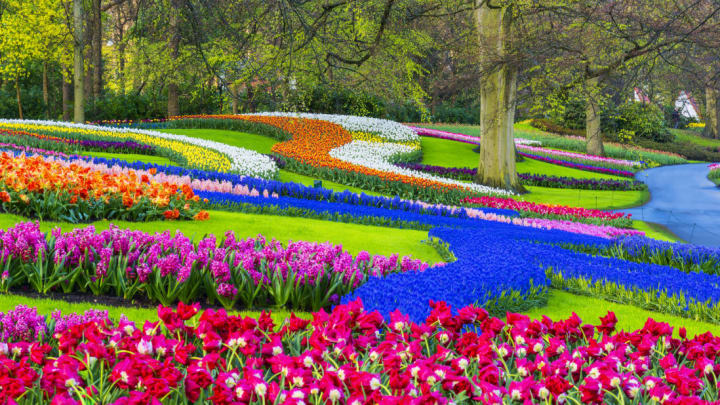 Keukenhof in Lisse, Netherlands. / JacobH/iStock via Getty Images
'Tis the season to take your allergy medicine and then go admire a world abloom with technicolor petals and lush foliage. In many cases, the most beautiful garden is the nearest garden, be it your neighbor's backyard patch or a well-tended plot at the city park.
On a global scale, however, it's hard to beat Singapore's Gardens by the Bay. According to UK-based retailer Roofing Megastore, that collection of gardens surrounding Marina Bay is the most photographed horticultural locale in the whole world. Basically, researchers came up with a list of 30 especially notable gardens and ranked them based on how many times their names had been hashtagged on Instagram. The study doesn't, of course, account for all the vacation pictures languishing on forgotten flash drives, but it does give you a feel for which gardens are so photogenic that visitors can't pass up an opportunity to post about them.
Also in that camp are the gardens at France's Palace of Versailles, a gleaming and meticulously landscaped relic of Louis XIV's commitment to extravagance. It's not the only French garden that made the top 10: Claude Monet's water lily garden in Giverny (cultivated against the wishes of Giverny's other residents), came in seventh place. And no list of stunning gardens would be complete without at least one entry that boasts cherry blossoms. On this list, it's Tokyo's Shinjuku Gyoen, a sprawling public park with more than 1000 cherry trees.
If you're looking to channel the atmosphere of any destination below at home, Roofing Megastore has specified the color palette for each garden to help guide your landscaping decisions. You can find additional details and planting advice here.
1. Gardens by the Bay // Central Region, Singapore
Roofing Megastore
The structures in the Supertree Grove reach as high as 164 feet and light up at night.
2. Majorelle Garden // Marrakech, Morocco
Roofing Megastore
French painter Jacques Majorelle founded the garden in the 1920s, and fashion designer Yves Saint Laurent and his partner Pierre Bergé bought the estate in 1980.
3. Shinjuku Gyoen National Garden // Tokyo, Japan
Roofing Megastore
Shinjuku Gyoen is just as lovely when the leaves begin to fall in the autumn.
4. Gardens of Versailles // Versailles, France
Roofing Megastore
You can eat cake here.
5. Keukenhof // Lisse, Netherlands
Roofing Megastore
Keukenhof literally translates to "kitchen garden," so if you call it "Keukenhof Garden," you're really calling it "kitchen garden garden."
6. New York Botanical Garden // New York, United States
Roofing Megastore
The New York Botanical Garden was founded in the late 19th century, after two botanists visited London's Kew Gardens and decided New York should have something comparable.
7. Claude Monet's Garden // Giverny, France
Roofing Megastore
Giverny residents were worried Monet would introduce invasive species that would interfere with the area's plant life.
8. Kew Gardens // London, England
Roofing Megastore
Kew Gardens boast more than 50,000 living plants.
9. Nong Nooch Tropical Botanical Garden // Chonburi Province, Thailand
Roofing Megastore
Nong Nooch's gardens each have their own theme, and there are also performances to catch before or after your stroll.
10. Bodnant Garden // Colwyn Bay, Wales
Roofing Megastore
In the late 19th century, the first magnolia trees in Britain were grown in Bodnant Garden.