BOOKS
11 True Crime Books to Add to Your Collection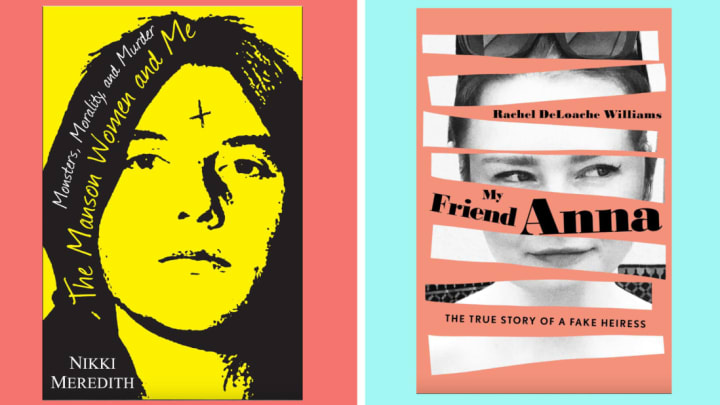 Citadel/Gallery Books/Amazon / Citadel/Gallery Books/Amazon
This article contains affiliate links to products selected by our editors. Mental Floss may receive a commission for purchases made through these links.
From documentaries and YouTube videos to memoirs and case files, audiences have been obsessed with true crime content for decades. And no matter how much macabre material is out there, people still can't get enough. So, whether you're a seasoned true crime reader or just getting into the genre, here are 11 novels you need to add to your collection.
1. Helter Skelter: The Shocking Story of the Manson Murders // Vincent Bugliosi; $14
W.W. Norton & Company/Amazon
Author Vincent Bugliosi recounts the harrowing tales of the infamous Manson Family murders in this classic of the genre. Chances are that you already know the story: In August 1969, pregnant actress Sharon Tate and her house guests were murdered by the Manson Family cult in one of the grisliest crimes of the decade. Bugliosi was the prosecuting attorney in the ensuing trial, and in Helter Skelter, he digs deep into Charles Manson's life and how the murders came to pass. Since this book was published in 1974, it's gone on to sell more than 7 million copies and is recognized as the best-selling true crime book of all time.
Buy it: Amazon
2. The Manson Women and Me: Monsters, Morality, and Murder // Nikki Meredith; $16
Citadel/Amazon
Going forward on the Manson train, here's another novel about the infamous cult that plagued the 1960s and 1970s. But this time, author Nikki Meredith focuses on the women of the Manson Family. Specifically, the most popular women in the cult, Leslie Van Houten and Patricia Krenwinkel. Meredith, a journalist and social worker, began a 20-year correspondence with the two women while they were in prison, gaining insight into their personalities and recalling how they fell into Manson's orbit. It jumps back and forth from the Manson women decades after the crimes, Meredith's childhood, interviews with the killers' families, and the morality behind it all.
Buy it: Amazon
3. Black Dahlia Avenger: A Genius for Murder: The True Story // Steve Hodel; $15
Arcade/Amazon
In 1947, a woman discovered the dismembered, drained body of 22-year-old actress Elizabeth Short, and more than 70 years later, the case—known as the Black Dahlia murder—remains unsolved and utterly fascinating. But author and former LAPD detective Steve Hodel claims that the police knew who did the deed ... and it might just be his own father.
Buy it: Amazon
4. My Dark Places // James Ellroy; $12
Knopf/Amazon
Legendary author James Ellroy starts this work of non-fiction by recounting the murder of his mother in 1958 and how authorities dismissed her as just another "casualty of a cheap Saturday night." Around 40 years later, Ellroy sought to find out the truth. This memoir is the perfect mix of true crime and redemption.
Buy it: Amazon
5. Lost Girls: An Unsolved American Mystery // Robert Kolker; $16
Harper Perennial/Amazon
Author Robert Kolker's haunting book sheds light on a string of missing person cases all involving women in the New York City area who were working as escorts on Craigslist. Though that alone might not have been enough to stir up much mainstream publicity, the discovery of four perfectly arranged corpses in a sleepy Long Island town certainly did. This story about the Long Island serial killer was also turned into a Netflix movie in 2020.
Buy it: Amazon
6. Who Killed These Girls?: The Unsolved Murders That Rocked a Texas Town // Beverly Lowry; $7
Knopf/Amazon
Beverly Lowry's Who Killed These Girls? deals with the mysterious and brutal murders of four young girls whose bodies were found in a yogurt shop in Austin, Texas, in December 1991. Two decades later, people are still working to figure out what happened that night. Lowry's book delves into the evidence behind the murders, an overturned verdict of two teenage suspects, and the modern attempts to solve this cold case.
Buy it: Amazon
7. A Daughter's Deadly Deception: The Jennifer Pan Story // Jeremy Grimaldi; $20
Dundurn/Amazon
This is one of those books any crime fan should have on their shelf, especially since the story isn't very well known. To people on the outside, Jennifer Pan was exceeding expectations in school and had a promising career ahead of her. But on one night in 2010, a group of people broke into her house and tried to kill her family. As with most of the stories on this list, though, the truth is never what it seems, and Jennifer's secret life was about to come into full view.
Buy it: Amazon
8. I'll Be Gone in the Dark: One Woman's Obsessive Search for the Golden State Killer // Michelle McNamara; $12
Harper Perennial/Amazon
Journalist Michelle McNamara spent years researching case files and interviewing key figures to create this modern classic of the genre. I'll Be Gone in the Dark is based on California's dreaded "Golden State Killer," who was responsible for at least 13 known murders, more than 50 rapes, and over 100 burglaries during the '70s and '80s. The book helped revitalize interest in the case, and new DNA evidence played a crucial role in bringing the killer, Joseph James DeAngelo, to justice in 2018 after decades of dead ends. Unfortunately, McNamara passed away before the book was released.
Buy it: Amazon
9. My Friend Anna: The True Story of a Fake Heiress // Rachel DeLoache Williams; $15
Gallery Books/Amazon
If blood and guts aren't your thing, here's a tale of deception that ranks up there with the most gripping murder mysteries. Rachel DeLoache Williams tells the story of befriending a German heiress named Anna Delvey, who was always willing to spend big on exorbitant nights out in Manhattan. But while the duo was on a trip abroad, Delvey's credit cards stopped working and Williams soon wound up in over $60,000 of debt with no repayment in sight. Something about Williams's new friend wasn't on the level, and she soon realized she was a victim of a con for the ages.
Buy it: Amazon
10. In Cold Blood // Truman Capote; $10
Knopf Doubleday Publishing Group/Amazon
Truman Capote's In Cold Blood remains a classic more than 50 years after its original publication. The book famously details the November 1959 murders of four members of the Clutter family, leading to the arrests and convictions of Perry Smith and Richard Hancock. With the help of numerous interviews with the killers and tireless research into the case, Capote dissects everything from the planning of the crime all the way through to the execution of the killers. And it haunts the thoughts of everyone who reads it.
Buy it: Amazon
11. The Reykjavik Confessions: The Incredible True Story of Iceland's Most Notorious Murder Case // Simon Cox; $13
BBC Books/Amazon
This crime book goes overseas to Reykjavik, Iceland, when, in the mid-1970s, two men seemingly disappeared without a trace within months of each other, sending the city into an uproar. Through his investigation, BBC reporter Simon Cox shows how the case led to 40 years of madness, corruption, false testimonies, and frustrating legal system failures.
Buy it: Amazon
Related: The Mental Floss Summer 2021 Reading List
Sign Up Today: Get exclusive deals, product news, reviews, and more with the Mental Floss Smart Shopping newsletter!