8 Facts About Summer of My German Soldier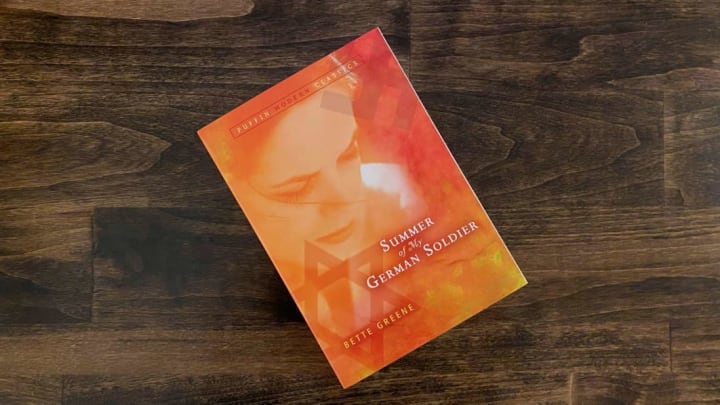 Photo by Erin McCarthy / Photo by Erin McCarthy
The 1970s are considered a golden age for young adult literature, and Bette Greene's Summer of My German Soldier remains one of the decade's defining YA classics. Greene's 1973 debut novel, about a 12-year-old Jewish girl in rural Arkansas who befriends a German prisoner of war in the early 1940s, was embraced by critics and readers alike, and it's still a mainstay on school reading lists. Whether you're a longtime fan or a new reader, here are a few things you might not know about the book and its outspoken author. (Spoilers lie ahead.)
1. Author Bette Green claimed to have sold her first story when she was 9 years old.
Greene was born in Memphis, Tennessee, but spent her early childhood about 35 miles west in Parkin, Arkansas, where her parents owned and operated a general store called Evensky's Dry Goods. When she was only 9 years old, Greene wrote an eyewitness account of a fire at a local dairy farm and sent the article to the Memphis daily newspaper The Commercial Appeal, which reportedly purchased the story for 18 cents (about $2.75 in today's market). Greene would go on to write for the paper while she was a student at Memphis State University before eventually joining the staff as a reporter.
2. It took Bette Green five years to write Summer of my German Soldier.
After graduating high school in 1952, Greene studied abroad in France and attended several universities, including Columbia in New York, before marrying a neurologist in 1959 and settling near Boston. Greene kept honing her writing skills during and after college, working as a journalist and a public information officer, but it wasn't until after the birth of her daughter that she tried her hand at writing fiction. It took her half a decade to complete the manuscript.
3. Summer of my German Soldier struggled to find a publisher.
According to Publishers Weekly, Summer of My German Soldier was rejected by 18 publishers before it was finally accepted by Dial Press, a respected house whose catalogue included titles by James Baldwin and Norman Mailer. Dial was richly rewarded for its faith in Greene's debut novel; Summer of My German Soldier was published to widespread critical acclaim in 1973 and became a finalist for a 1974 National Book Award. (It lost to Eleanor Cameron's supernatural mystery The Court of the Stone Children.)
According to Greene's obituary in The Washington Post, the first paperback printing sold more than a quarter of a million copies.
4. Summer of my German Soldier is largely autobiographical, though Bette Greene spent 40 years denying it.
The parallels between the lives of Bette Greene and Patty Bergen, the young heroine of Summer of My German Soldier, were numerous. Like her best-known protagonist, Greene was a Jewish person who grew up in a predominantly Protestant Arkansas town and enjoyed a formative relationship with a Black housekeeper named Ruth. Greene even had grandparents who lived in nearby Wynne, Arkansas, site of a German POW camp during World War II. Still, Greene didn't acknowledge the autobiographical nature of the book until 2011, during an interview with Open Road.
"Summer of My German Soldier is based on a true story," Greene told Open Road. "It happened that a Jewish girl, during [World War II], gave food and shelter to a German prisoner of war. … It's about my life. I spent forty years denying it was about my life, but it was a story that was bursting out to be told."
5. Summer of my German Soldier was adapted into an Emmy-winning made-for-TV movie.
Five years after the publication of Summer of My German Soldier, NBC aired a made-for-television adaptation starring Kristy McNichol, Bruce Davison, and Good Times star Esther Rolle. Rolle's powerful performance as Ruth, the maid who acts as the main character's surrogate mother, earned her a Primetime Emmy for Outstanding Supporting Actress in a Limited Series or Movie. The movie picked up additional nominations for Best Drama or Comedy Special and Outstanding Writing for a Limited Series or Special, and it landed its screenwriter, Jane-Howard Hammerstein, a 1979 Humanitas Prize for television writing.
Summer of My German Soldier also marked the screen debut of Robin Lively, who would go on to roles in Punky Brewster, Teen Witch, Twin Peaks, and The Karate Kid Part III.
6. In one Arkansas town, students were given permission to deface their assigned copies of Summer of my German Soldier.
Summer of My German Soldier often ended up on banned books lists, but thanks to the support of teachers, librarians, and the local school board, Greene's novel overcame an attempt to strike it from the curriculum in Clinton, Arkansas. It didn't survive unscathed, though; students were given permission to scribble out any passages they didn't like. When asked by Library Talk whether she considered the measure to be censorship or defacement, Greene replied that she simply thought it was "idiocy."
7. Summer of my German Soldier has a sequel.
Summer of My German Soldier didn't end well for anyone, with Anton gunned down by police and Patty sentenced to a stint at a girls' reformatory for helping him. Patty got a second chance at a happy ending with the 1978 publication of Morning Is a Long Time Coming, which finds her graduating from high school and setting out for Europe to find Anton's mother, only to realize the maternal figure she's seeking has been in her life all along: Ruth, her family's Black housekeeper. Patty's realization is yet another element inspired by Greene's life; in a 1991 interview for the Authors & Artists for Young Adults book series, Greene referred to the real-life Ruth as, "for all practical purposes," her mother.
8. Bette Green went on to write what is considered one of the first Young Adult novels to tackle anti-gay violence.
In 1991—seven years before the murder of Matthew Shepard—Greene published The Drowning of Stephan Jones, a harrowing account of a hate crime that results in the death of a young gay man. Greene, who could not abide injustice or bigotry in any form, spent years researching the book, conducting an incredible 485 interviews in eight states with perpetrators of anti-gay violence and their families and acquaintances. The book was inspired by the 1984 murder of Charlie Howard in Bangor, Maine. (Five years earlier, the same killing had served as the basis for the murder of Adrian Mellon in Stephen King's It.)
Do you love reading? Are you eager to know incredibly interesting facts about novelists and their works? Then pick up our new book, The Curious Reader: A Literary Miscellany of Novels and Novelists, out May 25!