11 Late-Night Facts About Waffle House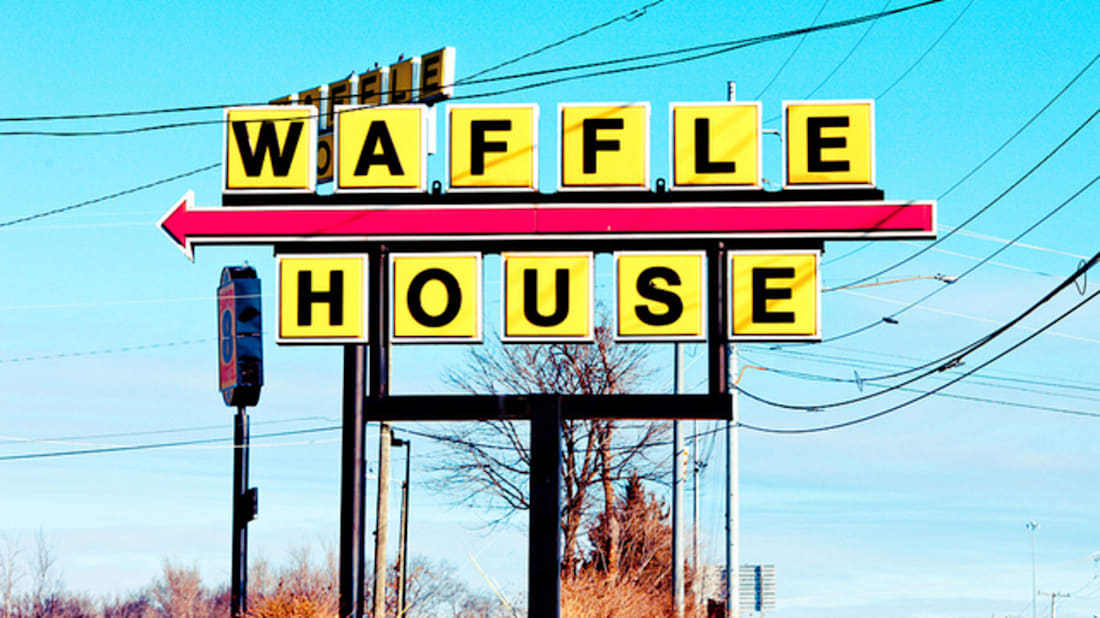 Waffle House has been around for 60 years, but how much do you know about this iconic southern food chain? Scatter, smother, and cover your brain with these facts. 
1. The founders were neighbors. 
In the mid-1950s, Joe Rogers and Tom Forkner were neighbors working for the Toddle House chain and at a real estate agency, respectively. The two men decided they wanted to open their own restaurant, one that focused on its customers—and on Labor Day 1955, the first Waffle House opened its doors in Avondale Estates, Ga.
The restaurant was a huge success; by 1961, there were four locations, allowing Rogers to leave his job at the Toddle House. With time, the iconic yellow sign began to pop up all over the Southeast.
2. FEMA uses a "Waffle House index" to determine the severity of a natural disaster.
Since Waffle House prides itself on being open 24/7, FEMA uses the restaurant as an informal index to determine the impact of disasters. It has three stages: Green indicates an open restaurant with a full menu; yellow means the restaurant is serving a limited menu; and red means the Waffle House is closed. And if Waffle House is completely closed, you know things are bad: The restaurants are extremely adaptable, and their limited menu varies according to what appliances are working in the kitchen and what supplies are available.
3. Each restaurant's keys are kept above ground.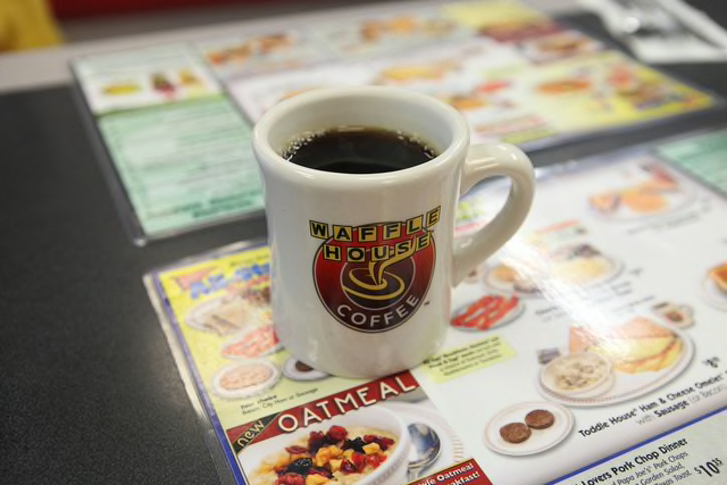 Contrary to a widespread urban legend, Waffle House is not so confident in its ability to stay open around the clock that it buries the keys to each new location in the cement in front of the restaurant. 
4. Waffle House buys 2 percent of all American eggs annually ....
According to the Waffle House website, the chain has served over 2,501,866,574 eggs since its opening in 1955. According to a 2005 article in USA Today, the restaurant buys 2 percent of all eggs produced in the United States annually.
5. ...and is the world's leading server of T-bone steaks.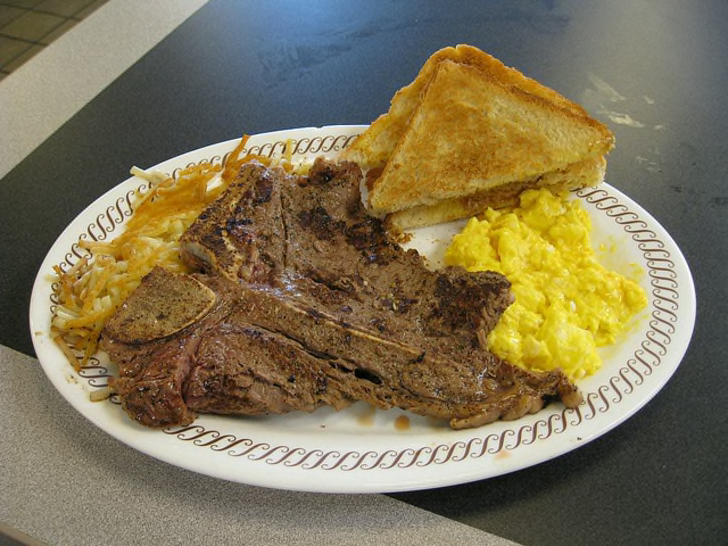 Waffle House also churns out steaks at breakneck speeds. The chain serves four T-bones every minute. According to the restaurant, they serve more T-bone steaks than any other outlet in the world: The restaurant has grilled 134,842,441 T-bones since 1955.
6. It's more romantic than you think.
Not sure what to do for Valentine's Day? No worries, Waffle House has you covered. For the past eight years, the restaurants have celebrated the holiday with white tablecloths, candles, and heart decorations. 
While Valentine's at Waffle House might seem like a last-minute decision, diners at some locations, like Atlanta's Cheshire Bridge Road Waffle House, actually do need a reservation. "We're not fancy people," one patron told CBS46 in 2013. "We like Waffle House and its good food."
7. Atlanta boasts the most Waffle Houses.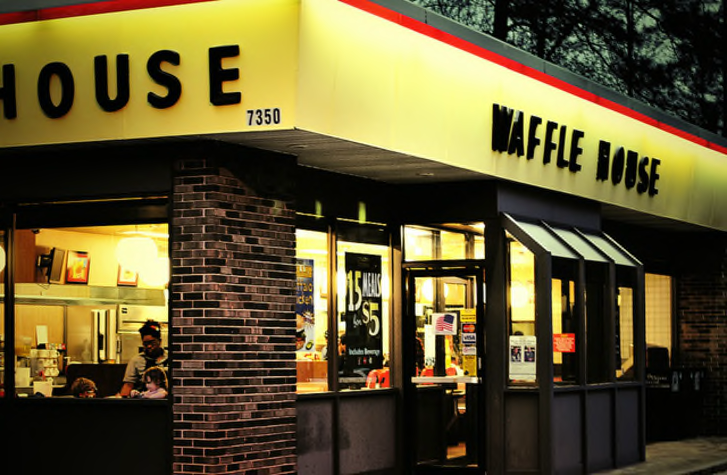 The very first Waffle House opened in suburban Atlanta, so it makes sense that the most outlets can be found nearby. The Big Peach has 132 locations. The runner up—Cartersville, Ga.—only has 45.
8. More than 300 strips of bacon are served a minute.
To be more precise, it's 341 strips every 60 seconds. The chain also serves 238 orders of hash browns, 145 waffles, 110 sausage patties, and 127 cups of coffee per minute.
9. Waffle House Records is a thing.
In 1984, Waffle House records released its first song, "Waffle House Family." In 2007, the chain released their first music video, called "Bert," after its chili. If you want something to listen to while driving to your nearest Waffle House, you can also pick up Waffle House Jukebox Favorites, Vol. 2.
10. You can visit the original location, but you can't get a waffle there.
The original location has been converted into a museum, so while you can still visit (by appointment only), you can't sit down and order a T-bone. The museum has been renovated to look like it's frozen in 1955. Visitors can still enjoy the retro design and buy something in its extensive gift shop, though.  
11. Waffle House wants your constructive criticism.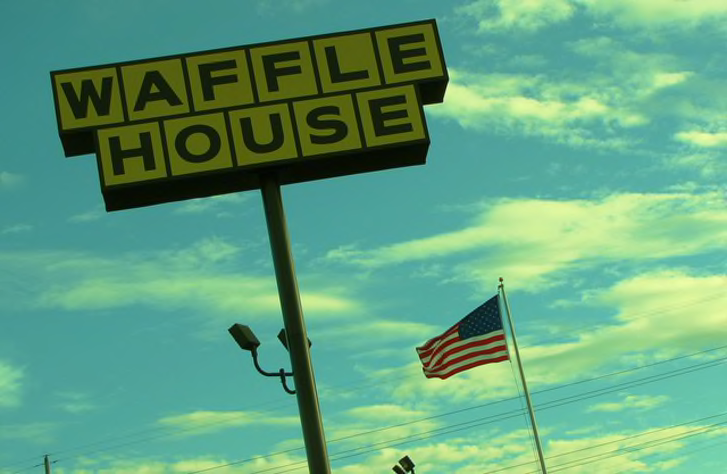 Waffle House Test Kitchen is a division of the company that focuses on adding new menu items. "As our Regulars know, we don't like to fix what ain't broken," the Waffle House website explains. "But we are continually working to make sure we serve the best food available, made with the best recipes. And occasionally, we'll introduce a new product."
After the chain releases a new food, it invites diners to fill out a survey asking what they thought. Waffle House uses those results to decide what should stay on the menu permanently.