What's Your Country's Drink of Choice? This Map Shows the Most Popular Cocktails Around the World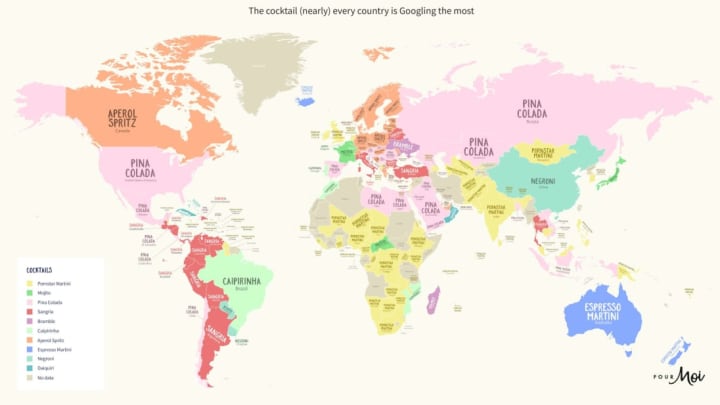 Someone somewhere is drinking a porn star martini right now. / Pour Moi
While coming up with cocktail recipes for his London bar the Townhouse in the early 2000s, Douglas Ankrah struck gold: a fusion of vanilla vodka, passion fruit purée, and passion fruit liqueur, with a shot of champagne on the side.
"It was a complete accident," Ankrah told PUNCH. "I created this in 15 minutes or less. Like how Mick and Keith wrote '(I Can't Get No) Satisfaction' in 10 minutes."
He christened the concoction the "porn star martini" because he thought it was "bold, sexy, and playful" enough to be a porn star's drink of choice. Though the suggestive moniker has no doubt ruffled some feathers, it hasn't put a damper on the cocktail's popularity. In fact, according to a new report from apparel company Pour Moi, it's the most Googled cocktail in the world. It's also the top-searched cocktail in the UK, India, Ethiopia, Nigeria, the Philippines, and many other countries, including in Africa.
Sweet, fruity cocktails reign supreme (or at least contain enough ingredients to warrant Googling a recipe). The piña colada took second place overall, and came out on top in the U.S., Egypt, Russia, Chile, Indonesia, and a handful of other countries. And Aperol spritzes, in third place, are especially popular across Scandinavia, the Baltic States, and Europe at large. That said, not everyone appreciates the very sugary, very orange beverage. "The popular, Instagram-friendly apéritif drinks like a Capri Sun after soccer practice on a hot day. Not in a good way," food writer Rebekah Peppler said in 2019.
The rest of the map is a little more eclectic, complete with espresso martinis, negronis, mojitos, and Brazil's national cocktail of choice: the lime- and cachaça-filled caipirinha. See the full map below, and check out a continent-by-continent breakdown here.
If you like piña coladas ... you're not special. / Pour Moi