8 Spectacular Space-Themed Places to Stay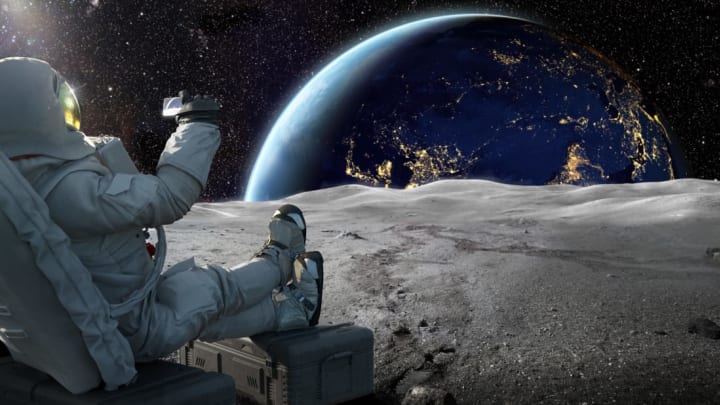 You can find vacation rentals that are out of this world. / peepo/iStock via Getty Images
With civilian space travel closer than ever, your dreams of exploring the vast reaches of the universe could be realized in your lifetime—providing you have the money. The cost to hitch a ride on a SpaceX jaunt to the International Space Station in 2022 runs about $55 million. Commercial space travel tickets will probably be in the hundreds of thousands of dollars for some time to come.
Fortunately, you can still make travel plans to see the stars thanks to these space-themed accommodations with prices that are very down to Earth.
1. Apollo 11 Ship // Pukaki, Canterbury, New Zealand
If you're curious to know what it felt like to experience space in the cramped Apollo 11 vehicle that got us to the moon, look no further than this Airbnb lodging out of New Zealand. Guests can stay in a replica capsule that will bring you one small step closer to understanding life as a 1960s astronaut. It's located in the Mackenzie Dark Sky Reserve at Pukaki Airport, and the single-bed ship has a clear Perspex roof, so you can fall asleep under the stars.
2. Architect's Off-Grid Stargazing Cabin // Twentynine Palms, California
This tiny home offers a big advantage over other accommodations—the outdoor bedroom lets guests stargaze amid a vast and private oasis. During the day, you can take in the view of nearby mountains and wildlife. Bonus: It's all solar-powered.
3. 1960s Star Trek USS Enterprise Room // North Bend, Oregon
Fans of Star Trek can board a hotel room modeled after the USS Enterprise. Relax among some screen-accurate props and command consoles. Eagle-eyed guests may also spot some hidden Trek-themed surprises.
4. Mission to Space Villa // Kissimmee, Florida
Guests have had nothing but raves for the Mission to Space Villa, which can accommodate up to 16 guests (each lowering the nightly cost) in different space-themed rooms. You're only 20 minutes from Walt Disney World, but you won't need to travel far for entertainment. The villa has a bowling alley, a movie theater, and an arcade.
5. The Spaceship House // Navarre, Florida
This unique theme takes a fantastical spaceship motif and plops it near the beach. Inside, port windows and space-age architecture lend the feel of extraterrestrial design, while very earthbound amenities like bicycles let you explore the ocean.
6. Twelve Parsecs by Loma Homes // Champions Gate, Florida
For a fully immersive Star Wars experience, look no further than this nine-bedroom galactic detour. Guests can enjoy themed rooms that capture the spirit of the Millennium Falcon, Hoth, or Cloud City. Best of all, you're just 15 minutes from Star Wars: Galaxy's Edge at Walt Disney World.
7. Area 55 Futuro House // Joshua Tree, California
This glamping option places guests into a kind of retro space age, with a tiny dome house beckoning visitors via a set of UFO-style steps. Inside, you'll experience a fantastic view of the slightly alien terrain of Joshua Tree.
8. Big Bend Observatory // Terlingua, Texas
This modest cabin has a stealth feature—it functions as a private observatory. Use the roll-top roof and sky deck to operate the telescope to catch a glimpse of the universe above.