15 Movie-Inspired Theme Park Rides That Cost More Than the Movies Themselves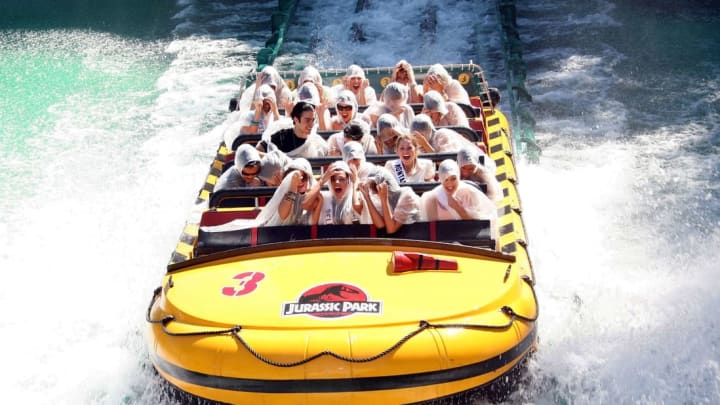 Chad Buchanan/Getty Images / Chad Buchanan/Getty Images
Movies that last a couple of hours can cost tens of millions of dollars to produce. Theme park rides are even shorter—rarely lasting more than several minutes from start to finish—but are often built on bigger budgets. As part of its best value theme park report, Money.co.uk looked at the budgets of 15 iconic rides and their cinematic counterparts to see how they compared. Unsurprisingly, Disney's network of parks is home to some of the costliest movie-inspired rides on Earth. Splash Mountain in Tokyo Disneyland, Disneyland in California, and Walt Disney World in Florida boasts the biggest gap between the ride budget and the budget of the original film. The log flume ride cost roughly $224 million to construct, while 1946's Song of the South was made for $2.1 million. Disney is also responsible for the second-biggest gap on the list. The Seven Dwarfs Mine Train in Disney World cost $25 million to Snow White and the Seven Dwarfs's (1937) budget of $1.5 million.
Universal Studios theme parks also occupy several spots on the list. Jaws: The Ride, which was notoriously expensive and difficult to maintain when it debuted, ended up costing more than Steven Spielberg's original film. Universal's Transformers: The Ride and Jurassic Park Rapids Adventure/Jurassic Park: The Ride were also more expensive than the movies they're based on. The only park on the ranking that isn't owned by Disney or Universal is Thorpe Park in Surrey, England. The Saw-themed roller coaster there cost $13.7 million more than the original 2004 Saw movie.
You can check out the full list of 15 movie-themed rides that cost more than the movies themselves below. Of course, attractions don't always cost as much as Hollywood blockbusters. Many rides of the past were made without the budget (and regulations) guests take for granted today. Here are some not-so-amusing facts from amusement park history.
Splash Mountain // Disneyland (Anaheim, California), Tokyo Disneyland, Disney World (Orlando, Florida)
Seven Dwarfs Mine Train // Walt Disney World (Orlando, Florida)
Saw: The Ride // Thorpe Park (Surrey, England)
Jaws: The Ride // Universal Studios Japan
Indiana Jones and the Temple of Peril // Disneyland Park (Paris, France)
Indiana Jones Adventure // Disneyland (Anaheim, California)
Transformers: The Ride // Universal Studios Singapore, Universal Studios Hollywood, Universal Studios Florida
The Little Mermaid: Ariel's Undersea Adventure // Walt Disney World (Orlando, Florida), Disney California Adventure (Anaheim, California)
The World of Avatar // Walt Disney World (Orlando, Florida)
Finding Nemo Submarine Voyage // Disneyland (Anaheim, California)
Ratatouille: L'Aventure Totalement Toquée de Rémy // Disneyland Park (Paris, France)
Test Track // Walt Disney World (Orlando, Florida)
Jurassic Park Rapids Adventure/Jurassic Park: The Ride // Universal Studios Singapore
Radiator Springs Racers // Disney California Adventure (Anaheim, California)
Cinderella Castle // Tokyo Disneyland, Disney World (Orlando, Florida)