10 Rich Facts About Billions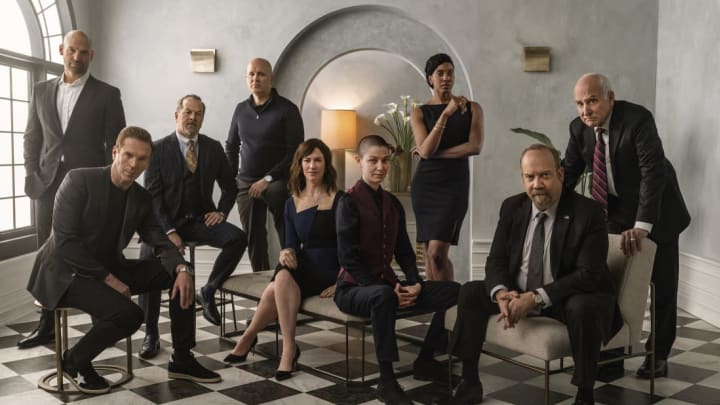 (L-R): Corey Stoll, Damian Lewis, David Costabile, Kelly AuCoin, Maggie Siff, Asia Kate Dillon, Condola Rashad, Paul Giamatti, and Jeffrey DeMunn are at each other's throats in Billions. / Mark Seliger/SHOWTIME
At a time when the widening wealth gap in America is a frequent topic of conversation, Billions is the perfect show about God-like wealth and our complicated feelings about those who wield it. The show follows one such wielder: billionaire hedge fund manager Bobby "Axe" Axelrod (Damian Lewis), who uses his street smarts, country-sized wealth, and guts of steel to take down rivals and carve out an even larger piece of the pie for himself. Not everything he does is legal, which is how he earns the ire of U.S. Attorney for the Southern District Chuck Rhoades (Paul Giamatti), who is married to world-class performance coach Wendy Rhoades (Maggie Siff). Since the show loves its complications, Wendy just happens to work for Axelrod.
Throughout several seasons, the show has evolved from a game of cat and also-cat between two egomaniacs utilizing their power and influence against each other to an expansive view of the players oozing in and out of the global financial market. Alliances are constantly shifting, breaking, and reforming because theirs is a world of transaction and vengeance that lasts only until a partnership can be profitable enough to erase any bad blood.
1. Billions draws a lot of inspiration from real people.
Paul Giamatti and Damian Lewis face off in Billions. / Mark Seliger/SHOWTIME
To be clear, Rhoades and Axelrod are works of fiction, but they're informed by real people. Axe, a composite of several hedge fund personalities, began as a glamorized version of Steven A. Cohen, the fund co-founder whose S.A.C. Capital was found guilty of insider trading and slapped with a $1.8 billion fine. Appropriately, Rhoades was initially inspired by Preet Bharara, the attorney who pursued Cohen. Giamatti also sees a lot of DOJ Special Counsel John Durham in Rhoades. "He's one of the guys who brought down Whitey Bulger, but he also took down the FBI guys who were colluding with Whitey Bulger," Giamatti told GQ in 2020.
2. The writers on Billions were inspired to include the Chuck Rhoades's kinks after talking with escorts.
Chuck and Wendy engage in BDSM because, according to Billions co-creator Andrew Ross Sorkin, co-creators/showrunners Brian Koppelman and David Levien ended up speaking with escorts for their research writing The Girlfriend Experience (2009). They were intrigued by how often escorts would describe powerful men wanting to be placed in a powerless, submissive position during sex, and worked that into Billions.
3. Paul Giamatti felt really relaxed during Billions' S&M scenes.
Giamatti had a surprising reaction to being trussed up with heavy rope in a vulnerable position in front of a full production crew. "I fell asleep," Giamatti told Stephen Colbert. "I had a warm, washing feeling go over me, and I just dropped off. They had to keep waking me up between takes."
4. Maggie Siff talked to Tony Robbins and Dominatrices to get her Billions character right.
Maggie Siff as Wendy Rhoades in Billions. / Mark Seliger/SHOWTIME
"[Wendy] is very unapologetic about who she is, the power she wields, and the influence she has," Siff said in an interview. To get the complexities of character right, Siff spoke with legendary pep talk giver Tony Robbins as well as dominatrices who could explain the finer points of how to properly, safely, and accurately depict BDSM on screen.
5. Billions was the first show to feature a non-binary actor playing a non-binary character.
Taylor Mason (Asia Kate Dillon) joined Axe Capital in season 2 as a mathematically-obsessed financial analyst who disrupts the office with powerful new ideas. They also made television history as the first non-binary character on North American TV. They play a larger role in the show from season 3 onward, evolving from mentee to rival peer to Axelrod, representing someone just as smart, ambitious, and unafraid of risking planet-sized gobs of money.
6. Bobby Axelrod knows he's a gangster.
Axe is a billionaire from a working class background who has utilized every tool in the box, including breaking the law, to ascend to the top of the monetary mountain. We love him because he's cool, not because he's ethical, and Lewis admits that even Axe knows that he really is the Al Capone of the hedge fund world. "The best part of the series is the examination of power, a world that is real and around us all right now," Lewis told amNY News. "There's something opportunistic about Bobby. He's a working-class worker who made a lot of money and represents the American dream. But, on the other hand, because he operates in New York, he must submit to the hierarchical rules of the city. That's something you'd expect in the UK, but not in New York. The class system doesn't know about money and that makes Bobby desperate ... [he] always feels like a child at a birthday party he is not invited [to]. He knows he's a gangster and that's the image he chooses."
7. A billionaire once called Billions' creators to tell them they got a plane detail wrong.
Billions gets a lot right. Koppelman, Levien, and the cast work tirelessly to make sure that even the smallest details help build authenticity instead of robbing the show of its heft. So it's funny what in this bizarre world of billionaires they might get wrong—and who would tell them. According to Koppelman, a billionaire wrote them to praise the show's dedication to real gilded life, but mentioned he "would never be caught dead flying in the sardine can of a plane [they] put Axe into." This isn't unusual when playing in the sandbox of the ultra rich, especially as so many of them are fans of the show. As Koppelman noted, only a billionaire would think of a G5 as a "starter plane."
8. Billions films at a lot of famous New York City restaurants.
Billions uses food to say a lot about its characters, how they want to present themselves, and what they want—and the show is a veritable "To Eat" list of some of the best spots in New York City. From storied institutions like Barney Greengrass to the infamous Sparks Steakhouse to hip eateries like Emmy Squared, the show goes to great lengths to weave real-world restaurants into the story. Two of the show's most iconic scenes involve food. First, there's the sushi scene where Wags (David Costabile) explodes at some finance bros for sullying the artistry of master chef Daisuke Nakazawa, the very real owner of Sushi Nakazawa in the West Village. Second, the sequence where Axe and Wags note how gluttonous it is to eat a second ortolan (an illegal delicacy where an entire songbird is drowned in brandy) before they indulge in a third.
9. Billions leans into cameos to make its world feel even more real.
Chef David Chang cameos in season 2 of Billions. / Jeff Neumann/SHOWTIME
The amount of real people inhabiting the fictional world of Billions is staggering, approaching Entourage-level cameo status. Metallica made a splash in season 1, but the show most often showcases smaller moments, with chefs like David Chang and Anthony Mangieri dropping off food they just cooked to our billionaire antiheroes, as well as drop-ins from financial world notables like Mark Cuban, Omeed Malik, and Goldman Sachs CEO David Solomon. It's one more way that the real world invades and blurs the fictional. Billionaire hedge fund owner Marc Lasry has even helped the show by providing character notes and details.
10. Questioning our reaction to bad behavior is at the core of Billions.
Why do we root for Axe? He's a terrible person who ruins lives and enjoys a freedom almost none of us will ever experience. "For us, what we're interested in, is why America is willing to substitute verbal acuity, charm, power, and wealth for true qualities of character, like kindness and empathy?" Koppelman told Vox. "We hope that by watching the show and getting off on it when these characters do really bad things, it makes us all wonder why we're rooting for them sometimes. Because, these are dark times, and these people are living in these times. And they are very rarely doing that which they say they are doing. And yet, we not only forgive them, we love them. I love them."
Do you love television? Do you spend most weekends lounging on the couch binge-watching your favorite TV shows? Would you like to learn some incredibly fascinating facts about the best series of the past 20 years and the people who made them? Then pick up our new book, The Curious Viewer: A Miscellany of Streaming Bingeable Shows from the Last 20 Years, out October 19!