10 Luxurious Palaces You Can Stay In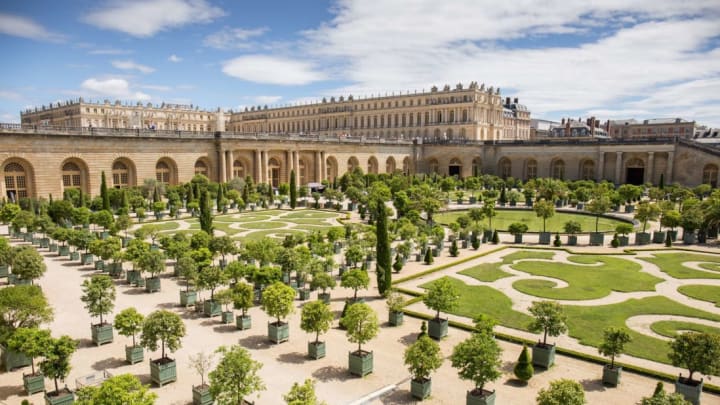 You don't have to be royalty to sleep like a king or queen. These 10 palaces-turned-hotels are a dream destination for luxurious vacations or special occasions. Tiaras and crowns not provided—you'll have to source your own.
1. Le Grand Contrôle // Versailles, France
The Palace of Versailles is one of the most famous palaces in the world—and the scene of momentous historical events, such as the end of Louis XVI and Marie Antoinette's reign during the French Revolution. Until recently, spending a night at Versailles was just a dream. But earlier this year, a boutique hotel opened within the palace walls, housing an array of rooms, suites, and a luxurious apartment. If the ornate, princely interiors aren't enough to tempt you, perhaps exclusive access to the palace out of hours will be: Hotel guests can visit once the tourists have departed, and can even sign up for additional behind-the-scenes tours.
2. Four Seasons Hotel Lion Palace // St. Petersburg, Russia
Built in 1817 for a Russian prince, the Lobanov Rostovsky Palace sits in the very heart of central St. Petersburg at 12 Admiralteysky Avenue. The illustrious Four Seasons chain renovated the palace and opened its doors to guests in 2013. It operates as Four Seasons Hotel Lion Palace, named after the stone lions that flank the main entrance. Offering a wide range of elegant, modern rooms and suites, with city and river views, the hotel has contemporary fittings while retaining its tsarist charm throughout, particularly in the hotel's main entrance and stairway, which have been restored to their original 1820s beauty. You can live like a tsar or tsarina and enjoy Russian caviar at the hotel's Tea Lounge.
3. Palace Hotel do Bussaco // Luso, Portugal
The romantic Bussaco Palace is perched high in the hills off Bussaco National Park. It was built for the last King of Portugal in 1885 and converted into a deluxe hotel as early as 1917. With highly decorative Manueline-Gothic architecture, this palace is as fairytale as it comes, and the interiors at Bussaco are just as ethereal. The in-house Mesa Real Restaurant, in the former royal banquet hall, has a truly magnificent Moorish ceiling, while many of the antique laden bedrooms come with original 1920s bathtubs.
4. Gritti Palace Hotel // Venice, Italy
Venice's main artery, the Grand Canal, is awash with palaces from various eras. But few have stood the test of time as well as the Gritti Palace. While the palace has roots in the 14th century, the current incarnation was completed in the Venetian Gothic style for the Pisani family in 1475. In 1525, it became the private residence of Doge Andrea Gritti, who the palace is named after. Lovingly restored last century, guests can enjoy the hotel's original wooden ceilings and entrance flooring, as well as dressing-table mirrors and 18th-century wall lamps hand-made in world-famous Murano glass.
5. Suter Palace Hotel // Bucharest, Romania
Suter Palace in Bucharest, the "Paris of Eastern Europe," is a real architectural gem. It was built by Adolf Suter, a close friend of King Carol I of Romania, and completed between 1902 and 1906 in the neoclassic style with Brâncovenesc elements. The palace sits on top of Filaret Hill and boasts fantastic views across the city, including a magnificent vista of the infamous Palace of Parliament.
6. Çırağan Palace Kempinski // Istanbul, Turkey
This stunning hotel inside a renovated former Ottoman Imperial Palace is vast to say the least. It offers 310 rooms and suites throughout the palace and its sleek modern wing next door. Built on the banks of the River Bosphorus, away from the hubbub of central Istanbul but within close reach of all the amazing cultural sights, Çırağan Palace Kempinski has resort vibes in a historically rich setting. Treat yourself to time in their ornate hammam, book a massage, or spend the days floating in an outdoor infinity pool that overlooks the river so precisely that you'll have the sensation of floating on the Bosphorus. To add to its palatial status, it's the only hotel in Istanbul accessible by car, yacht, and helicopter.
7. Dahab Island Palace // Cairo, Egypt
Live like a pasha at this incredible 20th-century palace perched on serene Dahab Island in the middle of the River Nile. It's the passion project of Prince Naguib Hassan Abdallah, a descendant of the Mamluk royal family who ruled Egypt from 1250 to 1517, when the Ottoman Empire conquered the country. Having grown up abroad, the prince returned to Egypt to build a palace in true Egyptian style, using only Egyptian tools, materials, and workers. He also filled the palace with his family's collection of antiquities, including medals his ancestors earned for battling Napoleon. Nowadays, the palace is a cultural center as well as an Airbnb; a suite full of centuries-old ornaments, decked out in Louis XV style, is available to rent.
8. House of Royals // Zanzibar, Tanzania
Once the home of Arabian Princess Sayyida Salme, the House of Royals is a historical mansion on the west coast of Zanzibar, steeped in regal architecture spanning back to the 18th century. This palatial home is surrounded by luscious green gardens, including a plunge pool, where guests can enjoy peace and tranquility, as well as a brush with Zanzibar's royal past. There's a large suite available to rent on Airbnb that offers privacy, comfortable furnishings, and great views of the ocean from the large balcony. Guests can relax in the sunbeds and hammocks, or stroll around old ruins and hit the building's gym.
9. Taj Lake Palace // Udaipur, India
Taj Lake Palace. / EyesWideOpen/Getty Images
Rajasthan is full of ornate, picturesque palaces, many of which have been converted into hotels. But it's Udaipur's floating palace, in the middle of Lake Piccola, that really takes the prize. Famously featured in the 1983 James Bond movie Octopussy, this palace has captivated imagination for generations. It was built by Maharana Jagat Singh II (the 62nd successor to the royal dynasty of Mewar) in 1743 as a summer palace. India's luxury chain of Taj hotels took over the management in 1972 very faithfully, even employing descendants of the original palace staff to work as "Royal Butlers." The palace is full of original features like wooden lattice work, marble floors, Rajasthani artwork on the walls and ceilings, and piles of local textiles and fabrics.
10. Palais Faraj Hotel // Fez, Morocco
This prestigious boutique hotel dates back to 1912, when Fez was still the capital of Morocco under French occupation. It was built by Fassi royal leaders, who followed the court and abandoned the property when the capital city was moved to Rabat. It spent decades vacant and dilapidated until the current owners purchased the property in 2000 and renovated it to its illustrious former glory. The palace now offers 25 suites, an oriental hammam and spa, an outdoor swimming pool, two restaurants, and a bar with a breathtaking view over Fez's Medina (old town).