The Top 10 Most Photogenic States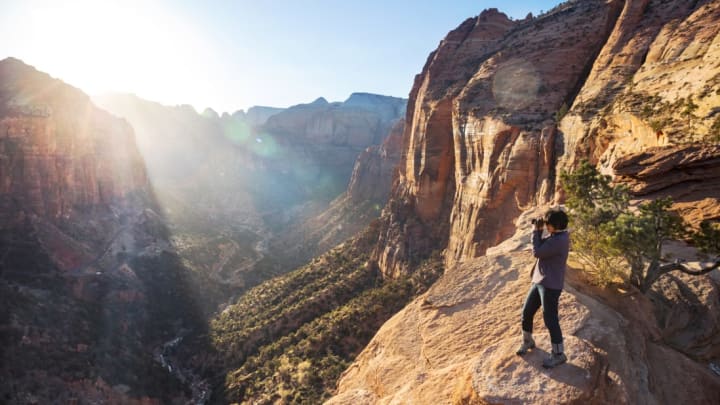 nycshooter/iStock via Getty Images / nycshooter/iStock via Getty Images
In the age of social media, reliving your travels online is almost as enjoyable as experiencing them in real time. Some locations don't translate well to pictures, while others look better in your camera roll than they did in person. If capturing lasting memories is your preferred vacation activity, consider planning a trip to one of these photogenic states across the U.S.
The list below was compiled by the online photo book platform Mixbook. To determine the top 10 most photogenic states, Mixbook looked at which spots were tagged in the highest number travel photo albums created for the website from 2018 to 2021.
Utah was named No.1, which shouldn't come as a surprise to anyone who's visited the state. Utah's "mighty five"—Arches, Bryce Canyon, Canyonlands, Capitol Reef, and Zion—are some of the most iconic national parks in the country. Each property boasts unique geological features, making Utah a stunning backdrop for photo shoots.
Second on the list is the nearby state of Colorado. Home to the Rocky Mountains, this is another popular national park destination. With famous hiking trails and ski slopes, Colorado photographs well any time of the year.
Minnesota, Washington, and Massachusetts round out the top five. You can read the full list of the 10 most photogenic states in America below. And if you're serious about documenting your next vacation, check out this list of the country's most Instagrammed locations for further inspiration.
Utah
Colorado
Minnesota
Washington
Massachusetts
Oregon
California
New York
Illinois
Florida