The Real-Life Cost of 20 Fictional TV and Movie Homes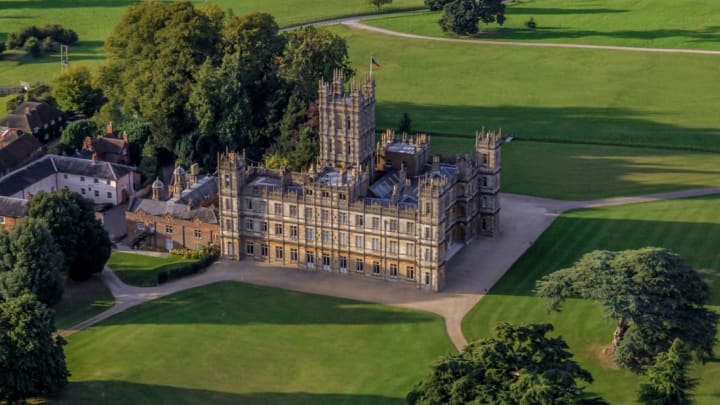 Highclere Castle, the filming location for Downton Abbey. / David Goddard/Getty Images
The Weasleys' dilapidated home in the Harry Potter series, fondly known as the Burrow, was meant to be an emblem of the family's financial status (i.e. just barely scraping by). But if the Burrow were real, Arthur Weasley's paltry bureaucratic salary probably wouldn't have been able to keep up with the mortgage. According to an analysis by price comparison site Money.co.uk, the property would've been worth about $1.7 million—much more than the Dursleys' posh abode in Surrey, whose value came in around $495,000.
Both are less expensive than spots in big cities. Monica's New York City apartment from Friends would be worth nearly $1.98 million; and the beloved London flat at 221B Baker Street from the Benedict Cumberbatch-starring Sherlock series (and Arthur Conan Doyle originals) could go for more than $3.4 million.
But even those had a tough time competing with mansions and castles. Downton Abbey's eponymous estate (filmed at a real place, Highclere Castle) took the top spot with a whopping estimate of more than $179 million. The Knives Out mansion, The Umbrella Academy mansion, and Elsa's ice castle from Frozen all ranked high on the list, too. So did BoJack Horseman's extravagant home in Los Angeles, in third place with an estimated value of almost $6 million.
In order to determine estimates for those and other fictional estates, Money.co.uk looked at real-life market prices in their respective areas and even converted fake currencies to actual ones when possible. Find out the price tags on 20 coveted properties below, and read more about the study here.
Downton Abbey (Downton Abbey) // $179,255,595
The Hargreeves's Mansion (The Umbrella Academy) // $21,975,553
BoJack's House (BoJack Horseman) // $5,995,000
Elsa's Ice Castle (Frozen) // $3,500,000
Rosebud Motel (Schitt's Creek) // $3,500,000
Harlan Thrombey's Mansion (Knives Out) // $3,499,333
221B Baker Street (Sherlock) // $3,428,195
The Addams Family Mansion (The Addams Family) // $2,821,184
The Queen Victoria (EastEnders) // $2,725,978
Otis's House (Sex Education) // $2,453,316
Monica's Apartment (Friends) // $1,978,500
The Burrow (Harry Potter) // $1,700,966
The McCallisters' House (Home Alone) // $1,625,576
A Hobbit Hole (The Lord of the Rings) // $1,570,122
Villanelle's Paris Apartment (Killing Eve) // $1,417,883
Pam and Mick's House (Gavin & Stacey) // $857,187
Murder House (American Horror Story: Murder House) // $633,336
4 Privet Drive (Harry Potter) // $495,465
The Simpsons' House (The Simpsons) // $483,516
The Rovers Return Inn (Coronation Street) // $460,370