Vans Is Launching a Killer New Line of Horror Movie-Inspired Sneakers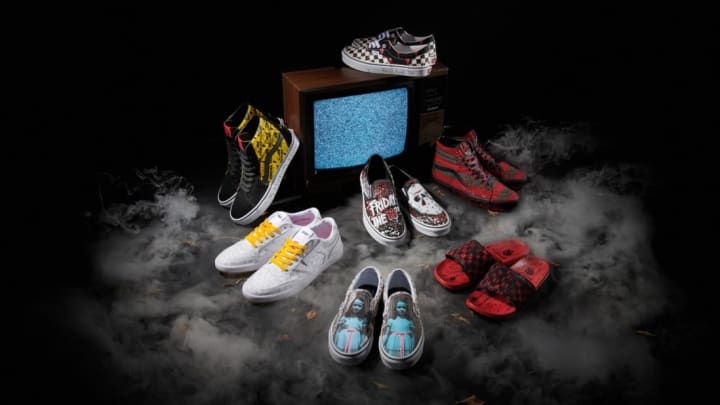 Vans / Vans
Vans has released sneakers inspired by the likes of Frida Kahlo, Where's Waldo?, and Harry Potter. Soon, the brand's line of shoes will look a lot spookier. As Nerdist reports, Vans is launching sneakers inspired by classic horror movies, and the collection will arrive just in time for Halloween 2021.
The brand announced its killer new kicks in a video shared to Twitter on September 21. The Warner Bros. collaboration includes sneakers modeled after The Shining (1980), Friday the 13th (1980), A Nightmare on Elm Street (1984), and It (2017).
Fans of The Shining have their choice of slip-ons sporting the Grady twins or high-tops featuring the original poster design from 1980. Danny Torrance appears to have gotten his hands on the latter pair, as "redrum" is etched on the midsole in his handwriting.
Vans
The Nightmare on Elm Street sneakers are inspired by Freddy Krueger's iconic red-and-green-striped sweater. If Jason Voorhees is your preferred '80s slasher villain, you can opt for shoes adorned with his hockey mask instead.
Vans
The It-themed shoes show Pennywise's menacing red balloons floating above a checkerboard background. The second pair of shoes inspired by the Stephen King novel feature text in yellow to match Georgie's raincoat. The quote, "You'll float, too," is printed over the sneakers in deceptively simple lettering.
Vans
Vans hasn't given a specific release date or a full list of products for its horror line, but you can plan to see them this October. Sign up at Vans.com/horror to receive a notification as soon as the shoes become available.
[h/t Nerdist]