4 of the Best Massage Guns For Sore Muscles, According to Physical Therapists
Struggling with muscle discomfort and looking for some relief? The right massage gun can make a huge difference.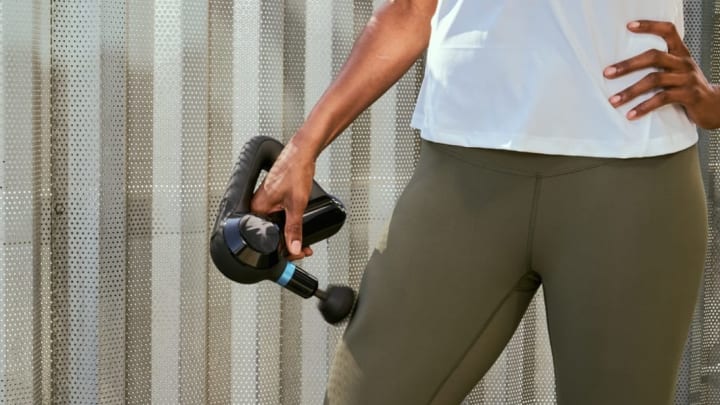 So you can kick back, relax, and get more comfortable. / Therabody
This article contains affiliate links to products selected by our editors. Mental Floss may receive a commission for purchases made through these links.
Whether you work out at home, at the gym, or not at all, a massage gun is a great tool to relieve muscle discomfort and get you a step closer to relaxation on a daily basis. To learn more about how this device really works, we spoke with four physical therapists to find out how to safely use massage guns, what they consider to be the best models and brands available, and other tips.
What Is a Massage Gun?
According to Dr. Karena Wu, physical therapist and owner of ActiveCare Physical Therapy in New York City and Mumbai, India, massage guns move tissues up and down quickly through either striking percussive force or high-frequency vibration wave therapy. This helps increase blood flow to an area and may promote better circulation as well as reduce muscle pain and discomfort. "Almost anyone looking to increase fluid movement to the soft tissues, [and] reduce tightness and pain, can benefit from a massage gun, as they are meant to be a form of [at-home] self-massage," Wu tells Mental Floss.
When browsing for massage guns, you'll see a lot of labels touting PPM. This stands for "percussions or strokes per minute," and it measures the speed at which a massage gun's head kneads your muscles. PPMs can range from 1200 to 3400, with the higher speeds providing a more intense massage, Wu explains. However, Dr. Rahul Shah, an orthopedic spine and neck surgeon at Premier Orthopaedic Spine Associates in New Jersey, cautions against too much force. Pressure that is too strong could result in injury, especially if you have sensitive skin or have never used a massage gun before. Dr. Sarah Clampett, a physical therapist at Origin in California, recommends getting a massage gun with a wide PPM range to find the speed that works best for your body.
No matter what, it's important to do your homework before you buy one, Wu says, because there's no one-size-fits-all approach when it comes to massage guns. Certain models and attachments might work better for you, depending on your needs. "[It's] best to do the research on weight, speeds, number of attachments, battery life, stall force, percussions per minute, and costs before purchasing," Wu says.
How Do You Use a Massage Gun—And What Are The Risks?
To properly use a massage gun, focus on parts of your body with more muscle mass like your shoulders, back, or glutes. Many massage guns come with an adjustable range of PPMs, so listen to your body and change the speed depending on what feels right. Simply turn on the gadget and focus it on the area that needs massaging. Dr. Shashank Davé, an associate professor of clinical physical medicine and rehabilitation at the Indiana University School of Medicine, told Consumer Reports that a session should range between six and 10 minutes.
All our experts also warned against using a massage gun on areas of the body with less muscle mass, such as the jawline, ankles, wrists, or shins, as these areas could be too sensitive for intense percussive massage. If you want to massage your whole body and provide relief to more tender areas, Wu recommends attaching a dampener to your massage gun.
If you're pregnant and interested in using a massage gun, experts urge caution. Clampett's clinic, Origin, focuses on women, including those who may be pregnant, post-partum, or still trying. Clampett warned that massage guns could do more harm than good for those who are expecting. "Blood volume and blood flow [increase] during pregnancy, so a massage gun could potentially cause blood clots, particularly in the lower legs," Clampett says.
If pregnant people want to use a massage gun, she suggests that they first consult their doctor and then do so carefully only on the neck and upper back. Experts also noted that anyone with bone fractures, bleeding disorders, or blood circulation issues should also be cautious about using a massage gun. Of course, before you start any medical regimen, consult with a trusted healthcare professional about the pros and cons.
The Best Massage Guns To Try Now
1. Best overall: Therabody Theragun Elite and Prime; From $229
Both the Therabody Prime or Elite are a great investment, say experts. / Therabody
As one of the best-known massage gun brands on the market today, Theragun is worth the hype, according to our experts. Three of them recommended the brand, with Wu noting that she would suggest Theragun to those who don't have pre-existing conditions and want to casually use a massage gun to get some muscle relief. Clampett recommends both Theragun Elite and the Prime. The Elite, which normally retails for $399, is wireless and utilizes the brand's proprietary Quiet Glide Technology to deliver speeds ranging from 1750 to 2400 PPMs. It also features an ergonomically designed handle, so it's comfortable to hold when in use. The Prime, which usually retails for $299 (but is currently on sale for $229), is a simplified, smaller, and cheaper version of the Elite, which means it comes with only four attachments and isn't wireless. We've put the Prime to the test and think it can be well worth the investment.
Buy them: Theragun Elite; Theragun Prime
2. Great for Travel: Hyperice Hypervolt and Hypervolt 2; $200
Want a model that isn't too loud? Go with the Hypervolt 2. / Hyperice
Wu recommends this brand for those who don't have specific health concerns and are curious about alternatives to the more popular and expensive Theragun models. "Hypervolt is wonderful for a more solid and aggressive percussion that is very quiet," Wu says. Both Wu and Dr. Kristen Gasnick, who works in outpatient rehabilitation with Holy Name Medical Center in New Jersey, use the original Hyperice Hypervolt, which typically retails for $249 but is on sale for $200, on patients at their practices. Wu thinks the Hypervolt is easy to use and likes that it's TSA-approved and lightweight, so you can travel with it in a carry-on bag. The Hypervolt has three speeds and five heads, which means you can swap it out depending on your mood.
If you're looking for a massage gun that's on the quieter side, Clampett considers both the Hypervolt as well as the Hypervolt 2, which retails for $200, to be good options. These devices also have solid battery life. According to Hyperice, one charge gives you three hours of use at up to 3200 PPM. These devices are cordless and Bluetooth-enabled, so you can link one up to your phone, use the brand's app, and try the device out using one of the pre-programmed or custom sessions.
Buy them: Hypervolt; Hypervolt 2
3. Great if You Want a Quiet Model: Ekrin Athletics B37 And 365; From $180
With 8 hours of battery life, the Ekrin B37 is great for travel. / Erkin Athletics / Amazon
If you're looking for a quieter massage gun, Clampett believes two Ekrin Athletics models could be good to consider as well. The Ekrin B37 has eight hours of battery, five speeds ranging from 1400 to 3200 PPM, and Ultra Quiet Technology, which the brain claims keeps the gun running at 55 decibels (or about as loud as a coffee maker). The Ekrin 365 is a slimmer, lightweight model, and at $180, it's more affordable than the B37, which retails for $230. The 365 also has four attachments, but only four speeds and five hours of battery life. Both models come with travel cases and flat, bullet, round, and fork attachments, which are designed to help specific areas of the body.
4. Best for Sensitive Users: Pado PureWave Gen II Dual Massager; $150
Sensitive folks might really appreciate the PureWave Gen II dual massager. / PureWave / Amazon
Another brand Wu recommends and ActiveCare Physical Therapy uses is PureWave by Pado because the models have a comprehensive range of capabilities and are more budget-friendly compared to many other leading massage guns, with prices starting at around $100. Though the brand has gentle and aggressive models, Wu especially recommends checking out the brand's Gen II Dual Massager specifically, especially for "pediatric, geriatric, or tissue-sensitive patients." It retails for about $150, and according to Wu, it has more speeds and a high-frequency vibrational side as opposed to a percussive force one, so it's gentle on tissues.
Buy it: Amazon
A version of this story was originally published in 2021 and has been updated for 2023.