11 of Europe's Most Magical Christmas Markets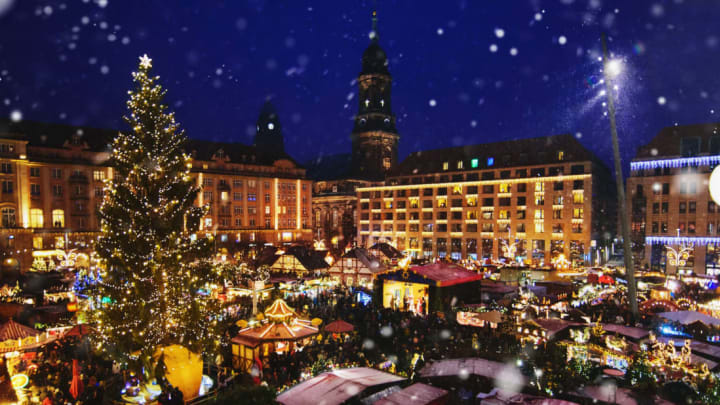 Dresden's Christmas market in the snow. / FotografieLink/iStock via Getty Images
In Europe, Christmas markets are a classic staple of the holiday season. People sip warm, spiced drinks and sample tasty treats while browsing stalls filled with artisanal crafts. It's a centuries-old tradition: The earliest known records of a Christmas market date back to 1296, when King Albrecht I of Hapsburg gave the citizens of Vienna permission to hold a Krippenmarkt (December market) during the weeks of Advent.
More winter markets followed. They became increasingly associated with Christmas in 1384, when the first Christkindlmarkt was held in Saxony (now Germany). These early Christmas markets mostly sold meat and other food items until the 16th century, when Martin Luther—the German Protestant who reformed Christianity across much of Northern Europe—brought the gift giving element to Christmas.
As gift giving on Christmas grew, so did the Christmas market. These larger, more festive affairs were filled with singing, dancing, and all sorts of and merriment. You'll be hard pushed to find a European city that doesn't host a Christmas market these days—here are 11 of the most enchanting ones.
1. Advent Zagreb // Zagreb, Croatia
Dates: November 27, 2021–January 7, 2022
Advent Zagreb has thrice been named Europe's best for a reason. The city-wide spectacular transforms Croatia's capital into a festive paradise with more than 25 unique little markets seamlessly linked by lights and tree-lined avenues that turn Zagreb into one joyous mega market. The myriad of stalls sell artisan gifts as well as local gastro specialties like krpice sa zeljem (pasta with cabbage) and apple strudel.
2. Vienna Christkindlmarkt // Vienna, Austria
Christmas in Vienna. / rusm/Getty Images
Dates: November 12–December 26, 2021
Where better to experience a festive market than where it all began more than 700 years ago? The ornate detail and huge scale of Viennese architecture makes this one of the grandest Christmas market experiences. City Hall Square is lined by more than 100 intricate stalls selling gifts, decorations, and of course, the finest foods and hot drinks. Grab a mulled wine and enjoy a stroll past the glistening lights bordering the rows of trees in City Hall Park.
3. Markt der Engel // Cologne, Germany
Dates: November 22–December 23, 2021
Cologne is renowned for its splendid Christmas markets. Markt der Engel is a local favorite, boasting elaborate decorations and thousands of cascading fairy lights. You'll find plenty of angels and other mythical beings throughout the space.
Heumarkt is another great market for families, with its fantastic open-air ice rink. Or there's Nikolausdorf, a whole "village" of stalls and displays dedicated to good old Saint Nick. If you've still got energy after that, find the off-beat festivities, the most fun being the maritime-themed market where you can join pirates in singing sea shanties.
4. Striezelmarkt // Dresden, Germany
The Striezelmarkt at night. / querbeet/iStock via Getty Images
Dates: November 22–December 24, 2021
Germany is Christmas market central, but Dresden's really stands out. The jewel in the crown, Striezelmarkt, has maintained its distinctive character since its foundation in 1434. It features the world's largest Christmas pyramid—a type of decorative candleholder—that stands a staggering 48 feet (roughly 14.6 meters) high.
There's another traditional market held around the Frauenkirche that sells gorgeous local artisanal gifts like glassware, lace, and ceramics. For a more modern affair, head to Prager Straße; since 2012, the "Winterlights of Dresden" has featured a nearly 50-foot (15-meter) tall Christmas tree and old-timey merry-go-rounds.
5. Vörösmarty Square // Budapest, Hungary
Dates: November 19–December 31, 2021
Budapest has some of the most magical Christmas markets around. Its main Christmas fair in Vörösmarty Square is a warren of delights. With its gorgeous textiles, felts, woodwork, and pottery sold on its stalls plus the lights and elaborate snow-themed decor, it's a feast for the eyes.
For a more modern spin, pop over to Advent Feast at St Stephen's Basilica to catch a light show topped with an interactive art display, where you can have your own designs projected onto the front of the cathedral.
6. Tallinn Christmas Market // Tallinn, Estonia
The Christmas market in Tallinn. / wmaster890/iStock via Getty Images
Dates: November 26, 2021–January 2, 2022
It's no wonder Tallinn hosts an award-winning Christmas market. The medieval old town center makes for an atmospheric setting. The rooftops and cobblestones are often sprinkled with snow, while the Town Hall Square bursts with stalls selling handmade sweets, wreaths, and arts and crafts. The city has been displaying a huge Christmas tree every year since 1441—one of Europe's first public Christmas trees ever.
7. Tivoli Gardens // Copenhagen, Denmark
Dates: November 19, 2021–January 2, 2022
Copenhagen's historic Tivoli Gardens become a winter wonderland during the holiday season. With the Ferris wheel spinning and skaters looping the ice rink, not to mention the irresistible aebleskiver (apple dumplings) and glögg (mulled wine) on sale in the food carts, you'll have to remind yourself to shop in the Scandinavian huts full of ornaments and gifts.
8. Christkindelsmärik // Strasbourg, France
Strasbourg is known as the "Capital of Christmas." / Leonid Andronov/iStock via Getty Images
Dates: November 26–December 26, 2021
Strasbourg is home to France's oldest Christmas market, with revelers shopping here since 1570. It's earned the moniker the "Capital of Christmas" for good reason, as over 300 traditional wooden market stalls offer the best foods, handmade gifts, and Christmas ornaments to buy. The city center is intricately decorated with thousands of lights that illuminate the town like stars in the night sky.
9. Bruges Christmas Market // Bruges, Belgium
Dates: November 26, 2021–January 9, 2022
While the capital city Brussels has the larger, fancier festivities, you can't beat Bruges in the winter time. It's uncommonly pretty at the best of times, so shrouded in Christmas decor it's pure magic. The quaint markets in the Markt and Simon Stevinplein turn the whole city center into a foodie hub that sells incredible homemade hot chocolate, spiced glühwein, and Belgian beers, as well as local cheeses, and of course, the world-famous chocolates.
10. Poznan Christmas Market // Poznan, Poland
Christmas in Poznan, Poland. / littleclie/iStock via Getty Images
Dates: November 29–December 23, 2021
Poznan's Old Market Square and Plac Wolności (Freedom Square) are transformed into a festive land of snow, trees, and Christmas decor, with original installations that include the show-stopping International Ice Sculpture Festival. Time it right, and you can witness artists from around the world sculpt colossal blocks of ice amid the lanes of wooden stalls full of unique Christmas gifts.
11. Bath Christmas Market // Bath, England
Dates: November 1–December 31, 2021
With a reputation for being the UK's finest Christmas market, this festive event in the center of beautiful Bath usually runs for 18 days and hosts over 170 sparkling wooden chalets that sell some of the finest crafts, foods, and decorations in the south of England. Due to COVID-19, for 2021, the Bath Christmas Market will be held online. Virtual visitors can still browse the stores of independent designers and vendors from the safety of their own home.