7 Fantastic Facts About Terry Pratchett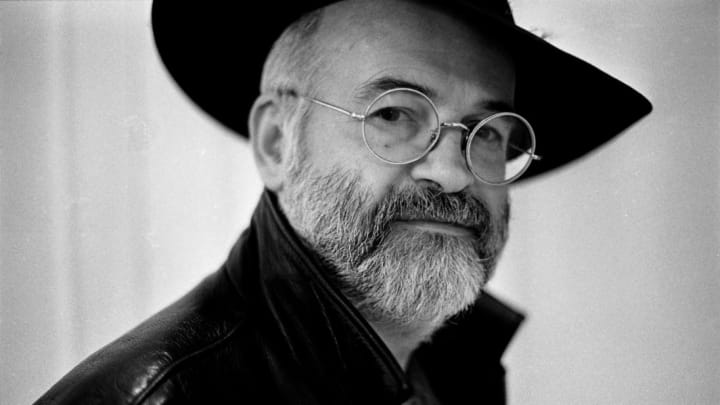 Terry Pratchett in 1996. / Martyn Goodacre/Getty Images
It's been 50 years since Terry Pratchett's first novel, The Carpet People, quietly hit UK bookstores in November 1971. Pratchett's debut was a low-key affair—the book launch was held in the carpet department of a London furniture store—but he would go on to become one of the world's most beloved authors, writing or co-writing more than 70 books for readers of all ages. Pratchett's sprawling Discworld series has enchanted readers all over the planet and spawned a cottage industry of supplemental material, from frameable maps to cookbooks.
Pratchett was diagnosed with a rare form of Alzheimer's in 2007, but he continued to work as the disease progressed, using voice recognition software when he could no longer type. Pratchett was a consummate storyteller until the very end, announcing his own death in the form of a heart-rending, Discworld-themed micro-story prepared by Pratchett and tweeted by his assistant, Rob Wilkins, in the hours after the author died on March 12, 2015, at the age of 66:
"AT LAST, SIR TERRY, WE MUST WALK TOGETHER. Terry took Death's arm and followed him through the doors and on to the black desert under the endless night. The end."
To celebrate the 50th anniversary of Pratchett's first novel, here are seven things you might not know about the architect of Discworld.
1. Terry Pratchett sold his first short story when he was 14 years old.
Pratchett wrote his first fantasy story, "Business Rivals," as a school assignment when he was 13 years old. The two-page story, which saw the Devil hire an ad agency to help lure tourists to Hell, earned Pratchett a perfect score and impressed his teacher so much that she had it published in the December 1962 issue of the school's magazine. The following year, Pratchett expanded the story, retitled it "The Hades Business," convinced his aunt to type it up for him, and submitted it to Science Fantasy magazine. Editor John Carnell accepted the story for publication, writing in an editor's letter that "seventy-five per cent of all the stories we receive are not so well written!" Pratchett used the magazine's £14 payment to buy a typewriter.
2. Pratchett dropped out of high school to work as a journalist.
According to Marc Burrows's 2020 biography The Magic of Terry Pratchett, Pratchett was about a year into his A-Levels—a two-year course of study that UK students begin at the age of 16—when he wrote to the editor of a local newspaper to ask if a job might be available when he graduated. The editor replied that he was looking to hire a trainee reporter right away. Pratchett was unhappy at school, so when he interviewed for the job and received an immediate offer, he accepted. Pratchett convinced his parents to let him leave school at 17, and he started his apprenticeship at the Bucks Free Press in September 1965.
3. Pratchett started writing his first novel, The Carpet People, when he was 17.
Not long after joining the paper, Pratchett took over a small newspaper column in the Bucks Free Press called Children's Circle, which serialized a bedtime story over the course of several issues. According to Burrows's book, Pratchett began his stint on the column with what would eventually become Tales of the Carpet People, a story he'd been working on at school. The installments stacked up over the course of three months, and Pratchett expanded the story even further on his own time. When he was assigned to interview a local publisher in 1968, he mentioned he was working on a book called The Carpet People. The manuscript made its way to the company's owner, Colin Smythe, who loved it and offered Pratchett a contract. Smythe would go on to publish Pratchett's first Discworld novel, The Colour of Magic, in 1983, and became Pratchett's literary agent in 1987.
4. Pratchett predicted the rise of fake news and internet-based conspiracy theories in 1995.
While researching The Magic of Terry Pratchett, Burrows uncovered an interview Pratchett had done with Microsoft founder Bill Gates for a 1995 issue of GQ's British edition. During the interview, Pratchett expressed concerns that the internet might become a breeding ground for misinformation and conspiracy theories. Gates dismissed Pratchett's worries, assuring him that "you will have authorities on the net" and "[t]he whole way that you can check somebody's reputation will be so much more sophisticated on the net than it is in print."
5. Pratchett was Britain's top-selling author until J.K. Rowling came along.
Smythe has said that Pratchett was Britain's bestselling author in the 1990s, and in 1996, The Times reported that Pratchett was the bestselling author in all of the UK. His reign ended the following year, when Harry Potter and the Philosopher's Stone became a critical and commercial sensation. Still, Pratchett remains one of the most popular authors in UK history. It's been estimated that his books have sold more than 85 million copies in 37 languages worldwide. In 2015, Pratchett's final Discworld novel—The Shepherd's Crown, published five months after his death—sold nearly 53,000 copies in its first three days in UK bookstores.
6. When Pratchett was knighted in 2009 for services to literature, he forged his own ceremonial sword.
Pratchett was appointed to the Order of the British Empire in 1998, and in February 2009 he was knighted by Queen Elizabeth. For the latter ceremony, Pratchett opted to provide his own sword. He and a friend dug up 178 pounds of iron ore from a deposit near the author's Wiltshire home, tossed in a few chunks of meteorite for good measure, smelted it in a homemade kiln, and hammered the metal into bars. Pratchett commissioned a local blacksmith to fashion the material into a blade and decorate it with silverwork. "You can't ask a fantasy writer not to want a knighthood," Pratchett reportedly said after the ceremony. "You know, for two pins I'd get myself a horse and a sword."
7. Pratchett was relieved when a Sam Raimi-helmed Discworld adaptation fell through.
Given the success of fantasy adaptations such as The Lord of the Rings and the Harry Potter series, it's remarkable that not even one of Pratchett's 41 Discworld novels has made it to the big screen. (There have been several television adaptations, from a pair of animated miniseries in the 1990s to this year's poorly received The Watch from BBC America.) It's not for lack of interest; as far back as 1991, Pratchett spoke about plans to adapt his Discworld books. Perhaps the highest-profile attempt to get Pratchett's signature creation into a multiplex, though, was Sony Pictures' ill-fated swing at an adaptation of his 2003 novel The Wee Free Men. The studio reportedly hired Sam Raimi to direct, but the project never got off the ground—to Pratchett's relief. The author reportedly hated the script, alleging that it "contained everything that The Wee Free Men actually campaigns against" and that Sony "had kind of Disneyfied it, to make it understandable to American filmmakers."
Fans might get another chance to see the Nac Mac Feegle on the big screen, this time under the stewardship of Pratchett's daughter, Rhianna, who now co-directs the late author's Narrativia production company. In April 2020, Narrativia unveiled a partnership with Endeavor Content and Motive Pictures to develop Discworld adaptations, but no specific titles have been announced.