Bundle Up: The Old Farmer's Almanac Predicts a 'Season of Shivers' Ahead, So Be Prepared for a Long, Cold Winter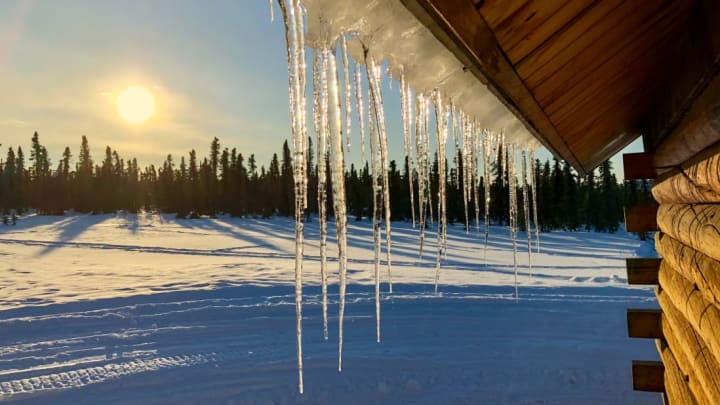 Bill Oxford/iStock via Getty Images / Bill Oxford/iStock via Getty Images
Since 1792, The Old Farmer's Almanac has been the go-to source for people wondering if it will be a mild winter or if they should unpack their extra pair of long johns. If you're already looking ahead to the colder months, prepare for below-average temperatures. According to the reference book, a "season of shivers" will descend upon most of the U.S. for the 2021-2022 winter season.
After several warmer-than-usual winters in recent years, The Old Farmer's Almanac predicts that a brutally cold season is just around the corner. "This coming winter could well be one of the longest and coldest that we've seen in years," Old Farmer's Almanac editor Janice Stillman said in a statement.
Frigid temperatures will be accompanied by snow in parts of the Northeast, the Midwest, the Deep South, and even New Mexico, according to the resource's forecast. An area that includes portions of Montana, Wyoming, and Nebraska is expected to see average temperatures and above-average snowfall this year. The only places in the contiguous U.S. that can look forward to a dry and mild winter are the West Coast and parts of the Southwest.
The Old Farmer's Almanac works differently than the daily weather report. Using a top-secret formula that weigh factors like tides, sunspots, and the positions of the planets, the almanac's weather forecaster (whose identity is also kept secret) guesses the weather for the upcoming year. The publication claims its annual predictions are 80 percent accurate, which makes them just as likely to be right as a seven-day weather forecast.
If you hate cold weather, you still have several weeks to prepare for peak winter. Here are some cozy products to make the season more bearable.