15 Tech-Free Gifts for Analog Enthusiasts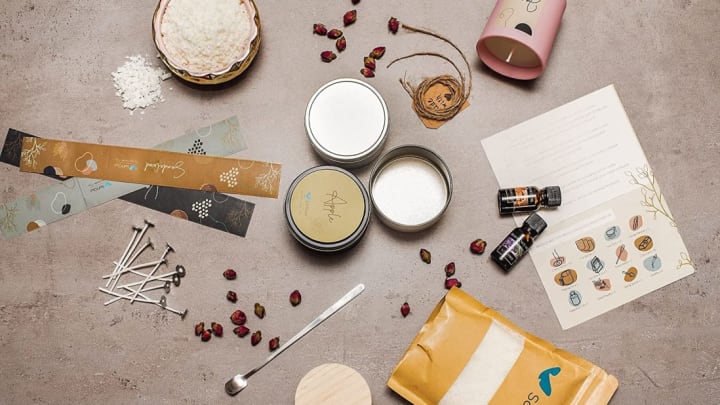 This soy-wax candle making kit will thrill your friend for whom lightbulbs present too much technology. / Amazon
This article contains affiliate links to products selected by our editors. Mental Floss may receive a commission for purchases made through these links.
In a world hungry for the latest glowing gadgets, some people find themselves less than enamored with the wonders of modern technology. Have someone on your holiday gift list who's deliberately old school? Never fear: We've assembled a collection of must-haves for the Luddites in your life.
1. Hanging Clock; $60
Amazon
A digital clock? Or, worse, using your phone to tell time? Banish the thought with this rustic hanging clock, which features Roman numerals and a satisfying (yet soft) ticking sound.
Buy it: Amazon
2. Set of Fountain Pens; $27
Amazon
What better way for your giftee to author the Great American Novel (or a grocery list) than with flowing ink?* Armed with this set of four elegant fountain pens, each with its own leather carrying pouch, your favorite scribe will never again be resigned to the indignity of the Notes app. *Handwriting abilities not included.
Buy it: Amazon
3. Stainless Steel Food Mill; $52
Amazon
For those who eschew the blender's clumsy purée, a classic food mill is just the thing. This easy-to-use grinder allows cooks to choose from fine, medium, or coarse textures, all while proving kitchen appliances don't have to plug in to get the job done.
Buy it: Amazon
4. Jane Austen book Set; $108
Amazon
Whoever advised us not to judge a book by its cover clearly hadn't seen this set of Jane Austen novels. These foil-stamped volumes from the Penguin Clothbound Classics collection will put e-books to shame. (The writing's not bad, either.)
Buy it: Amazon
5. Magnetic Bookmarks; $8
Amazon
That physical copy of Sense and Sensibility won't bookmark itself. In addition to their soothing design, these magnetic clips won't fall out, which is an ideal feature for the reader on the go who prefers to turn the page rather than scroll while riding the Subway.
Buy it: Amazon
6. Paper planner; $12
Amazon
For the person in your life who loathes Google Calendar, a physical planner is the only way to go. But just because it's not digital doesn't mean it can't do it all. A Zicoto planner makes organization a snap with sections for standard to-do lists and appointments, as well as additional trackers for water intake, meals, and fitness.
Buy it: Amazon
7. Leather paperweight; $25
Amazon
Documents just aren't the same on a screen, but they do have a habit of piling up. A handy leather paperweight is just the ticket to keep unruly stacks under control. Plus, it may even double as a stress ball.
Buy it: Amazon
8. Set of Self-Watering Planters; $28
Amazon
Innovation doesn't have to be technical. These Gardenix self-watering planter pots are ingenious in their simplicity: the included coconut fiber pellets expand and hold water, keeping roots hydrated, and the water level indicators in the pots show if the plants need a drink.
Buy it: Amazon
9. Do-It-All Swiss Army Knife; $51
Amazon
"The Spartan," Victorinox's compact, hardwood, and stainless steel pocket tool, is anything but. It contains blades, screwdrivers, a corkscrew, and more for your giftee's adventures. As a bonus, it comes with a lifetime guarantee, which might be enough time to test out all 11 of its functions.
Buy it: Amazon
10. Multicolor Sealing Wax Kit; $28
Amazon
Licking an envelope is so 21st century. Send your giftee back in time with a delightfully whimsical (yet practical!) sealing wax kit. The kit comes with everything they'll need to close up documents, from a seal warmer and stamp to a selection of 24 wax colors.
Buy it: Amazon
11. Good Clean Fun by Nick Offerman; $17
Amazon
From the man who brought us Ron Swanson, perhaps the most famous Luddite in TV history, comes a book that's one part humor and two parts woodworking projects for any skill level. Laugh along; build a chair! This book does it all.
Buy it: Amazon
12. DIY candle-making kit; $70
Amazon
Who needs real lights when you have candles? And who needs pre-made candles when you can make your own? This kit from SoftOwl has everything one needs to create soy wax candles and fill rooms with the kind of light electricity can't buy.
Buy it: Amazon
13. Stationery Set; $13
Amazon
To the person you know who'd rather have a pen pal than send a text, there's nothing better than a quality set of stationery. With gold detailing and an elegant pattern, these letters will stand out in a mailbox filled with junk mail.
Buy it: Amazon
14. Embroidery Starter Kit; $19
Amazon
For anyone in search of a classic hobby, you can't go wrong with embroidery. With floral patterns and outlines to follow, this kit will teach anyone to master the craft in no time.
Buy it: Amazon
15. Cast-iron skillet; $18
Amazon
In a world of air fryers and kitchen gadgets, there's nothing like the king of cookware: a high-quality cast-iron skillet that will last—nay, improve over the course of—a lifetime. People have been cooking in cast iron for millennia, which means they just might be on to something.
Buy it: Amazon