The Longest Continuous Train Rides on Earth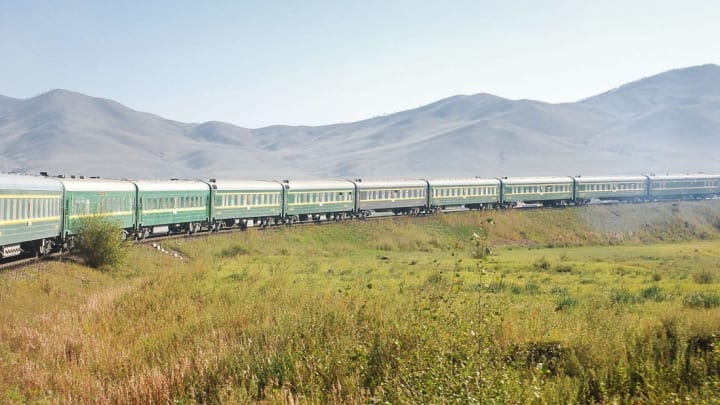 Trans-Siberian train bending between Ulaanbaatar and Beijing / BestTravelPhotography/iStock via Getty Images
If you can't stand sitting in traffic or slogging through airport security lines, book a train ride for your next vacation. Depending on the route you choose, taking the train can be the most relaxing and scenic part of your trip. For an experience that's more about the journey than the destination, consider one of the world's longest train rides.
According to Reader's Digest, the Trans-Siberian Railway offers the longest continuous train journey on Earth. It traverses 5772 miles from Moscow in western Russia to Vladivostok off the coast of the Sea of Japan. Passengers who ride the route from start to finish will pass through multiple time zones over six days. There are plenty of opportunities for sight-seeing to pass the time; landmarks visible from the train windows include the Ural Mountains and Lake Baikal, the deepest lake in the world.
Second on the list is Via Rail's route from Toronto to Vancouver in Canada. The three-day journey takes travelers through the Canadian Rocky Mountains, the forest of the Canadian Shield, and other rugged landscapes that are more comfortably viewed from a cozy sleeper car. The longest continuous train route in the U.S. is the California Zephyr. It takes riders a little over 51 hours to complete the 2438-mile trip from Chicago to San Francisco.
You can find the full list of the longest train rides that don't require transfers below. Here are more amazing train journeys to look into when planning your next adventure.
Moscow to Vladivostok, Russia; Trans-Siberian Railway // 5772 miles
Toronto to Vancouver, Canada; The Canadian // 2775 miles
Shanghai to Lhasa, China; Shanghai-Lhasa Railway // 2717 miles
Sydney to Perth, Australia; Indian Pacific // 2704 miles
Dibrugarh to Kanyakumari, India; Vivek Express // 2633 miles
Chicago to San Francisco, United States; California Zephyr // 2438 miles
Paris, France, to Moscow, Russia; Paris-Moscow Express // 1998 miles
Darwin to Adelaide, Australia; The Ghan Expedition // 1851 miles