See Historical Photos of Tourists Gathering on the Ice Bridge Beneath Niagara Falls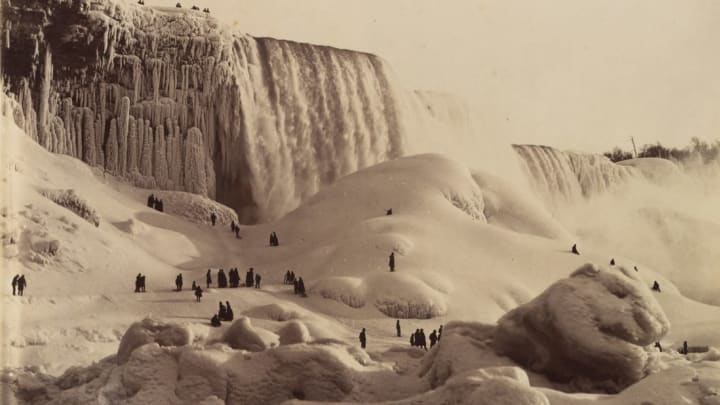 Ice Bridge under the American Falls at Niagara, New York, circa 1883. / Heritage Images/Getty Images
Winter is a special time at Niagara Falls. Nearby Lake Erie freezes over, and wind pushes chunks of ice down the Niagara River. When the conditions are right, these ice blocks pile up at the base of the falls and freeze together to form a solid ice bridge connecting the American side to Canada. Visitors have to observe the phenomenon from dry land today, but in the 19th and early 20th centuries, the ice bridge was a popular gathering place for tourists. You can see photographs of people standing on the ice beneath Niagara Falls below.
As these stereograms (which were meant to be viewed through a binocular device called a stereoscope) show, walking onto the ice was a normal winter activity at Niagara Falls. Thousands of people would visit the natural wonder on its busiest days. Local business owners capitalized on the attraction, erecting huts on the ice where tourists could buy food, alcohol, and souvenirs.
If you think the scenes in the photographs look like a disaster waiting to happen, you're right. The annual tradition came to a tragic end on February 4, 1912, when the ice bridge broke apart suddenly with roughly 30 tourists on it. A large piece of ice holding three people—teenaged Burrell Hecock and husband-and-wife Eldridge and Clara Stanton—was carried down the river. Hecock had been heading for the shore when he turned back to help the couple and became stranded himself. Rescuers attempted to save the trio by dangling a rope off a bridge downstream, but they weren't strong enough to escape to safety. The three victims perished in the rapids of the Niagara River that day.
The practice of congregating on the ice beneath the falls ended abruptly after what's now known the Niagara Falls Ice Bridge Disaster. The only evidence of this piece of history tourists will find at the falls today is a plaque dedicated to Burrell Hecock and his final act of heroism.
Strolling across the ice bridge isn't the only reckless activity that's fallen out of fashion at Niagara Falls. Here are some outrageous moments in Niagara Falls barrel-riding.
Tourists gathered on ice bridge beneath Niagara Falls. Photograph by Alfred S. Campbell, circa 1896. / New York Public Library, Wikimedia Commons // Public Domain
Ice bridge at the American Falls. Photograph by George Barker, circa 1865-1880. / New York Public Library, Wikimedia Commons // Public Domain
Group of women standing on the ice bridge beneath the American Falls, circa 1870. / New York Public Library, Wikimedia Commons // Public Domain
Tourists at the Niagara Falls ice bridge, circa 1894. / New York Public Library, Wikimedia Commons // Public Domain
Two tourists sitting on the Niagara Falls ice bridge, circa 1860-1895. / New York Public Library, Wikimedia Commons // Public Domain
Tourists at the ice bridge beneath the American Falls, circa 1859-1885. / New York Public Library, Wikimedia Commons // Public Domain