Save More Room (And Money) With Spacesaver's Latest 25 Percent Off Sale on Amazon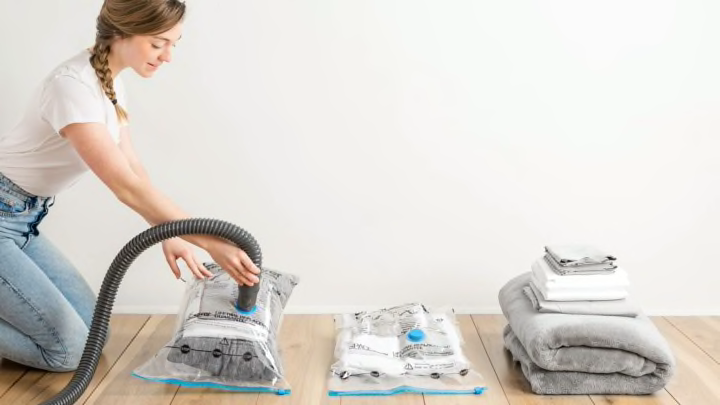 Can't find anywhere to store those winter coats and blankets? These bags can help. / Spacesaver
This article contains affiliate links to products selected by our editors. Mental Floss may receive a commission for purchases made through these links.
Whether you live in an apartment where you use every nook and cranny or have a home that's filled to the brim, vacuum bags can help maximize your storage options. Spacesaver, the leading brand for vacuum storage bags, is having a sale that will help you save a ton.
Through Amazon, you can save up to 25 percent on select bundles from the brand. You can choose from packs that include four, six, or 10 bags in four different sizes, with prices ranging from $13 to $42. There's even a 10-pack option that comes with an electric pump ($42) and a variety pack of six bags ($20).  
These vacuum storage bags can hold a surprising amount of stuff. / Spacesaver/Amazon
Collectively, these bags have earned a 4.4-star rating from over 8000 reviews. The reason so many people love them is because they're compatible with most vacuums and can hold a lot. The packs available in this sale come with storage bags that feature a double zip seal and a triple-seal valve. You'll also receive a travel pump in case you're on the road and don't have a vacuum, too.
These are great for storing seasonal clothing, linens and pillows, and other things you're not using daily. Once you get the bags, all you have to do is fill them with the items you want to store, zip them up, vacuum or hand pump out the air, and store it.
Head over to Amazon to take advantage of this up to 25 percent off sale on Spacesaver vacuum storage bag packs.
This article has been updated to reflect new prices.