When Abraham Lincoln Turned Down the Chance to Fill America With Elephants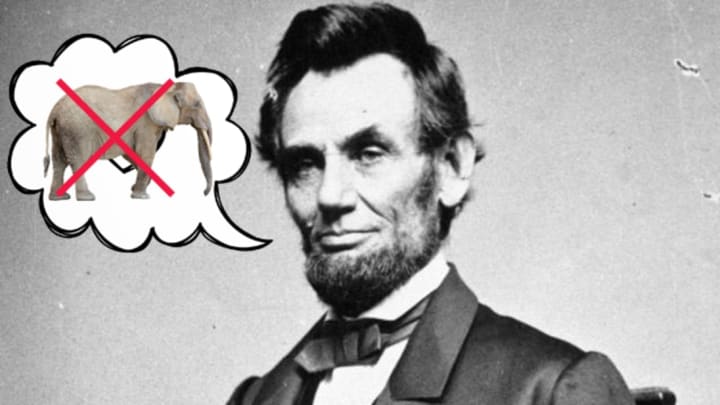 Getty Images / Getty Images
When a new president takes office, it's normal to get showered with diplomatic greetings, gifts, and political overtures. But when Abraham Lincoln's administration moved into the White House, they turned down what could have been the greatest gift of all: the chance to populate the United States with wild elephants.
In 1861, Lincoln received a pile of swag from King Somdetch Phra Paramendr Maha Mongkut of the country then known as Siam. You might know him better for his role in the hit musical The King and I, which fictionalized his relationship with English governess Anna Leonowens. What is true is that Mongkut was eager to "get to know" the West better—during his reign, he managed to open up and begin modernizing Siam.
The gesture wasn't actually meant for Lincoln: In fact, Mongkut had sent the presents to "whomsoever the people have elected anew as chief ruler in place of President Buchanan." He sent along a pile of lavish gifts, from a precious handmade sword to photos of himself and his daughter to two gigantic elephant tusks. But much more meaningful was the king's offer to send along a generous stock of elephants that could be bred on American soil.
It's no wonder Mongkut offered that gift: Pachyderms were not only native to what is now Thailand, but were also prized as important and valuable creatures. "It has occurred to us that, if on the continent of America there should be several pairs of young male and female elephants turned loose in forests," the king wrote, "after a while they will increase till there be large herds as there are here on the continent of Asia until the inhabitants of America will be able to catch them and tame and use them as beasts of burden making them of benefit to the country." Mongkut acknowledged that he hadn't yet figured out how best to ship over some elephants, but that it sounded like a good idea to him.
In a master stroke of diplomacy, Lincoln's administration disagreed. In Lincoln's reply, which was penned by Secretary of State William Seward, he deftly informed Mongkut that his gifts belonged by rights to the American people and would be placed in the National Archives (where they remain to this day). As for the elephants, the administration deftly dodged the issue altogether.
"This Government would not hesitate to avail itself of so generous an offer if the object were one which could be made practically useful in the present condition of the United States," wrote Lincoln via Seward. "Our political jurisdiction, however, does not reach a latitude so low as to favor the multiplication of the elephant, and steam on land, as well as on water, has been our best and most efficient agent of transportation in internal commerce."
By refusing the elephants, Lincoln's government managed to honor the far-away king without taking on a complicated burden. It was a move that acknowledged not only the king's respectful gesture, but gave him a much-needed nod. Mongkut realized that in order to survive, Siam would need to engage in trade with the West—and that kindness would go much further than the fear displayed by some of his closest neighbors.
There's no telling what would have happened if the Lincoln administration had said yes to Mongkut's gift. Perhaps to this day, the United States would be a place where herds of wild elephants roamed free.