8 Strange and Wonderful Festivals and Events in August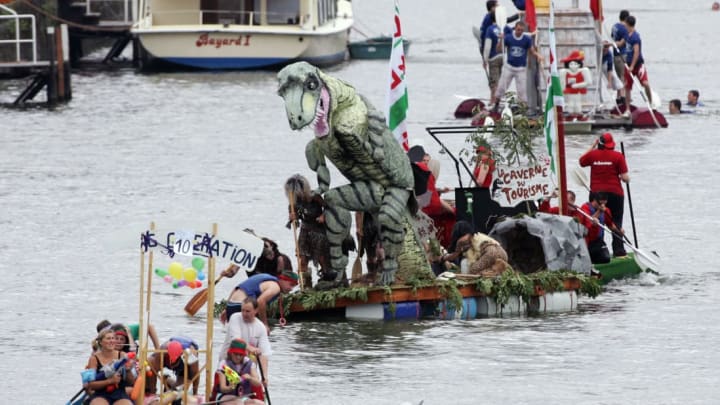 Getty Images / Getty Images
You might think of August as the dog days of summer and back-to-school time, but there's still plenty of summer fun to be had if you look. Here are some ideas for a getaway for the upcoming month of August.
1. National Hobo Convention, Britt, IA  August 3-9
The National Hobo Convention has been held in Britt, Iowa, since 1899. The public is invited to celebrate Hobo Days with events you'd expect at any festival, plus a hobo cemetery tour, hobo memorial service, hobo poetry, a cow chip throwing competition, a toilet bowl race, and free Mulligan stew for everyone!
2. Twins Days Festival, Twinsburg, OH August 7-9
Getty Images
People from all over the world come, two by two, to Twinsburg, Ohio, for the annual Twins Days Festival. Events on August 7th are only open to registered twins and other multiples and their families. Saturday and Sunday, the general public is welcome. This year is the festival's 40th anniversary, and the theme is a look back at past festivals. Events include sports competitions, entertainment, a talent show, food, dancing, a parade, and fireworks.
3. Humongous Fungus Fest, Crystal Falls, MI August 7-9
Dan Molter via Wikimedia Commons // CC BY-SA 3.0
Perhaps you've heard about the Armillaria gallica, a fungus that covers 37 acres in the upper peninsula of Michigan. The fungus colony was described as the largest living thing on earth, until a bigger fungus was discovered in Oregon. The Michigan fungus began to be called the Humungous Fungus and its fame led to the organization of the Humongous Fungus Fest in Crystal Falls, Michigan. The highlight of past festivals has been a ten-foot square mushroom pizza called the Humongous Pizza. The festival currently has no website, but the city of Crystal Falls lists the dates for this year's festival to be August 7-9. 
4. Elvis Week, Memphis, TN August 8-16
Chris Wieland via Flickr // CC BY-NC-ND 2.0
Graceland celebrates Elvis Week in the middle of August, revolving around the date of Elvis Presley's death on August 16, 1977. People come from all over the world to pay tribute to the King, so Memphis rolls out the red carpet to make the trip worth it for fans. The schedule include a contest for the Ultimate Elvis Tribute, city tours, a charity banquet featuring a reunion of the Elvis Mafia, several fan receptions, movies, concerts, a 5K run, and seminars on Elvis and his music. The week ends with the famous candlelight procession to Elvis' grave at Graceland all night Saturday night, and a memorial church service on Sunday morning.
5. La Regate des Baignoires, Dinant, Belgium August 15
Getty Images
La Regate des Baignoires is the International Bathtub Regatta, which takes place on August 15th. Yes, it's a boat race for bathtubs. Is yours seaworthy? If you're anywhere near Belgium, head to Dinant to watch up to 50 bathtubs race one kilometer down the River Meuse. The competition for the best decorated boat is taken more seriously than the actual race, and participants cover their tubs in outlandish and imaginative ways. The theme this year is "celebrities," and you can expect bathtub boats to represent stars from their owners' countries. See more pictures at the Facebook page. 
6. Mobile Phone Throwing World Championships, Savonlinna, Finland August 22
How far can you throw your phone? The 2015 Mobile Phone Throwing World Championships will take place Savonlinna, Finland on Saturday the 22nd. You can still sign up to participate in the annual event, but it will take a strong arm to outshine last year's winner, Dries Feremans of Belgium, who logged a distance of over 110 meters -a world record! There's no word on how many pieces the phone ended up in. Finland is the home of the sport which was first organized in 2000. And you don't throw your own phone, no matter how much you hate it: the event organizers provide phones for throwing.  
7. Corn Palace Festival, Mitchell, SD August 26-30
Ildar Sagdejev via Wikimedia Commons // CC BY-SA 4.0
I had the honor of visiting the Corn Palace in Mitchell, South Dakota a couple of years ago. The Corn Palace is a community center, arena, and museum in downtown Mitchell covered with murals made from ears of corn and other grains, replaced each year with a new crop. The fact that the edifice was first conceived strictly to draw tourists takes away nothing from its kitschy charm. Every harvest season, Mitchell invites you to the Corn Palace Festival, which is August 26-30 this year. There will, of course, be corn and other crops on exhibit, as well as a carnival, food, and entertainment, this year featuring the Nitty Gritty Dirt Band and Tony Orlando.
8. Potato Days, Barnesville, MN August 28-29
Barnesville, Minnesota, produces lots of potatoes. They celebrate that with Potato Days, a weekend set aside to honor the potato in every possible fashion. That includes wrestling in a ring filled with mashed potatoes, and competitions in picking, peeling, carving, sculpting, and cooking potatoes. And eating them. There's a potato sack fashion show, and the National Lefse Cookoff. Add in the regular stuff: a parade, concerts, carnival, etc, and make sure there are plenty of potato pancakes!