College Professor Discovers Tape of Martin Luther King Jr.'s First "I Have A Dream" Speech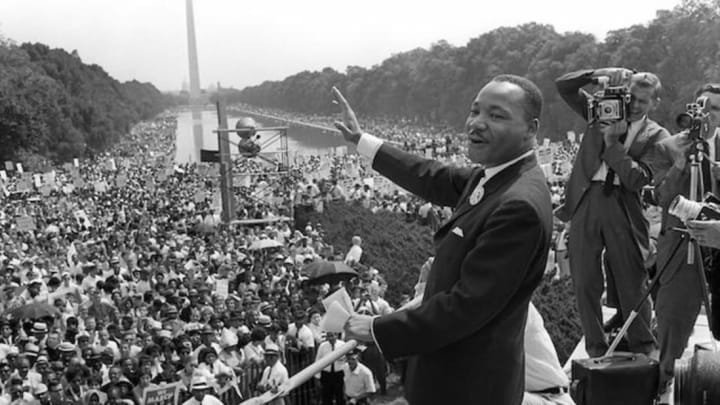 Getty Images / Getty Images
Eight months before Martin Luther King Jr. delivered what has since become one of the most iconic orations in American history, he gave almost the exact same speech to about 2000 people gathered at Booker T. Washington High School in Rocky Mount, N.C.
King used the phrase "I have a dream" eight times during the 55-minute speech in the high school gymnasium on November 27, 1962. That the speech happened is not a new discovery, but recently, English professor Jason Miller found the first-known tape of the earlier version in Rocky Mount's local library. Miller had stumbled upon a newspaper mention of a transcript of that speech, and figured that if a transcript exists, so must a recorded version.
Miller's many rounds of calls and emails finally paid off in 2013, when Braswell Public Library's staff said that they might have what he was looking for—a box whose label said it contained a recording of King's speech, with the message, "Please do not erase."
Miller took the 1.5-millimeter acetate reel-to-reel tape to George Blood, an audio expert in Philadelphia who has done work for the Library of Congress. Blood was able to digitize the tape and this week, it was brought back to Rocky Mount to be played for three people who were there for the original recording 53 years ago, in order to confirm its presumed provenance.
"Everybody was attentive to what he had to say," Herbert Tillman, who was about 17 years old at the time, told the Associated Press. "And the words that he brought to Rocky Mount were words of encouragement that we really needed in Rocky Mount at that time."
[h/t AP]