Who's Buried in Westminster Abbey?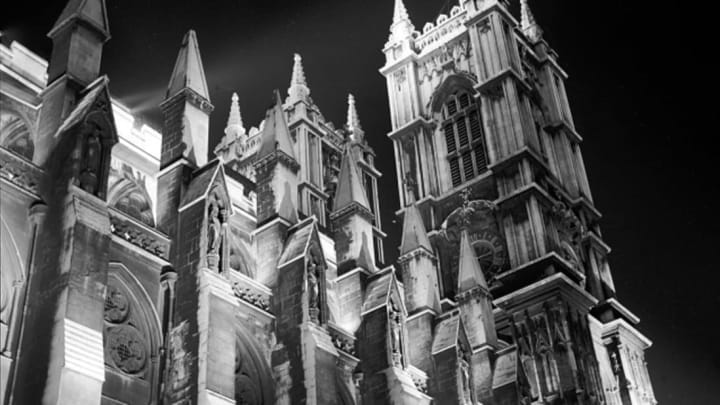 George Pickow, Hulton Archive // Getty Images / George Pickow, Hulton Archive // Getty Images
London's Westminster Abbey is not only a grand and glorious place of worship, but also the final resting place of monarchs and their consorts, nobility, greats from literary history, composers, and scientists who contributed to the history and culture of England.
1. Charles Darwin
The English naturalist Charles Darwin was buried at the Abbey shortly after his death in 1882. He is best known for his work on human evolution, but first came to fame for his journal that was published after a voyage on a survey ship.
2. Aphra Behn
Poet and playwright Aphra Behn was once employed by King Charles II as an agent during the Dutch War, but nobody believed her when she told them, in advance, of a raid that did eventually happen. She was buried in the Abbey in 1689.
3. Margaret Beaufort, Countess of Richmond
Margaret was the grandmother of King Henry VIII who established two colleges of Cambridge — Christ's College and St. John's College. Her tomb in the Abbey features an effigy, which was likely molded on a death mask.
4. Elizabeth Claypole
When Charles II ordered the bodies of Elizabeth Claypole's father, Oliver Cromwell, and his followers to be disinterred upon the restoration of the monarchy in 1660, her final resting place remained undisturbed in the Abbey. Cromwell's body did not get the same treatment of course, as his corpse was then hanged and decapitated. Finally, his head was displayed on a pole outside the Parliament building, and then his body was chucked into a pit underneath the gallows.
5. Sir Isaac Newton
The famed astronomer, mathematician and scientist is best known for his work on motion and laws of gravitation. He died in 1727 at age 84 and is buried close to an impressive marble monument in the Abbey.
6. Mary Eleanor Bowes
Mary Eleanor Bowes, Countess Dowager of Strathmore, is an ancestor of Queen Elizabeth II and is said to have been buried in Westminster Abbey wearing an elaborate bridal gown. She began divorce proceedings during her second marriage, but was abducted by her husband. She was later rescued, and her husband was thrown in jail.
7. Charles Dickens
The grave of Charles Dickens is in what is known as Poets' Corner, and his stone is marked with a simple inscription, which was etched out at his own request — instead of an elaborate engraving, he preferred that his works speak for him.
8. David Livingstone
The Scottish explorer David Livingstone died in the middle of Africa in 1873. His heart was buried under a mpundu tree but his body was embalmed and shipped back to London, where it arrived the following year, for burial at the Abbey.
9. William Murray, Lord Mansfield
William Murray was a lawyer and a judge who helped end slavery in England with his decision on Somerset v. Stewart, which found that slavery was unsupported in common law.
10. Laurence Olivier
The ashes of Laurence Olivier, who died in 1989, lie in front of Shakespeare's memorial in Poets' Corner. During his funeral services, attendees heard a recording of the actor himself reading from Henry V.