15 Geeky Cookie Cutters
Use a cookie cutter to turn boring round cookies into any geeky shape you want.
1. DINOSAURS 
You might not be the best paleontologist if you keep eating all of your findings, but with cookies this delicious looking, who can blame you?
2. JAKE THE DOG FROM ADVENTURE TIME 
Sorry: No matter how much they look like Jake, cookies don't have the same magic ability to grow at will. 
3. SUPER MARIO BROTHERS
Recreate your favorite level of Mario Brothers as a delicious dessert with this extensive collection of cutters.
4. STAR WARS
What's better than gingerbread men? Star Wars themed gingerbread men. With the new movie coming out soon, you'll definitely want to stock up on these for the holidays. 
5. TOTORO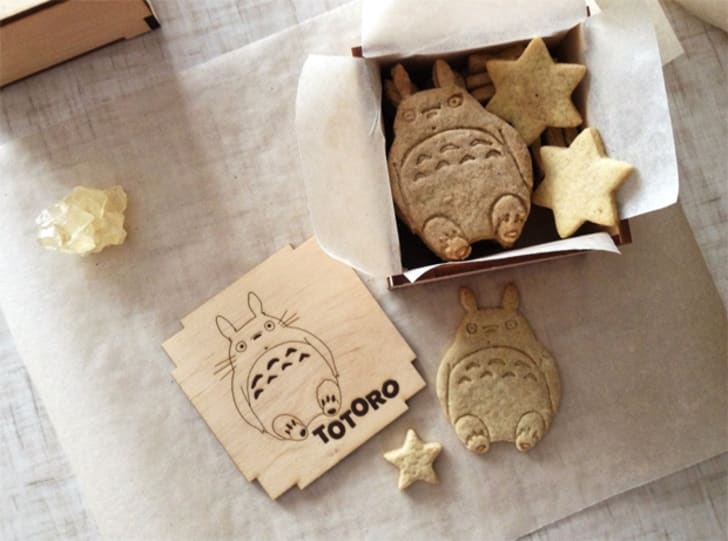 Bring some of the delight of the forest into your kitchen with lovely Totoro cookie cutters. 
6. DR. WHO
Whovians will love to chow down on TARDIS, Cyberman, K9, Sonic Screwdriver, and Dalek shaped cookies.
7. GAME OF THRONES
Winter is coming and that means it's cookie season. Pick your favorite house sigil or Lannister face to grace your cookies. 
8. ANATOMICALLY CORRECT HEART
If traditional heart-shaped cookies aren't for you, consider this anatomically-correct human heart shape instead. 
9. NAVI FAIRY FROM LEGENDS OF ZELDA
Perhaps the most annoying of the cookie shapes, you'll want to eat these Navi cookies quickly. You can also choose from these Zelda-themed cookie cutters. 
10. SNORELAX FROM POKEMON
This time, you won't need a Poke'flute to get through—just an appetite and a glass of milk. 
11. PAC-MAN 
Ever want to play the edible version of Pac Man? Now is your chance with these colorful plastic cutters. 
12. SUPERMAN
Make super-good treats with this heroic cookie cutter. 
13. LITERARY FIGURES
Honor all of your literary heroes with cookie tributes. Some options include Edgar Allan Poe, Emily Dickinson, and William Shakespeare. 
14. SKELETONS
These "gingerdead men"
 combine the sugary cheer of Christmas with the spookiness of Halloween. The cutters provide a deep groove in the dough so you can fill it in with white icing. 
15. BATMAN
, even it you don't need it right now.