31 Stunning Photos of Sunday's Supermoon Eclipse
On Sunday night, people around the world witnessed an astronomical event that has only occurred five times since 1900: a rare total super harvest moon eclipse. The Moon was full, as near to us as it gets, and perfectly aligned with the Earth and Sun. The result was a giant, full Moon that appeared orange, rust, crimson, or red, the likes of which won't be seen again until 2033.
We've rounded up some of the best photos from last night's celestial event.
Even before the eclipse, the glowing supermoon provided plenty of photo ops:
The #SuperMoon rises over Boston at sunset. pic.twitter.com/3Bti7ycBmN

— Only In Boston (@OnlyInBOS) September 27, 2015
The #SuperBloodMoon rises over #GriffithObservatory PHOTO for @latimesphotos @latimes pic.twitter.com/WMvc9WYqaR

— Patrick T. Fallon (@pfal) September 28, 2015
The Supermoon has risen http://t.co/BI5xaMCbx2 pic.twitter.com/Q20jqloIqa

— NBC New York (@NBCNewYork) September 28, 2015
Stunning #Supermoon rises tonight in #NYC ahead of the #LunarEclipse. #SuperBloodMoon #fullmoon pic.twitter.com/cq0YR4nrT2

— Inga Sarda-Sorensen (@isardasorensen) September 28, 2015



As the eclipse began…
#Supermoon #lunareclipse, photographed in Plymouth at 10-minute intervals starting at 9:07 pm http://t.co/R96St5K3kD pic.twitter.com/kiTJX7eCRo

— The Boston Globe (@BostonGlobe) September 28, 2015
#LunarEclipse is currently covering about a third of tonight's #supermoon over #NYC#ThisIsNewYorkCitypic.twitter.com/zHzxULeFhC

— Gigi A (@gigi_nyc) September 28, 2015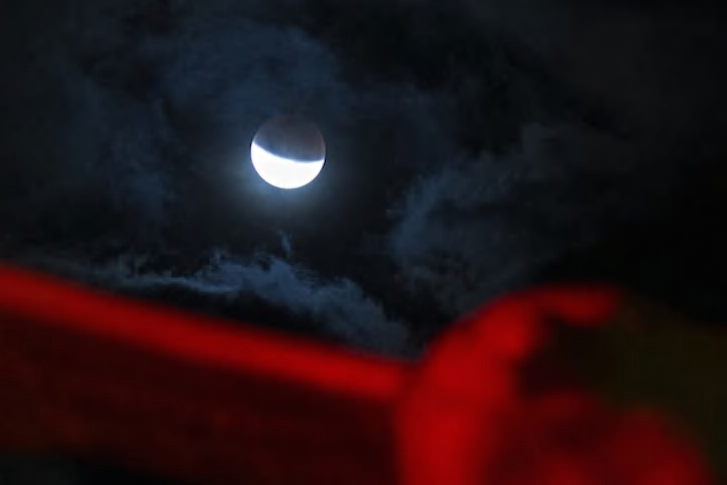 And the complete lunar supermoon eclipse:
In case you havent yet seen enough super moon eclipse photos...I shot this from Regina, Sask pic.twitter.com/uPqNqJI9FZ

— Greg Johnson (@TornadoGreg) September 28, 2015
A combo of eighteen images shows the phases of the #SuperBloodMoon in Buenos Aires pic.twitter.com/IdXZuaUjXk

— BuzzFeed News (@BuzzFeedNews) September 28, 2015
Another great #SuperBloodMoon shot from our photographer @LenMahl
http://t.co/b3uVGHhSLc pic.twitter.com/mE1PfYmTx6

— Salt Lake Tribune (@sltrib) September 28, 2015
#SuperBloodMoon rising near Jumbo Rocks Campground at #JoshuaTreeNationalPark. [NPS/Brad Sutton] pic.twitter.com/UHhStWxwTL

— Joshua Tree NPS (@JoshuaTreeNP) September 28, 2015
Great #SuperBloodMoon in our @Flickr group, add yours here http://t.co/R2yVlLwB8c and here http://t.co/CV3mdVTNIU pic.twitter.com/NBpIHv92Mq

— NASA Goddard (@NASAGoddard) September 28, 2015