The Time That William Shakespeare Gave Evidence In Court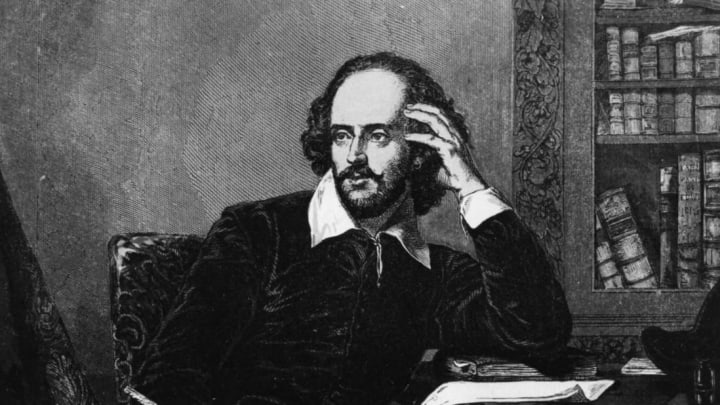 Getty Images / Getty Images
In the spring of 1612, a contentious case made its way to the London courts—and the verdict hinged on one VIP witness: William Shakespeare. Though the account of the playwright's day in court had been entirely forgotten about until it was rediscovered by the American scholar Charles William Wallace in 1909, the story gives fans and researchers tantalizing insight into Shakespeare and his life outside of the theater.
In the case, a young man named Stephen Bellott faced off against a local "tiremaker" (a maker of wigs and women's hair accessories) named Christopher Mountjoy. Bellott, the plaintiff, was not only Mountjoy's apprentice but also his son-in-law—he had married Mountjoy's only daughter, Mary (or, according to some accounts, Marie), eight years earlier.
At the time of the marriage, Mountjoy had allegedly promised Bellott a dowry of £60 (equivalent to more than $10,000 in 2015), and promised a lump sum of £200 (around $33,000 today) to the couple in his will. Mountjoy, however, never paid a penny—and rumors began to circulate that he planned to disinherit the couple and leave them with nothing. With little alternative, Bellott took Mountjoy to court.
A jury, sworn in at the small-claims Westminster Court of Requests, was tasked with determining what Bellott and Mountjoy's financial agreement had been. Three people took the stand including a family friend, Daniell Nicholas, and Mountjoy's former housemaid, Joan Johnson. But as the case progressed, it soon became clear that any outcome would depend on the testimony of the agreement's only witness: the Mountjoys' former lodger, William Shakespeare.
Shakespeare, who was 48 years old at the time, appeared in court on the first day of the hearing, May 11. He was asked a total of five questions, admitting to having known both men "for the space of 10 years or thereabouts," and describing Bellott as a "very good and industrious servant," and "a very honest fellow." He also confirmed that he had rented a room from Christopher Mountjoy and his wife at their home on the corner of Silver Street in Cripplegate, London in 1602.
A few years earlier, Mountjoy had hired Bellott as his tiremaking apprentice and kept him in his employment for the next six years. During this time, he and Mary became close, and although Bellott left the house at the end of his apprenticeship in 1604, he soon returned. At that point, Shakespeare (who was still lodging with the Mountjoys around the time that he was finishing up Othello) was asked by Mary's mother to play matchmaker, and fix the couple up. In court, Shakespeare recalled how Mrs. Mountjoy "did solicit and entreat [me] to move and persuade Bellott to effect the marriage."
Shakespeare's connection to the case might have been made clear in court, but when it came to the crucial question of the financial dispute, his memory failed him. Court records show that when he was quizzed about Bellott and Mountjoy's arrangement, Shakespeare only recalled that Mountjoy had promised Bellott some kind of dowry—a "portion in marriage," as the court records refer to it—but "what certain portion, he [Shakespeare] remembereth not, nor when to be paid."
With Shakespeare's key evidence proving inconclusive, the case was passed over to the local Huguenot church court, who eventually found in favor of Bellott and awarded him the sum of 20 nobles (around $1250). What happened to the family after that is unclear. However, a year later, Christopher Mountjoy had apparently still not paid up.
Today, experts can pick apart the tale for insightful bites about Shakespeare: His deposition provides us with the earliest known record of his signature (a hastily signed Willm Shakp), while the handful of direct quotes written in the court records give us some idea of how he might have spoken. And the fact that Shakespeare lodged at the Mountjoys' home gives us the only exact address we have for him in London—although sadly, if you were thinking of paying him a visit, you should know that it's no longer standing today.