These Are the World's Most Beautiful Aquariums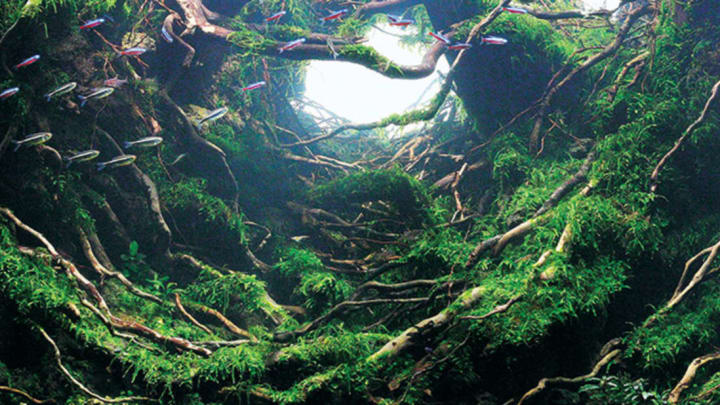 Aqua Design Amano / Aqua Design Amano
When it comes to aquariums, who says the focus should be just on the fish? That's the spirit behind the annual International Aquatic Plants Layout Contest, a design competition that ranks photographs of elaborately designed underwater landscapes from around the world.
Don't expect anything pedestrian, like colorful gravel and mini-castles. With their focus on harmony, balance, and the Japanese concept of Wabi-sabi, these serene scenes are more akin to sunken Zen gardens.
Entrants spend years shaping natural plants into harmonious arrangements. In turn, judges score the aquariums on a 100-point rubric, taking six different criteria into account: recreation of natural habitat for fish; long-term maintenance of layout work; creator's technical skills; originality and impression of layout work; presentation of natural atmosphere in layout work; and overall composition and planting balance.
For a tranquil hobby, the competition is fierce, Vice reports. Works have to be highly original, you're not allowed to use plants that can't survive under water for long periods of time, and composition, technical skill, and light balance are also taken into account.
The IAPL was started by Japanese wildlife photographer Takasha Amano, who popularized the practice of aquarium landscaping, or "aquascaping," in the mid 1990s. (Amano died in August 2015; the contest is now run by his company, Aqua Design Amano.) 
This past year, the IAPL received 2545 entries from 69 countries. The winners—who hail from countries including China, Malaysia, and Brazil—were announced in September. Check out their prize-winning submissions below.
 1. "Longing" by Takayuki Fukada, Japan

2. "Hidden Land" by Bowen Fan, China

3. "Follow In" by Yufan Yang, China

4. "Deep Nature" by Paulo Pacheco, Brazil

5. "Metempsychosis" by Yi Ye, China

6. "A Hunting Ground" by Josh Sim, Malaysia

7. "Mysterious World" by Yong Liu, China
All photos courtesy of Aqua Design Amano
[h/t This Is Colossal, Vice]