9 Ways Artists Have Imagined Alice in Wonderland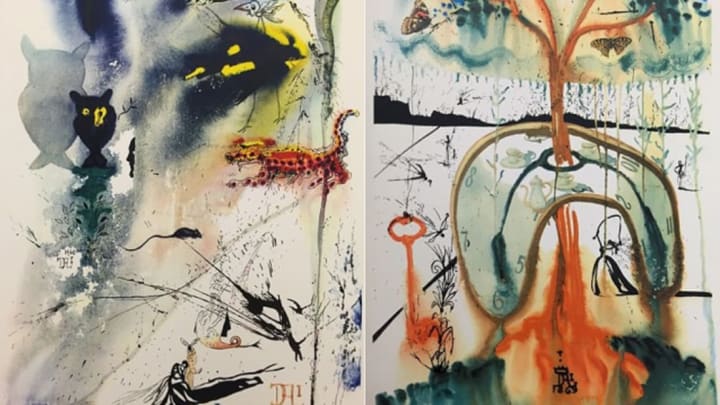 Courtesy Arizona State University / Courtesy Arizona State University
Lewis Carroll's seminal classic Alice's Adventures in Wonderland has been in print for a full 150 years. The surreal, fantastical tale is most often associated with the drawings of illustrator John Tenniel—which inspired the look of the Disney movie—but the popular English illustrator wasn't the only artist to take a crack at visualizing the unfamiliar world at the end of the rabbit hole. 
The challenge for artists tasked with illustrating such a well-known book is finding a way to "put their own thing into it," according to Arizona State University art professor emeritus John Risseeuw. ASU scholars dove into the university's library archives for an upcoming symposium on the book tied to the anniversary this year. They discovered a treasure trove of different art associated with Alice and her adventures. Here are 9 different artists who left their mark on the tale:
1. JOHN TENNIEL
You might recognize this illustration by Tenniel, from the first edition of the book in 1865.
2. SALVADOR DALI
But did you know Salvador Dalí tried his hand at illustrating Alice, too? His surreal imagery seems perfectly suited to the task. It seems fitting that the tea party table became a melting clock. 
His edition came out in 1969. 
3. DISNEY
These songbooks look a little different than the animated movie.
4. EMMA MCKEAN
This 1943 edition has sliding panels that to show multiple illustrations.
5. IRENE COREY
The legendary theatrical designer created these sketches for an outdoor production at the Dallas Theater Center. 
The production was a mime show.
6. BARRY MOSER
Moser's illustrations won the National Book Award in design and illustration in 1983. 
His woodcuts are imperfect due to his practice of using unseasoned wood. The prints of the White Rabbit, the Red Queen, and others feature tiny white cracks. 
7. ROBERT SABUDA
This version of Alice has pop-up illustrations. 
8. ARTHUR RACKHAM
A prolific children's book illustrator, Rackham published his vision of Wonderland in 1907, the first year the original copyright expired. 
9. 

PETER NEWELL
Newell, whose pencil drawings came out in 1901, was a political cartoonist. 
All images courtesy Arizona State University