25 Things You Should Know About Baltimore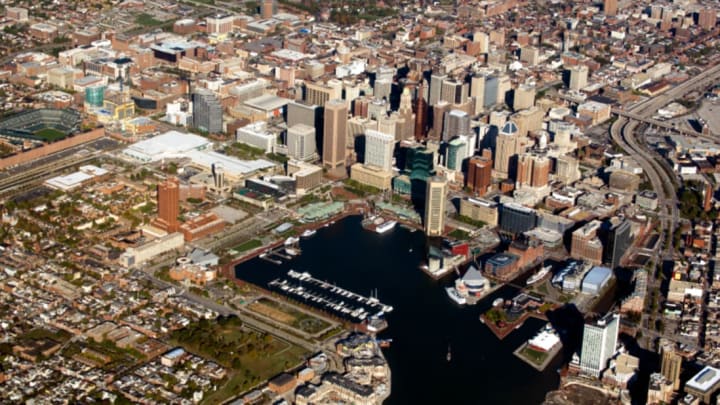 iStock / iStock
Interested in learning more about Charm City? Grab a can of your favorite brew (preferably some Natty Boh) and read on for 25 things you probably don't know about Baltimore. 
1. Famed slugger and
leftie pitcher Babe Ruth (born George Herman Ruth in 1895) was a Baltimore native. He originally played for the town's minor league team before he was quickly scooped up by the Boston Red Sox. Ruth developed his love of the game at St. Mary's reform school, where his powerful hits resulted in occasional damage to school property. 
Getty
2. Entrepreneur and philanthropist Johns Hopkins founded the nation's first research university in Baltimore in 1876. The university, research institutions, and hospital that now bear his name serve as the state's largest private employer.
3. At one point in the
19th century, Baltimore's status as a port city made it second only to Ellis Island in the number of immigrants it processed. Before 1850, new arrivals entered the country through Fell's Point, but as their numbers increased, they were brought to Locust Point, next door to Fort McHenry, instead. 

4. You've got Baltimore to thank for the B&O Railroad square you're lucky to land on in a game of Monopoly. The Baltimore & Ohio Railroad was the country's first commercial railroad. In 1877, the Great Railroad Strike caused turmoil among railway workers after the B&O company tried to lower their wages. In Baltimore, violence broke out between civilians and the National Guard; 10 people were killed and parts of the railway station were burned. 

5. The Baltimore Inner Harbor is home to the National Aquarium, considered to be the country's first public aquarium. It's home to more than 20,000 fish, birds, reptiles, amphibians, and marine mammals.
Wikimedia Commons // CC-BY-SA 3.0
11. French artist Henri Matisse has found an unlikely home in Maryland. The Baltimore Museum of Art features the world's largest collection of his works, which the public can view—along with the rest of the museum's offerings—for free.
12. Baltimore's state bird (and proud baseball team mascot), the Baltimore oriole, got its name from its black-and-yellow feathers that echo the colors on Lord Baltimore's coat of arms.
13. Some jazz greats hail from the heart of Baltimore. Singer Billie Holiday grew up in the city before making her way to Harlem with her mother. Jazz singer and big band man Cab Calloway also hails from Baltimore, where he decided to pursue an entertainment career against his lawyer father's wishes.
14. The next time you and a friend crack open a six-pack, thank Baltimore. The town's National Bohemian brewing company, later acquired by Pabst Brewing Company, began selling its brews by the half dozen in the 1940s. The reason? Company execs decided four beers was too few, but eight too many. 

Chris Bojanower, Flickr // CC BY 2.0
15. Operated by a lucky 13-year-old, the first manned balloon to successfully take to the skies in the U.S. was launched right out of Baltimore in 1784.
16. In 1774, the first post office in the United States was inaugurated in the city.
17. Almost a century later, the first telegraph line to be established anywhere in the world was set up between Baltimore and Washington, D.C. by Samuel Morse.
18. Squeaky clean teeth became a priority with the establishment of the world's first dental school in Baltimore in 1840. One famous alum of the Baltimore College of Dental Surgery: Wild West gunslinger Doc Holliday. 19. 
The nearby National Museum of Dentistry boasts an impressive collection of tooth-related artifacts, including George Washington's dentures (made, as Atlas Obscura notes, "from gold, ivory, lead, and human, horse and donkey teeth") and oral hygiene tools used by Queen Victoria.
20. David Simon, The Wire's showrunner, populated his beloved, Baltimore-set drama with real-life Baltimoreans—most memorably, Felicia "Snoop" Pearson, the fearless (and fearsome) member of Marlo Stanfield's organization.
YouTube
21. Hydrogen gas lamps, used to keep streets bright at night in the days before electricity, were first used in Baltimore in 1817. 
22. On a fateful February day in 1904, a fire swept through the city, burning down more than 70 blocks in downtown Baltimore. The Great Baltimore Fire took down more than 1500 buildings in just 30 short hours. After the fire, changes were made in the safety standards for firefighting equipment.
23. The Baltimore airport has a unique offering it claims no other airport in the country has: a dedicated hiking and biking trail on-site.

24.
Baltimore is the final resting place of the inventor of the Ouija board, Elijah Bond. Not surprisingly, his headstone resembles one of his spirit-channeling devices.
Lucy, Flickr // CC BY-NC-ND 2.0

25. Edgar Allan Poe was a Baltimore native, and is buried in the city's Westminster Hall and Burying Ground. 
Baltimoreans are so proud of this native son that even the town's NFL team—the Ravens—pays homage to the literary icon.