10 Facts You Might Not Know About Olive Garden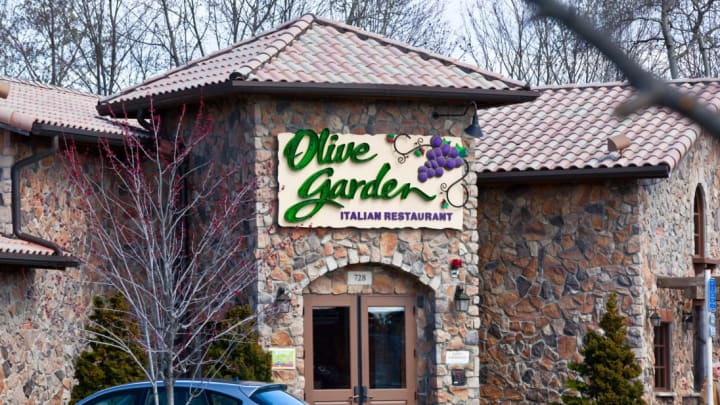 iStock / iStock
Americans have a love-hate relationship with Olive Garden. But where else can you get unlimited refills on soup, pasta, and those baskets of crave-worthy breadsticks?
1. ORLANDO WAS THE TEST SITE FOR THE FIRST OLIVE GARDEN.
iStock
General Mills—yes, the company that makes cereal and cinnamon rolls—launched the Italian chain in late 1982. Called The Olive Garden, the first Italian eatery of its kind cropped up in Orlando. Within seven years, the chain had close to 150 restaurants and a cult breadstick following. In 1995, General Mills created Darden Restaurants, Inc., which now owns the restaurant chain. With 840 locations, Darden claims Olive Garden is the "largest chain of Italian-themed restaurants" in the U.S.
2. OLIVE GARDEN AND RED LOBSTER TRIED THAT COMBO RESTAURANT THING—SORT OF.
iStock
The sister restaurants were at one time owned by Darden Restaurants and operated with some of the same business ideas. While Red Lobster offered endless seafood promotions, Olive Garden became known for its unlimited soup, salad, and breadsticks deal, along with its unlimited pasta promos. In 2011, Darden considered joining both restaurants into one location to expand profits while cutting expenses, and six combination Olive Garden-Red Lobster restaurants were born. Unlike other combination eateries, both restaurants shared one building and one kitchen, but had separate entrances, dining rooms and menus (so much for ordering a lobster with your unlimited breadsticks). Darden sold Red Lobster in 2014 and all combination locations were either closed or renovated to house only Olive Gardens.
3. PEOPLE GOT AMPED FOR THOSE $100 PASTA PASSES.
iStock
In 2014, Olive Garden ran a promotion-turned-craze that gave customers the chance to eat as much as they wanted for $100: the Neverending Pasta Pass. Each pass permitted unlimited pasta, soup, salad and breadsticks for seven weeks. On opening day for the passes, Olive Garden lovers crashed the site; in 2015, passes sold out in one second. Angry Olive Garden fans took to the web to lament not getting a pass, and fakes cropped up on Ebay, some selling as high as $300. Weeks after the Pasta Passes were sold, several customers reported eating as many as 100 meals at the restaurant. A clergyman in North Carolina referred to himself as the "Pasta Passtor" with the hopes of eating $1800 in Olive Garden food before his pass expired. He ended the seven weeks having eaten 115 total meals.
4. THOSE UNLIMITED PROMOTIONS ARE THE WORST FOR SERVERS.
iStock
An Olive Garden server told Cosmopolitan that the worst thing about working at the restaurant was its main appeal: the unlimited soup, salad, and breadsticks. The amount of refills of all three items, plus drinks, is pretty hectic. But the low price means servers don't receive big tips for all the carb-loading they've helped you through.
5. THE TUSCAN COOKING SCHOOL ISN'T REAL … OR IS IT?
iStock
Olive Garden supposedly trains its chefs and upper management at a Tuscan cooking school—or so say its commercials. But previous employees have said the Culinary Institute of Tuscany isn't what it seems. In 2011, a Reddit poster claimed to have attended the supposed cooking school, but said attendees spent more time sightseeing and exploring Tuscany than learning how to cook authentic Italian food. "The only time we saw the 'chef' was when she made a Bolognese sauce while taking pictures with each of us to send to our local newspapers," the former manager wrote. CNN determined that Olive Garden does send its chefs and managers to a Tuscan restaurant/bed-and-breakfast, but there isn't an official school, per se. The final verdict? Olive Garden does send employees on trips to Italy, but what they do and learn there may not live up to the cooking school claims.
6. SOME OLIVE GARDEN INVESTORS TRIED TO LIMIT THE UNLIMITED BREADSTICKS.
iStock
Olive Garden came under fire in 2014 for serving what investors believed were excessively generous portions of breadsticks. Starboard Value, an investor in the Italian chain, sent Olive Garden executives a 300-slide presentation citing everything it hated about the restaurant [PDF]. One of those points targeted the 675 million breadsticks Olive Garden serves annually. Starboard Value claimed the breadsticks only lasted seven minutes before becoming stale, leading to a lot of waste—and then compared the restaurant's beloved appetizer to hotdog buns. The investor's solution was to serve only one breadstick per person (unless customers asked for more) with the hopes of saving $5 million annually. Intense pushback ensured Olive Garden's offer of unlimited breadsticks remained the same, but Darden found other ways of cutting costs. Like, for instance, only cleaning its carpets once per month.
7. PASTACHETTI? SOFFATELLI? THEY'RE NOT AUTHENTIC ITALIAN FOODS.
iStock
A 1999 Olive Garden campaign promoted the restaurant as the place you'd want to take your Italian (or Italian food-loving) family for authentic meals. But some of those menu items aren't all that Italian after all. In 2011, the restaurant admitted some of its menu items took a cue from Italian chefs, but wouldn't be found in traditional cookbooks or Italian restaurants. Surprisingly, a Public Policy poll found that 39 percent of Americans think Olive Garden is as authentic as Italian food comes. Still, chicken alfredo ranks as Olive Garden's most-ordered dish, so despite being Americanized, the chain must be doing something right.
8. WHEN IT COMES TO NEW DISHES, BREADSTICKS ARE KING.
iStock
Although its meals may not be what you'd expect from an authentic Italian dining experience, Olive Garden has created some Tuscan-inspired dishes. In an effort to attract more foodies, Olive Garden briefly introduced a pear and gorgonzola ravioli and a baked pasta romana. While both dishes were a flop with customers (they weren't "cravable" enough), anything with breadsticks almost always gets a free pass. Olive Garden's breadstick sandwiches, which sport chicken parmigiana or meatballs between two breadsticks, were an unexpected win for the chain. In this case, Olive Garden investors might be right—the breadsticks are sort of like a hotdog bun.
9. THE SECRET MENU IS ESSENTIALLY ANYTHING YOU WANT.
iStock
One of Olive Garden's perks is the variety of menu items. But if you aren't finding exactly what you want—say, a discontinued menu item—there's a chance you can hack your order. Secret menu sites report that it's still possible to order the discontinued Chicken Fettuccine Florentine (so long as the chef has all the necessary ingredients). Many secret menu suggestions aren't all that secret, they're simply substitutions for standard menu items that many people don't know are possible, like changing ravioli fillings. Love dessert but hate chocolate sauce? Mention that to your server and you may have the option of a raspberry sauce.
10. A GRAND FORKS COLUMNIST BECAME FAMOUS FOR HER OLIVE GARDEN REVIEW.
Frederick M. Brown/Stringer, Getty Images
A Grand Forks, North Dakota, food columnist became an overnight sensation thanks to her review of an Olive Garden. Marilyn Hagerty, an 88-year-old reporter for the Grand Forks Herald, covered a newly opened location and gave it a gushing review. Likely because of the chain's love-hate relationship with foodies, her article went viral. "All in all, it is the largest and most beautiful restaurant now operating in Grand Forks," she wrote. "The chicken Alfredo ($10.95) was warm and comforting on a cold day. The portion was generous. My server was ready with Parmesan cheese." Her review spread across the internet and attracted the attention of well-known food personalities, including chef Anthony Bourdain, who offered Hagerty a book deal and wrote the foreword, calling her critiques the "antidote to snark." And, like many Olive Garden fans, Hagerty returned for more; after the release of the chain's breadstick sandwiches, she wrote a follow-up review. Even food reporters can't say no to those breadsticks.
This story was originally published in 2016.