11 Brilliant Gifts for the Film Buff in Your Life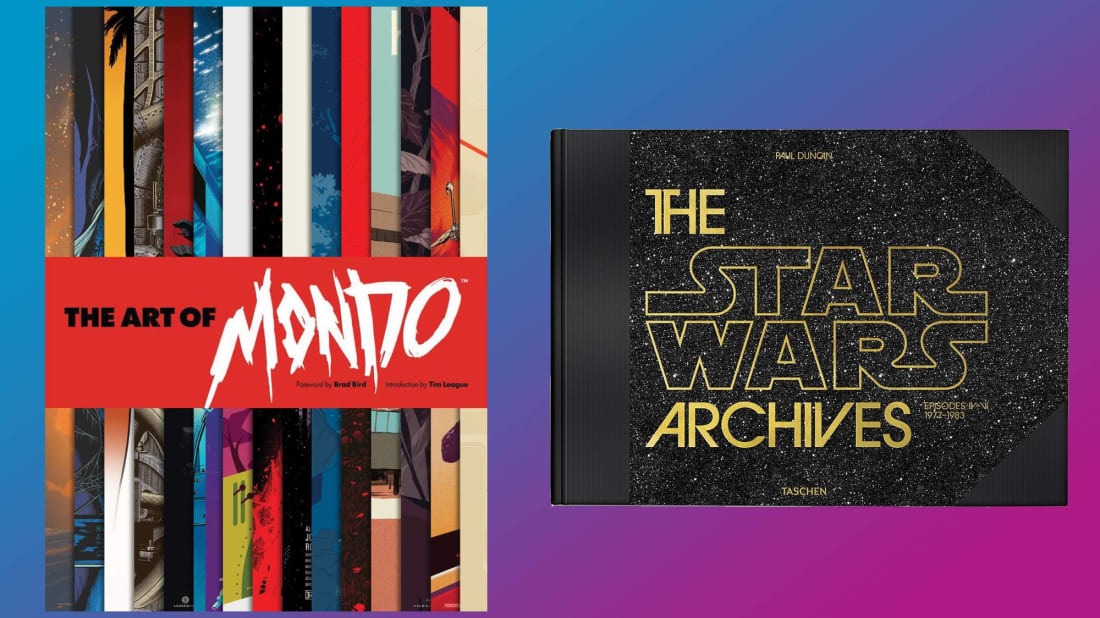 Can't figure out what to gift the cinephile in your life now that DVDs have pretty much bitten the dust? Here are 11 suggestions sure to delight movie lovers who know their stuff.
Did you know that the stormtroopers from Star Wars were originally all going to wield lightsabers? Or that a lake of lava was going to surround the Emperor's throne room in 1983's Return of the Jedi? No matter how many times you've binged George Lucas's iconic space opera, there's always more to learn about the Star Wars universe. And in TASCHEN's 600-page Star Wars Archives, you'll be treated to a gorgeous trip through the original trilogy, complete with high-quality production photos, script pages, unused concept art, and storyboards, all detailing the mammoth production process behind each film.
Find It at Amazon for $130.
A talented cast of actors delivering lines from a well-written script may be the first things that come to mind when thinking about the most important elements of "a great movie," but all the clever dialogue and George Clooneys in the world won't help much if you can't hear the film properly. This Vizio sound bar brings the movie theater experience into your living room with a compact sound system that turns any movie (or television series, football game, etc.) into a totally immersive experience. You'll never see—or hear—Jurassic Park quite the same way again.
Find It at Amazon for $180.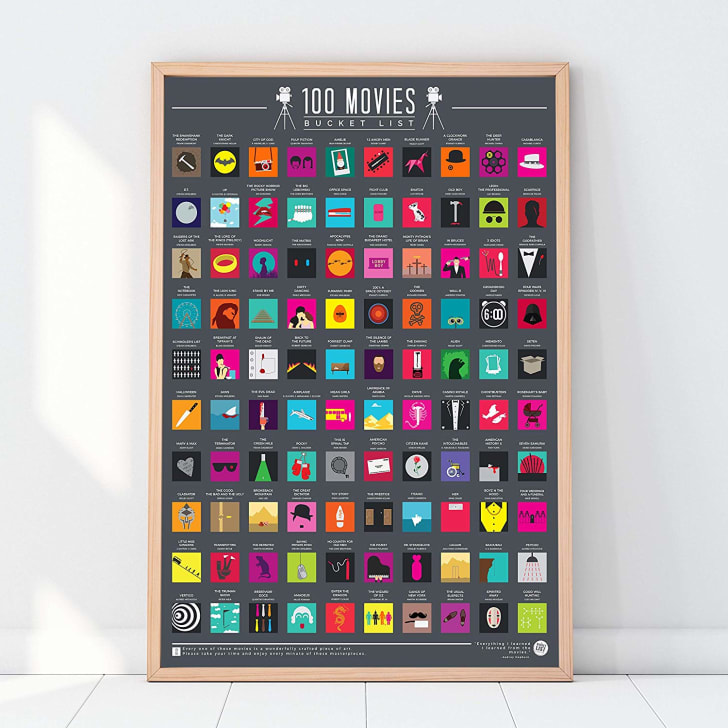 Think you're a true cineaste? Prove it. See how many of the iconic films included on this poster you've already screen and scratch off the titles. Then, queue up the rest of them in order to complete your film education, and get the full aesthetic effect of this poster. The titles range from bona fide classics like Casablanca and Breakfast at Tiffany's to newer titles like The Grand Budapest Hotel and Moonlight.
Find It at Amazon for $15.
Turn any gathering into a movie party with this gigantic inflatable movie screen that can be blown up for either indoor or outdoor use. Stick it in the basement for your kid's next sleepover party or, when the weather allows, set it up right next to the pool, have all your guests grab a raft or inner tube, and settle in for a terrifyingly vicarious screening of Jaws. The screen measures 12 feet in height and 11.5 feet across, so there won't be a bad seat (or flotation device) in the house.
Find It at Amazon for $125.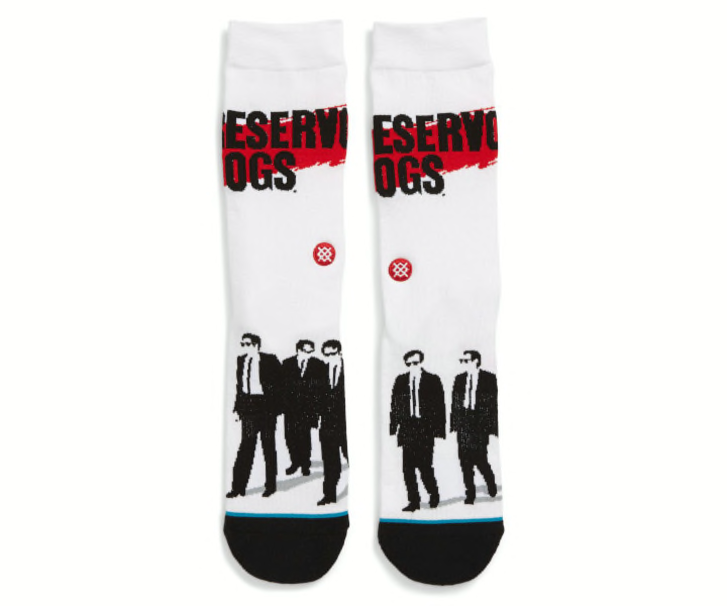 Does the film fanatic in your life already have a Blu-ray collection full of Tarantino classics and a closet of Pulp Fiction graphic tees? Then pick up this pair of Reservoir Dogs socks from Nordstrom, featuring the same image from the movie's poster.
Find It at Nordstrom for $18 per set.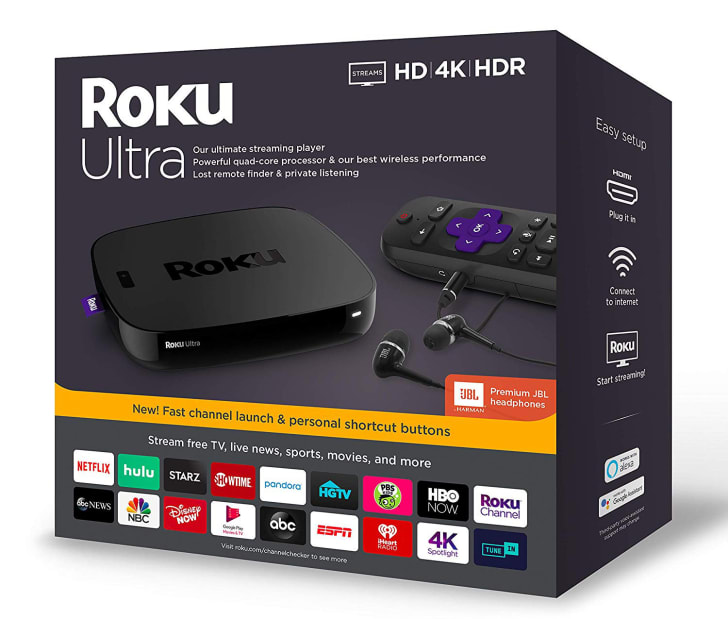 Give the gift of unlimited entertainment with the Roku Ultra, compatible across a range of devices (including smartphones and tablets) plus over 300,000 movies on demand. Even the biggest movie buff is sure to find a new favorite with that many options. Plus, you can use the device to access Netflix, Hulu, Amazon Prime, and hundreds of other streaming networks.
Find It at Amazon for $99.
You don't need to be a film historian to win at the Awkward Family Photos Movie Line Caption Game—all you need to have is a little imagination and a taste for irony. The rules are simple: Basically, you'll be pairing famous movie quotes with the hilariously awkward family photos included with the game, and the winner will be determined by whoever the game's judge deems has the funniest pairing. It's quick, simple, and always a good time.
Find It at Amazon for $8.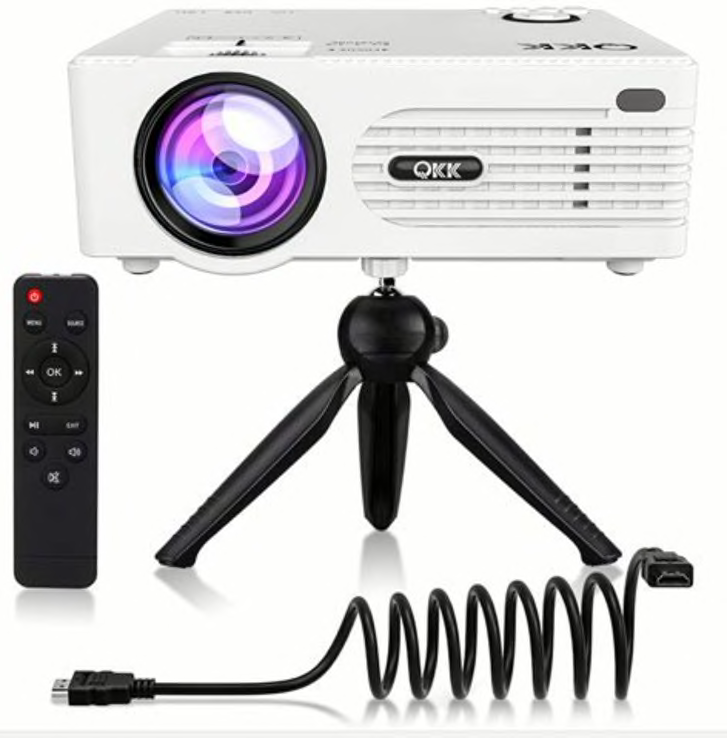 The full HD mini projector from OKK is all about flexibility. It's small enough to easily be moved for both indoor and outdoor screenings, and it comes equipped with HDMI, AV, VGA, and SD card ports—meaning you'll be able to screen movies and TV from your laptop, TV sticks, and Blu-ray players. And it makes a great pair with the inflatable movie screen up above.
Find It at Amazon for $73.
Now this is a game for people who really know their movies. Cinephile offers a variety of game types—including its own take on trivia and Six Degrees of Kevin Bacon. But where Cinephile really stands out is in the fully illustrated cards themselves, which pay as much attention to blockbusters like 2015's Mad Max: Fury Road as they do to indie hits like 2016's The Lobster.
Find It at Amazon for $20.
You've no doubt seen those glorious Mondo movie posters online, at conventions, and on T-shirts over the last 15 years. The sometimes minimalist, sometimes photorealistic art company covers everything from big-screen classics like Jaws to Avengers: Infinity War and other modern blockbusters. But if you want to give one as a gift, you've probably run into the same problem as so many others: They sell out within minutes. Well, with The Art of Mondo book, you can own the incredible art without vigilantly waiting online for the exact release time or paying top dollar for a print on the secondary market. Clocking in at over 350 pages, this book includes poster art for the likes of Planet of the Apes, Guardians of the Galaxy, Frankenstein, and more.
Find It at Amazon for $41.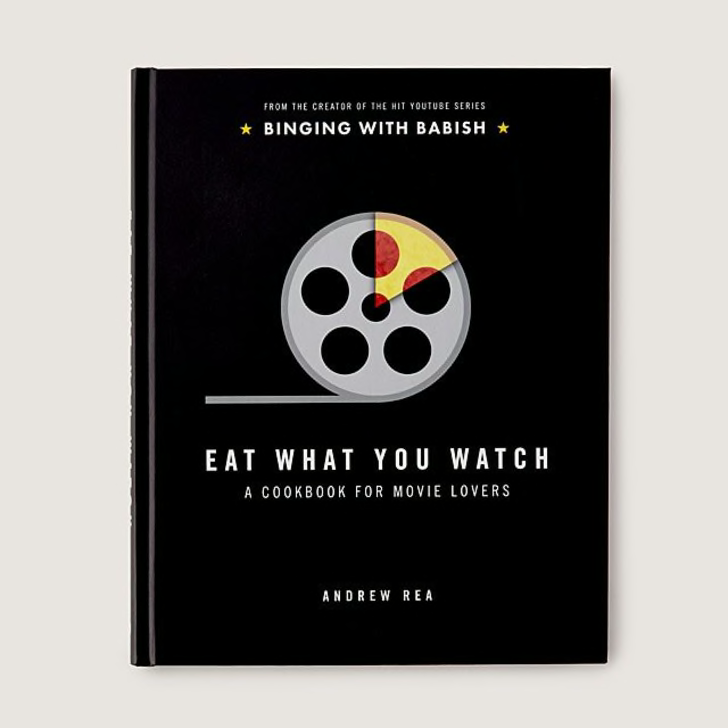 Featuring 41 recipes, Eat What You Watch teaches readers how to make themed dishes based on popular movie scenes, like fluffy dinner rolls inspired by Charlie Chaplin's carb-heavy utensil dance in The Gold Rush; the double New York pizza slice, as seen in the opening of Saturday Night Fever; and some When Harry Met Sally-worthy pastrami. The recipes are all written by Andrew Rea, the personality behind YouTube's Binging with Babish, so you know this is more than just gimmicky grub.
Find It at Amazon for $18.
Mental Floss has affiliate relationships with certain retailers and may receive a small percentage of any sale. But we only get commission on items you buy and don't return, so we're only happy if you're happy. Thanks for helping us pay the bills!