25 Outsized Facts About Rhode Island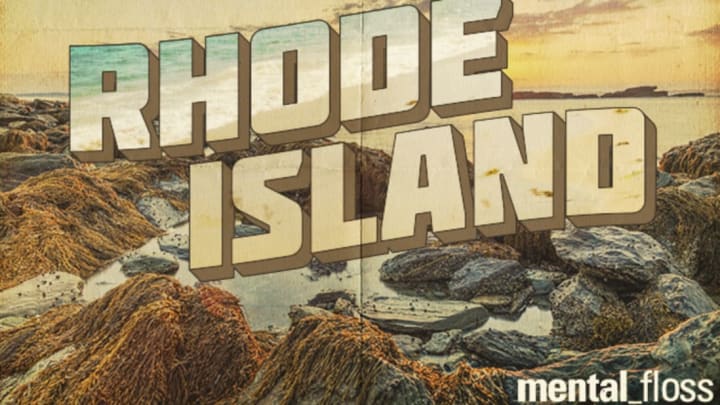 Chloe Effron / Chloe Effron
Rhode Island tends to get pigeonholed by its defining geography: it's a teeny, tiny state with a giant bay. But there's much more to America's 13th state. Here are 25 things you might not know about the Ocean State.
1. It's not called what you think it is. The state's full, official name is actually the State of Rhode Island and Providence Plantations. It's the longest official state name in the nation.
2. It has a lot of oceanfront property. The nation's smallest state is only 37 miles across at its widest, but it has 384 miles of shoreline (including its 35 islands). Narragansett Bay juts 28 miles inland from the sea, and about 14 percent of the state's area is taken up by bays, inlets, and other water.
3. It's named after clay … or maybe a Mediterranean isle. According to one version of the state's origin tale, the Dutch explorer Adrian Block, who canvassed the coastal northeast in the early 1600s, named it "Roodt Eylandt," or "red island," after the red clay along the area's shoreline. This is the version put forward by the state's government website. However, elsewhere in official state archives, Rhode Island Historical Society librarian Howard M. Chapin recounts that Italian explorer Giovanni da Verrazzano referred to the Greek island of Rhodes while speaking of an island in the mouth of the Narragansett Bay. Either way, King Charles II granted his 1663 charter to the "Colony of Rhode Island and Providence Plantations." 
4. It's called the Plantation State. One might expect that moniker to refer to a southern state, but, since "Providence Plantations" is in the official state name, that nickname goes to Rhode Island. As the term plantation is typically associated with the dark specter of slavery in the U.S., several legislators voted to remove it from the official state name in 2010. Rhode Island was a major part of triangular transatlantic slave trade in the 18th century, shipping rum from its distilleries to Africa to trade for slaves and turning southern cotton into cloth; slavery was the "economic lifeblood" of the state for decades, as modern writers have noted. However, 78 percent of voters opposed the name change. 
5. It's the only state that still celebrates Victory Day. While previously a federal holiday across the U.S., the holiday celebrating the end of World War II is now confined to within the borders of Rhode Island. It's observed on the second Monday in August, and coincides with the anniversaries of the dropping of the atomic bombs on Hiroshima and Nagasaki (August 6 and 9, respectively). As Japan became a larger economic player in the world, some Americans worried that celebrating the Pacific nation's defeat might impact trade between the countries, and all other states dropped their observance of the summer holiday by 1975. 
Roger Williams arrives in New England in 1644 with the charter for his new settlement. Image Credit: Engraving from The Providence Plantations for 250 Years, Welcome Arnold Greene, 1886, from a painting by C.R. Grant via Wikimedia Commons // Public Domain
6. It was founded by radicals. Roger Williams, the state's founder, was kicked out of Massachusetts in 1636 for what were then considered extreme views on religion, politics, and free speech—namely, his endorsements of freedom of religion and the separation of church and state. He was later joined by Anne Hutchinson, another religious dissident. Rhode Island would later become one of two states that refused to ratify the U.S. Constitution without a bill of rights that guaranteed certain freedoms. 
7. It jumped at the chance to shake off British rule. Rhode Island was the first colony to give George III the send-off, renouncing its allegiance to the English ruler on May 4, 1776. 
8. It may have been first to declare independence, but it was the last to ratify the Constitution on May 29, 1790—almost three years after Constitutional Convention delegates returned to their home states to muster support for the drafted proposal. (Delaware, the first state to ratify, took less than three months.) In 1788, Rhode Island voted down ratification by popular referendum. However, rather than face high tariffs with its neighbors as a foreign government, the state eventually did ratify the document, if only by a margin of two votes. 
9. Cumberlandite, Rhode Island's slightly magnetic state rock, is only located in significant quantities in one place: a 4-acre stretch of land in the city of Cumberland, Rhode Island. In the 18th and 19th centuries, it was used to make cannons and tools. 
10. It was the birthplace of the American textile industry. In 1790, Samuel Slater built the first water-powered cotton mill in Pawtucket. He's now known as the father of the American factory system, and he paved the way for the Industrial Revolution. He also pioneered the Rhode Island System, a later-copied industrial organization system that involved recruiting entire families to live and work at the factory. 
11. It's home to America's very first Baptist Church. State founder Roger Williams created America's first Baptist congregation. His followers didn't have a meeting house until 1700, when a pastor erected a small building in Providence. When that one became too small, the congregation built a bigger building next door.  
12. It has a stockpile of reproductive samples from rare livestock breeds. The nonprofit SVF Foundation is dedicated to conserving semen and embryos from heritage livestock breeds using cryopreservation, or freezing. If a breed was wiped out by disease, for instance, the SVF Foundation could bring it back with surrogates. The Newport-based organization was founded on what was once called the Swiss Village, a hobby farm built by an industry tycoon in 1914 and designed to look straight out of the Alps.
13. It was an early incubator for alternative facial hair. Ambrose Burnside, the Civil War general who became the namesake of sideburns, was the governor of Rhode Island from 1866 to 1869. He lived in the state for almost 30 years.  
The Breakers, the Vanderbilts' mansion in Newport. Image Credit: Menuett via Wikimedia Commons // CC BY 3.0
14. It was a Gilded Age playground. Between 1890 and 1914, America's richest families would summer in Newport, Rhode Island, dropping millions of dollars on elegant mansions and entertainment over the course of the season. Many of these opulent palaces, including the Vanderbilts' 70-room summer "cottage," are now historical sites. It didn't stop being a destination for the American elite after the Gilded Age ended, though. Jackie Kennedy grew up on her stepfather's family estate in Newport, where she married John F. Kennedy in 1953. Hammersmith Farm would later become the "Summer White House" while JFK was in office. 
15. Several notable entertainers grew up in Rhode Island. Debra Messing, Viola Davis, and Pauly D of Jersey Shore fame spent their childhoods in the Ocean State. 
16. The state has birthed several famous writers. H.P. Lovecraft was born in Providence, and except for a brief and unhappy sojourn in New York, lived there for most of his life. Many of his stories take place in Providence, where he reportedly frequented the same private library as Edgar Allan Poe. Other native Rhode Islanders include Pulitzer Prize winners Cormac McCarthy and Jhumpa Lahiri. 
17. It has its own variety of clam chowder. Whereas New England clam chowder is creamy and Manhattan chowder is tomato-y, Rhode Island clam chowder has a clear broth, making it the most clam-tastic of the bunch. 
18. In fact, most of the state's culinary delicacies are clam-based. Rhode Island is also known for "stuffies," or stuffed quahog clams, and clam cakes, which are often described as being kind of like a clam doughnut. 
Westminster Arcade in 2005. Image Credit: Nutmegger via Wikimedia Commons // Public Domain
19. It's home to America's first indoor shopping mall. The Westminster Arcade was built in 1828 and was the first enclosed shopping experience in the U.S., almost 130 years before the first modern (climate-controlled) suburban shopping mall opened in Minnesota. It's a historic landmark, and now contains 48 tiny apartments.
20. Coffee milk is its official state drink. It's made with coffee syrup mixed into milk, the same way you would make chocolate milk. The Rhode Island-based company Autocrat is one of the only businesses in the country that makes the syrup, and Autocrat's product is the "preferred syrup" for the state beverage according to the Rhode Island government's website.
21. It's got a long drinking history. The White Horse Tavern in Newport was first built in 1673, and is one of the oldest tavern buildings in the U.S. After spending several years as a boarding house, the building was restored and started up again as a tavern in 1957.
22. It birthed "New England's Beer." Narragansett Beer, established in Cranston in 1890 and named after the bay that runs through much of the state, was once New England's best-selling lager, though it's now made in New York. Narragansett was the first brewery to sponsor a televised baseball game, remaining the official sponsor of the Boston Red Sox from 1946 to 1975. 
23. It's a state that's particular about its sausages. The James Beard Foundation has awarded the hot weiners at Olneyville New York System the title of "America's Classic." The small weiners have a distinct taste from the mixture of veal, pork, and beef. Ketchup is discouraged, and you definitely can't call them hot dogs. 
24. It's something of a tax haven for expensive boats. While serving as a Massachusetts senator, John Kerry avoided $500,000 in sales and excise taxes on his yacht by docking it at Newport Shipyard in 2010 rather than in a Massachusetts harbor. 
25. It was the first state to enact a Homeless Bill of Rights. In 2012, the state legislature formally cemented homeless people's right to equal access to jobs, housing, and services, banning discrimination on the basis of housing status and guaranteeing homeless people access to public spaces like sidewalks and subways. It also specified that homeless people should have an expectation of privacy equal to that of people who live in homes.