Archaeologists Unearth More of a Massive Underground City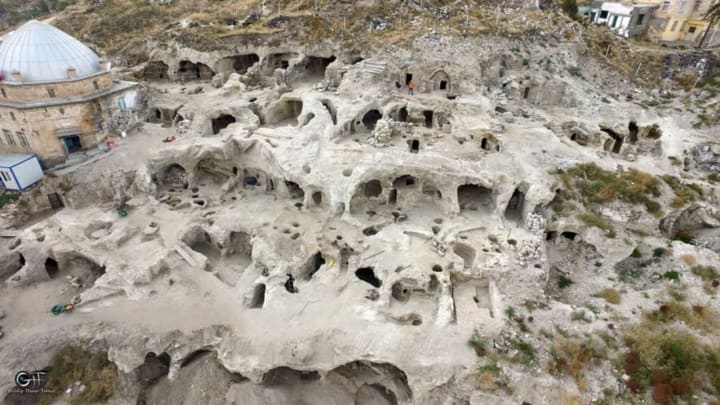 Nevşehir Municipality / Nevşehir Municipality
In 2013, construction crews in the city of Nevşehir, in the Cappadocia region of Turkey, were demolishing low-income housing ringing a Byzantine castle when they unearthed something astonishing: entrances to a massive underground city.
Dating to at least Byzantine times, the vast network of tunnels and rooms had been carved into volcanic ash rock called tuff that gives Cappadocia—famed for its otherworldly "fairy houses," cave churches, and evocative geologic formations—its singular terrain.
It's not the first underground city to be discovered in the region; there are some 250 known subterranean dwellings of various sizes hidden within the fantastical landscape. The two biggest are Kaymakli and Derinkuyu; the latter is estimated to have been able to house up to 20,000 people. Both cities have been known for decades.
But this new underground town, hiding beneath a centuries-old castle on a hilltop right in Nevşehir, just might be the biggest. One early estimate by geophysicists put its area at nearly five million square feet and its depth at 371 feet. If those estimates are accurate, the city may outsize Derinkuyu by a third.
In the past year alone, archaeologists have brought to daylight a huge multistory complex with at least five levels. This largely self-sustaining underground metropolis had everything from churches and workshops to living spaces and fresh water channels.
Before you read on, take a look at this (dramatically scored) aerial video to get a sense of the scale, location, and sheer awesomeness of the site.
Dünyanın En Büyük Yeraltı Yerleşimin Nevşehirde Kale altında olduğunu biliyormusunuz ? Posted by Nevşehir Platformu on Wednesday, November 18, 2015
Why was it constructed? For many centuries, such underground retreats were safe havens for the region's inhabitants, who were early adopters of Christianity. (The apostle Paul visited in the 1st century CE, and by the 4th century its bishops were power players in the newly Christian Byzantine Empire.) Muslim invaders, Seljuk Turks, and Ottoman rulers all swept through, with the Ottomans eventually ruling all of Anatolia—and far beyond.
The complexity, diversity, and size of the most recently discovered underground city is yet more evidence of how seriously the locals took these invasions. The inhabitants could live underground for some time if need be. They had fresh water and access to replenished supplies. To keep the outside world out, all they had to do was roll heavy stone-disc doors across the tunnels to seal themselves in.
FIVE LEVELS UNEARTHED IN THE PAST YEAR
Previous excavations revealed living spaces, kitchens, wineries, chapels, staircases, and bezirhane—linseed presses for producing lamp oil to light the underground city—that were likely in use from the Byzantine era through the Ottoman conquest.
In the past year archaeologists have excavated five more levels, or terraces, of the city. This intensive digging is helping them to piece together how the massive complex was organized and structured. "Most of the areas that have been brought to daylight are places where people lived their daily lives," archaeologist Murat Gülyaz, director of the Nevşehir Museum, which oversees the excavation, tells mental_floss.
On the topmost level there are rock-cut tombs, religious altars, short tunnels, storage depots, and a small but spectacular church. "This terrace looks as if it was the location for religious activities," Gülyaz says. The church is partially caved in and is plagued by high humidity; as a result, its frescos are peeling in places. Nevertheless, the unusual frescos, which include depictions of Christ's baptism, transfiguration, and crucifixion, are colorful and vibrant, if still partially obscured by earth and stone.
Gülyaz says the church may date to the 12th or 13th century (though other archaeologists believe it could be older), making it slightly younger than the many other underground churches in the region, which today can be visited at places like the Goreme Open Air Museum.
The second level has living and storage spaces, and passages leading to the third level, where metalworking took place in the late Ottoman period. Archaeologists have found furnaces used to forge metals, and within them are processed iron slag and debris. They also found rock molds used for iron casting.
This level has three separate air ventilation systems, each one carefully designed for a specific need. One ventilates the rooms for breathing air. Another serves as an exhaust system for the furnaces. "In the rooms with the casting furnaces, the air ventilation funnels are made longer in order to reach temperatures high enough to melt metal," Gülyaz says.
The fourth level is the main one, where most people would have lived day to day. It's large, multipurposed, and located at the very heart of the city. There are large stables, depots, workshops, and residences here. It was also the main artery to the outside world. Cappadocians living underground would need access to the surface to maintain some contact with the outside world to replenish supplies.
"This terrace is like an entrance hall for visitors and locals living inside," Gülyaz says. "It's also the place where trades and logistic activities occurred … where outgoing caravans were sent from and the incoming ones were unloaded."
They also found a tunnel nearly 2 feet wide and 6 feet tall that has two entry points, but because of a collapse in the tunnel, they're not sure where it leads or what its purpose was. They suspect it was used for water transfer or transport.
Excavations on the fifth level only just began in January. Right now, the level is choked with earth, debris, and litter left behind by modern visitors, but the excavators are beginning to reveal the rock-cut rooms within. "More cleaning work needs to be done before we can have an idea about this terrace's function within the complex," Gülyaz says.
CARVING OUT THE TRUTH
One puzzle archaeologists will try to solve is how different sections of the city changed in design and function over time. Cappadocia's tuff rock is easy to carve, but it's also easy to alter, both by natural processes and the hands of people. While that's good news for the Cappadocians who a thousand years ago carved underground refuges and today create hotels, shops, and restaurants that draw millions of tourists, it presents a challenge for archaeologists trying to figure out who did what when.
The view is especially complex in areas of the city that are closer to the surface; over the centuries, these rooms were reused and sometimes reconfigured. "These rock-cut places have been changed from their original functions. So their uses were transformed over time accordingly," Gülyaz says. "For example, a room first carved to be used as a depot was later used as a sitting room, a stable, a bathroom, etc. Or a stone-disc door could later be used as a wall."
However, the deeper the researchers get into the structure, the more they find its original construction. "We can tell the original functions of the inner places more precisely and can gather more meaningful data about their periods," Gülyaz says.
The winter cold and snow haven't stopped excavations; the researchers have mostly just retreated to the interior. When the weather warms up, they'll continue digging out the underground city. Gülyaz says there are more levels to be excavated above, below, and beyond what has been found so far. There's still so much that's unknown about the city.
Here's one last look inside, from October 2014—long before the latest finds were made. The interior was fantastic then, and it was only a fraction of what archaeologists can see now.
All images and video courtesy of Nevşehir Municipality