9 Works You Can Own From Artsy's First-Ever Street Art Auction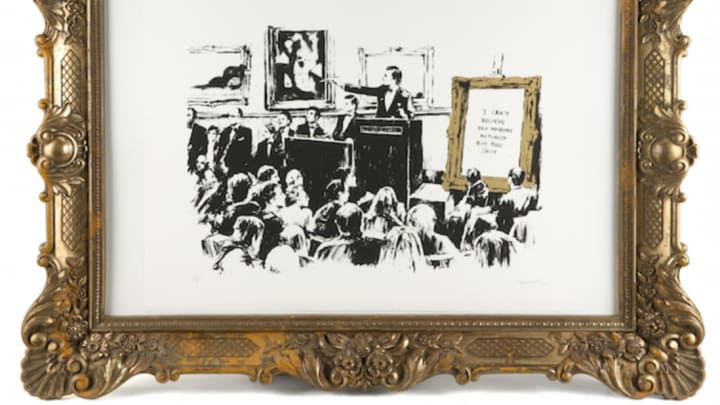 Courtesy of Julien's Auctions / Courtesy of Julien's Auctions
Once upon a time, street art and graffiti were regarded as lowbrow activities created under the cover of night by vandals. But a culture that was once vilified has since transformed into its own thriving sector of the art world, thanks largely to the Internet. Not only have artists like Banksy, Shepard Fairey, D*Face, KAWS, and FAILE become household names, they've had major shows at art museums, city-wide artist residencies, and taken part in auctions like the one that just launched over at Artsy, an online resource for all things art.
Artsy recently partnered with Julien's Auctions to present "Street Art Now," a curated collection of more than 30 works by some of the biggest names in street art, as well as a few artists who are following in their footsteps. "Utilizing data-driven insights that indicate market demand for an artist's work, we helped select a body of artwork that street art collectors around the world will be eager to add to their collections," Artsy's collector relations director Rebecca Bronfein Raphael told mental_floss. The online auction is now live on Artsy and will run through February 21. Check out the list below for a glimpse at some of the great work that is up for grabs.
Estimate: $20,000 - $25,000
If you ask someone who knows nothing about street art to name a street artist, he or she will probably say "Banksy." The elusive British artist is known for his polarizing wall stencils which, thanks to their value to collectors, are now carved out of walls or protected with Plexiglas almost as fast as the anonymous artist can paint them. This signed, limited edition print is from an edition of 150, though Artsy says that contrary to the printed number, it is believed that only 50 were made.
Estimate: $800 - $1200
From pasting satirical messages on billboards in the 1980s and coining the term "POPaganda" to creating vinyl toys of his most popular works today, Ron English is the artist that street artists look up to. This silkscreen print is signed and numbered 18 out of 100.
3. DAMIEN HIRST // SKULL (2009)
Estimate: $3000 - $5000
Hirst is one of the wealthiest artists on Earth, and one with a self-confessed "obsession with death." This acrylic spin painting is on a piece of paper cut in the shape of one of his signature skulls.
4. SHEPARD FAIREY // BILLY IDOL (2008)
Estimate: $6000 - $8000
One of five Fairey works in the auction, this 2008 print of rock musician Billy Idol is signed by both the artist and the subject and is number six of a very small series of eight.
Estimate: $800 - $1200
The subject of Banksy's 2010 documentary Exit Through the Gift Shop, Mr. Brainwash—whose real name is Thierry Guetta—appropriates and alters pop culture imagery while "mischievously undermining the tone of the source material," according to the auction listing. This print is from his Icon Series and features an image of John Lennon holding a teddy bear.
Estimate: $800 - $1000
Takashi Murakami has been called the "Japanese Andy Warhol" for his style and the way he approaches the culture and business of art. He's also a favorite of people like Pharrell and Kanye West, who have introduced his work to an entirely new fan base over the past decade. This offset lithograph is signed and numbered 195 of 300.
Estimate: $2000 - $3000
One of the artist's many highly coveted figures, this Be@rbrick art toy stands 11 inches tall and is in mint, unopened condition.
Estimate: $1500 - $3000
In 2013, the Brooklyn-based art duo FAILE collaborated with the New York City Ballet on a two-part installation and Art Series performance. This 27-color screenprint was made to commemorate the collaboration.
Estimate: $15,000 - $20,000
Created using spray paint and glitter, this large 59-by-59-inch canvas work features stylized typography from a series that the artist first painted on the walls of a street in London.
All images courtesy of Julien's Auctions