25 Memorable Photos from Oscar Ceremonies Past
The 88th annual Academy Awards ceremony is just a few days away. While critics and fans each have their favorites to win in any given category, there are no guarantees in terms of who will take those coveted Oscar statuettes home. But one thing film fans can count on is that the evening is sure to produce a handful of memorable moments. In anticipation of Hollywood's biggest night, we're taking a photographic stroll back down the red carpets of yesteryear.
When Kate Winslet walks the red carpet this weekend, she'll be one of the night's true veterans. Her Best Supporting Actress nomination, for Danny Boyle's Steve Jobs, marks her seventh nomination in 20 years. But back in 1996 (as seen above), she was a first-time nominee for her work in Ang Lee's Sense and Sensibility.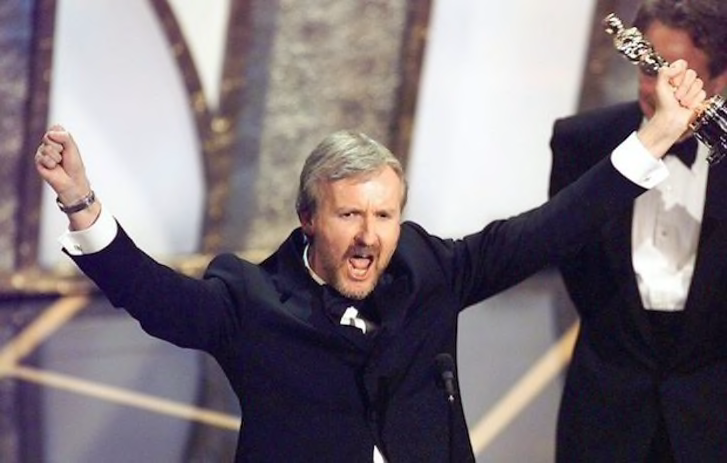 In what remains one of the Oscars' most mocked moments, director James Cameron declared himself "King of the World" after Titanic won 11 Oscars in 1998, including Best Director.
Warren Beatty and Natalie Wood strike a pretty pose at the 1962 ceremony in Santa Monica.
Quentin Tarantino could hardly contain his excitement when he and his Pulp Fiction co-writer Roger Avary won for Best Original Screenplay in 1995.
In 1997, Tom Cruise was a Best Actor nominee for Cameron Crowe's Jerry Maguire, and the longtime spouse of Nicole Kidman.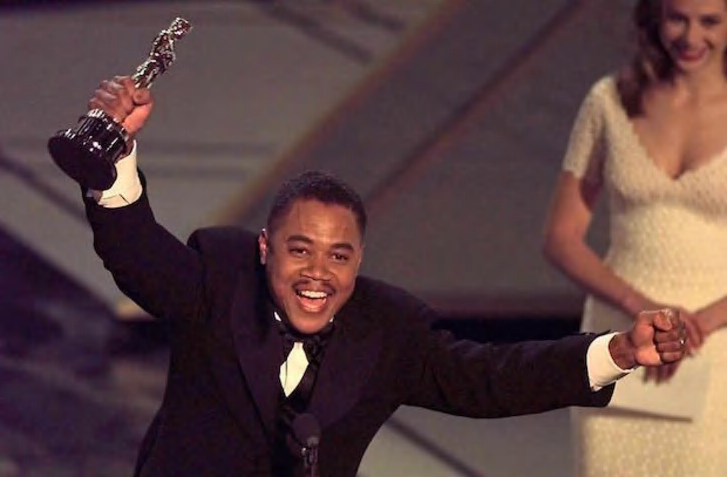 Tom Cruise's co-star fared much better that night. "Overjoyed" would be one way to describe Cuba Gooding, Jr., who won the Best Supporting Actor Oscar for Jerry Maguire.
Halle Berry made history in 2002 when she became the first black woman to earn a Best Actress Oscar.
In 1994, Steven Spielberg broke his Oscar losing streak when he brought home two Academy Awards—Best Director and Best Picture—for his groundbreaking Schindler's List.
Audrey Hepburn was a relative newcomer in 1954, when she was named Best Actress for her work in Roman Holiday.
Long before there was "Brangelina" or "conscious uncoupling" became a thing, Brad Pitt and Gwyneth Paltrow were Hollywood's golden couple. In 1996, the pair attended the 68th Academy Awards together, where Pitt was up for Best Supporting Actor for Terry Gilliam's 12 Monkeys.
Brad Pitt lost that aforementioned Best Supporting Actor Oscar to Kevin Spacey, who won for his work on The Usual Suspects.
Paul Newman looks effortlessly cool while attending the Oscars in Hollywood.
Though Casino star Sharon Stone didn't go home with the gold in 1996, she grabbed most of the night's headlines when she dared to wear a Gap turtleneck on the red carpet.
South Park
co-creators Trey Parker and Matt Stone paid homage to memorable red carpet dresses of the past (specifically: ones worn by Jennifer Lopez and Gwyneth Paltrow) when they attended the 2000 Academy Awards, where a song from their movie, South Park: Bigger Longer & Uncut, scored a nod.
Robin Williams won his first (and only) Oscar at the 70th Academy Awards in 1998 for playing Matt Damon's psychotherapist in Good Will Hunting.
In 1994, Anna Paquin became the second youngest actor to win an Oscar when she was named Best Supporting Actress for The Piano. Only Tatum O'Neal—who was 10 when she won an Oscar for Paper Moon—was younger.
Though he never earned a competitive award, Bob Hope won five honorary Oscars throughout his long and storied career. Which only seems fair, considering he hosted the ceremony a record 19 times.
Though he's considered one of Hollywood's greatest actors, Al Pacino has only ever won a single Oscar—in 1993, for Scent of a Woman.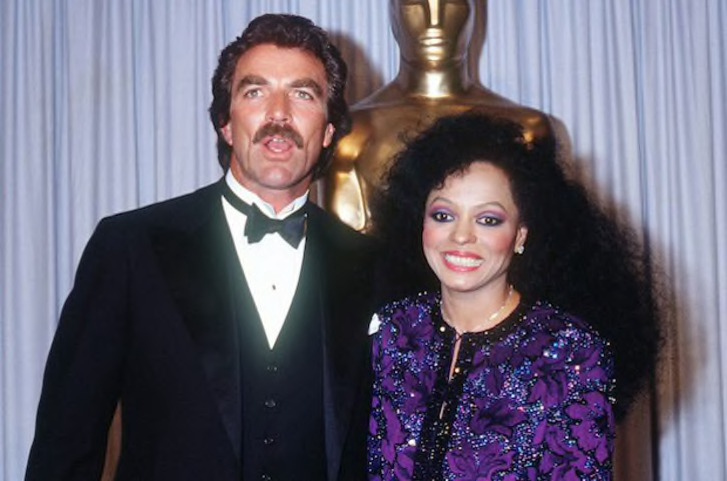 In a photo that could only have been taken in the 1980s, Tom Selleck and Diana Ross smile for the cameras at the 1985 Academy Awards.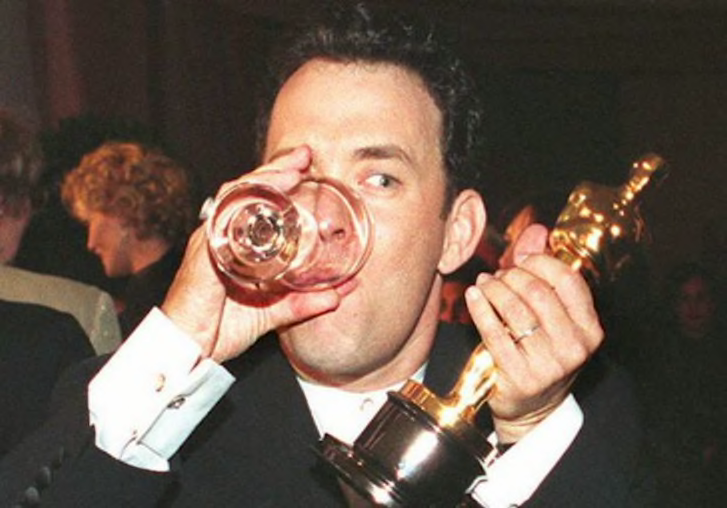 Winning can work up a thirst, as Tom Hanks demonstrated in 1995, after being named Best Actor for Forrest Gump.
Ben Affleck and Matt Damon were little-known actor/writers before winning a Best Original Screenplay Oscar for Good Will Hunting in 1998. They brought their moms as their dates.
Michael Douglas planted one on his dad, Kirk, as Burt Lancaster looked on during the 57th Academy Awards in 1985.
Before Lady Gaga, Cher was the actress/musician viewers could always count on to wear something wild to award shows.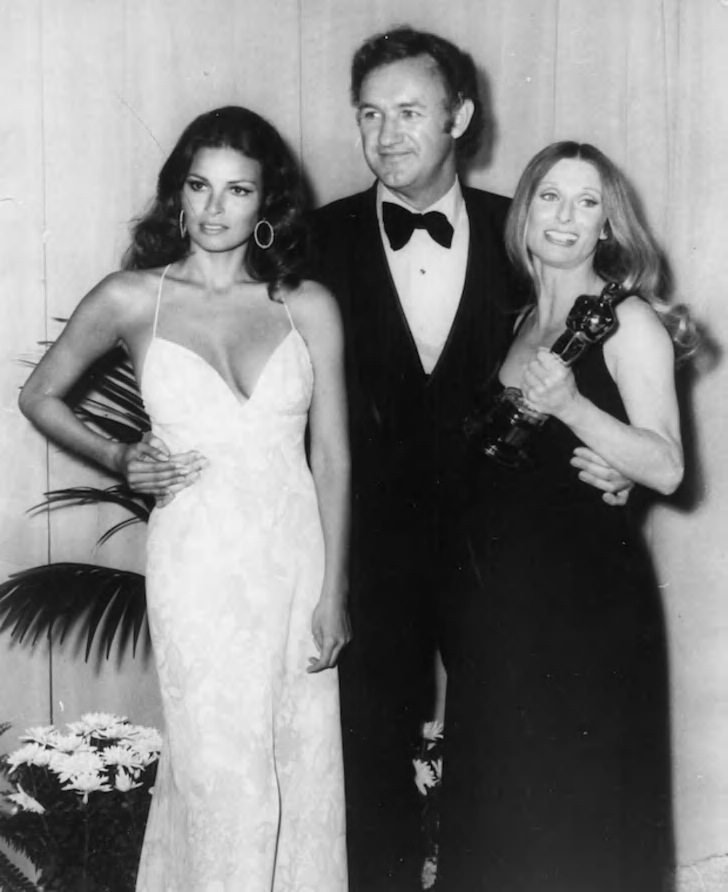 Gene Hackman is a happy man indeed as he poses between Raquel Welch and Cloris Leachman in 1972. That year, Hackman one Best Actor for The French Connection and Leachman won Best Supporting Actress for The Best Picture Show.
In 1986, Lionel Richie had a two in five shot at winning Best Original Song—and he won for "Say You, Say Me," from White Nights. No word on whether he spent the night dancing on the ceiling in celebration.