15 Vintage Crafts We Should Bring Back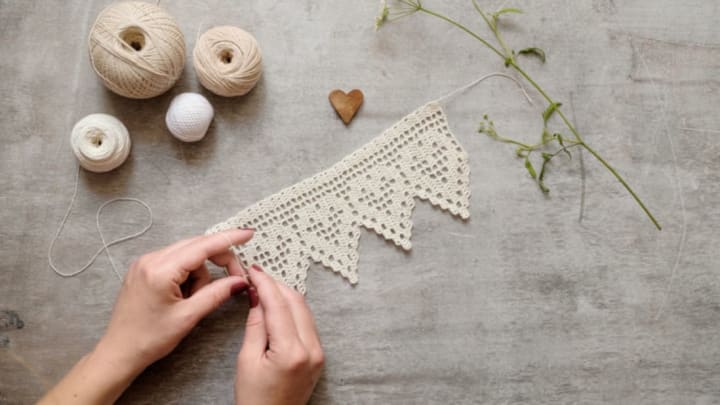 istock / istock
Everything old is new again, especially when it comes to crafting. Some of these vintage crafts are already enjoying a resurgence; others may be waiting for you to bring them back to life.
1. FANCY DARNING 
Years ago, when clothes were both more durable and more expensive than they are today, darning (or mending) was an important skill. Some darners took this to the next level with fancy darning, stitching geometric patterns and even lace into the holes in their clothing.
2. DECOUPAGE
Is your furniture looking a little plain? Grab a stack of old magazines or books, a pair of scissors, a paintbrush, and a jar of decoupage glue. Like a 3D collage, decoupage allows you to cover any surface with any image or text you can find.
3. MIRROR PAINTING
Here's one that's really overdue for a resurgence. Victorian ladies decorated their mirrors with oil paints. Today, we've got easier options, and some companies even make special paints for glass. What would you like to see each time you look in the mirror? The possibilities are endless.
4. HIPPIE JEANS
Like fancy darners, crafters of the 1960s and '70s realized the potential in a torn piece of clothing. They patched old jeans with wildly colored and patterned fabric, making a statement out of a pair of pants.
5. TATTING
Did you know you could make your own lace? Tatting involves looping and knotting a single piece of cotton thread using a small, hand-held shuttle. You can follow a pattern or create your own. It's a time-intensive, meditative process, good for rainy days or sleepless nights.
6. CLOTHESPIN DOLLS
A quick look at any wedding blog will tell you that clothespin dolls are coming back in a big way. And why shouldn't they? They're adorable. All you need are clothespins, paint, and a paintbrush. These little dolls make great gifts, holiday ornaments, and, of course, wedding cake toppers.
7. CROSS STITCHING
Cross-stitching may bring to mind colonial samplers and your grandma's pillowcases, but the craft has made a huge splash in the modern era as a great medium for ironic statements and pop culture references. If cats in baskets or floral motifs really are your thing, rest assured—you can still find plenty of those patterns, too.
8. VELVET PAINTING
Why did we ever let this one die out? Velvet painting has potential that goes far beyond religious icons or a certain hip-gyrating King (yes: those were a thing!). As a medium, velvet is both challenging and rewarding, and the results are vivid and unexpected.
9. STRING ART
You don't see much string art anymore, which is a shame. It's a simple craft: draw a design on a wooden board, then pound in thin nails and wrap string around and through them. The final image is a very cool woven picture in three dimensions—a testament to the crafter's ingenuity and skill.
10. MACRAME
We know what you're thinking, but hear us out. Macrame is good for more than just hemp necklaces and hideous owl wall hangings. Sailors used it to pass the time at sea, knotting nets for glass buoys, bracelets, and even hammocks—all of which would be pretty useful today (okay, maybe not the buoy nets).
11. SPATTERWORK
Here's a craft the whole family can enjoy. Place a small object like a leaf or even your child's hand on a large piece of paper, then flick paint over it to create a messy, spattered silhouette. Spatterwork is a great way to decorate stationery and wrapping paper. Nobody needs to know how fast or easy it was.
12. EMBROIDERY
More free-form than cross-stitching, embroidery is kind of like drawing with thread. Your project can be as big or small as you want; consider that medieval European ladies stitched both monogrammed handkerchiefs and the Bayeux Tapestry.
13. LATCH HOOK
Decorative rugs! With pretty much any image you can imagine! If you ask us, it's high time we brought back this simple craft, which uses a grid-like pattern, much like cross-stitch. But where cross-stitch uses fine threads, latch-hook involves knotting fat yarn onto a large canvas with a little latched hook. The craft can be learned in five minutes and doesn't require much concentration, which makes it great for kids (and adults who like to craft while they watch TV).
14. HAND-COLORING PHOTOS
In the days before color film, photographers often used paints, pigments and dyes to add color to the faces of their subjects and the scenery that surrounded them. The resulting pastel-toned images were hardly lifelike, but certainly lovely. You can recreate this process today on a computer or by photocopying color pictures in black-and-white and coloring them with pencils, crayons, or markers.
15. CHAIN MAIL
It doesn't get much more vintage than this. But unlike medieval blacksmiths, you won't need an anvil or a roaring fire to make your mail. You can buy chain links ready-made and assemble your own jewelry and armor—if you're into that—with just a pair of needle-nosed pliers.