15 Amazing Trees Worth Celebrating This Arbor Day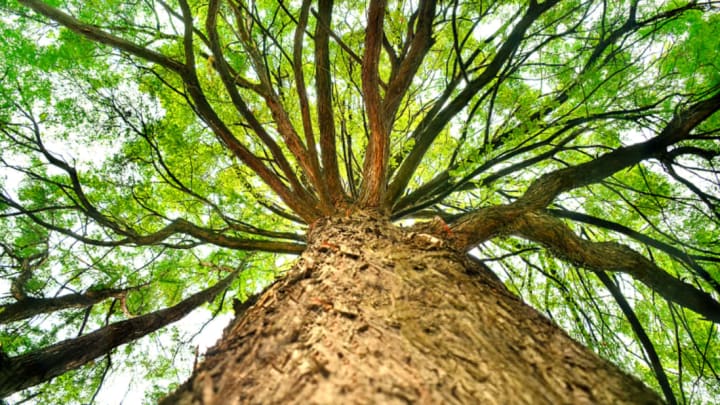 iStock / iStock
Every tree is terrific, but some rise above the rest. Each of these trees has put itself on the map—so if you're into tree tourism, this is the place to start.
1. THE TREE THAT OWNS ITSELF (QUERCUS ALBA)
Once upon a time, a wealthy man so loved a tree that he granted it full independence under the law. The man was Colonel William H. Jackson, and the tree was an old white oak on his family property in Athens, Georgia. Jackson wrote a legal document, granting the tree "entire possession of itself and all land within eight feet of the tree on all sides." Unfortunately, the document was lost, and the tree itself burned down in a lightning storm in 1942. But the citizens of Athens rallied around their beloved tree and planted a new one using one of the oak's acorns. Today, locals overlook the fact that this second-generation has no real legal autonomy. They throw the tree birthday parties and, every year, plant more of its acorns around the city.
2. MOON TREE (VARIOUS SPECIES)
The third American lunar mission reached the Moon in February of 1971. As two astronauts walked on the Moon's surface, a third remained in lunar orbit in the spacecraft along with the hundreds of seeds—loblolly pine, sycamore, sweetgum, redwood, and Douglas fir—he had brought with him. A former Forest Service member, the astronaut was glad to bring a little Earth life into space. Shortly after the mission returned, the capsules containing the space-traveling seeds burst open, and experts feared the contents were ruined. But the seeds were hardier than that. Once planted, nearly all of them took root, and today there are Moon trees across the United States and the world.
3. EL ÁRBOL DEL TULE (TAXODIUM MUCRONATUM)
There are big trees, and then there's Mexico's Tule tree. At around 1500 years old, the Montezuma cypress is nearly as ancient as the nearby Zapotec religious center. As it aged, the Tule tree has grown—not up, so much, but out. With a 38-foot diameter, the tree is currently the fattest in the world. Visitors come to see the tree's girth but also its gnarled bark, in which people say they can see the shapes of jaguars, elephants, and human beings.
4. BIG BAOBAB (ADANSONIA DIGITATA)
A mere pup in comparison to some of the other trees on this list, South Africa's big baobab is nonetheless something to behold. As baobab trees age, the bases of their fat trunks begin to hollow—a fact that humans have exploited for some time. The big baobab is now more than 1000 years old, and its cavernous trunk has been converted into a bar and wine cellar. The tree has become a landmark and tourist site, with tree houses for rent nearby.
5. THE SISTERS (OLEA EUROPAEA)
All right, this is more than one tree, but they're a family, so they count as one. If local Lebanese lore is true, these olive trees are between 5000 and 6000 years old, which is amazing unto itself. More amazing still is that they're still producing olives. And then there's their origin story: People say the sisters grew from the biblical olive branch that came to Noah, signaling the end of the great flood.
6. QUEEN ELIZABETH OAK (QUERCUS ROBUR)

Pam Fray, Wikimedia Commons// CC BY-SA 2.0
In November of 1558, a young Princess Elizabeth was under house arrest in the Royal Palace at Hatfield. One day (as the story goes), Elizabeth was sitting under an oak tree, reading, as riders approached. They informed her of the death of Queen Mary, her sister—a death that made Elizabeth the queen. Elizabeth had been waiting for this moment. As her new subjects bowed, she quoted Psalm 118: "This is the Lord's doing, and it is marvelous in our eyes." Today the oak tree is between 800 and 1000 years old and stands as a monument to the great monarch.
7. BRISTLECONE PINE (PINUS LONGAEVA)
For a long time, the oldest single tree in the world was a bristlecone pine named Methusaleh, which today is more than 4800 years old. But in 2012, scientists found another tree, even older—another bristlecone pine, living not too far from Methusaleh in the mountains of California. They estimated that the new reigning champ was a little more than 5000 years old. Both trees' locations are kept secret to protect them.
8. OLIVE TREE OF VOUVES (OLEA EUROPAEA)

Like the Sisters, the famous olive tree that grows in the Cretan village of Ano Vouves is both ancient and fertile. Based on the tree's growth and the presence of ancient cemeteries nearby, scientists and archaeologists estimate the tree is between 2000 and 4000 years old. The tree has been named a national heritage monument, and, because this is Greece, its branches have been woven into wreaths for Olympic champions.
9. JAYA SRI MAHA BODHI (FICUS RELIGIOSA)

Derivative Work by MediaJet, Wikimedia Commons // CC BY 2.0
Buddhism began beneath a tree. As the story goes, the man who would become the Buddha sat in meditation beneath a fig tree, encountering demons from within and without. As the site of the Buddha's enlightenment, the tree became quite famous before it died. Fortunately, before that happened, a group of Buddhist practitioners collected the tree's right-most branch, brought it back to their home in Sri Lanka, and planted it. Today, the Jaya Sri Maha Bodhi is one of Sri Lanka's most sacred relics, protected by government decrees.
10. MAJOR OAK (QUERCUS ROBUR)

Wikimedia Commons // CC BY-SA 3.0
Here's another tree that's most famous for what happened beneath it, although the oak is a marvel in its own right. Nearly 33 feet around, with a 92-foot canopy, the massive oak in England's Sherwood Forest is so weirdly shaped that some scientists think it might be several trees stuck together. British lore tells that it was under and in this tree (or trees) that Robin Hood and his men camped. The tree's fan base grew so ardent that its guardians had to implement a No Touching policy to keep visitors' feet from trampling the soil above its roots.
11. THE GENERAL SHERMAN (SEQUOIADENDRON GIGANTEUM)
There are taller trees, and there are stouter trees, but for sheer trunk volume there's nothing bigger than the General Sherman. The giant sequoia has a 103-foot girth and 275-foot height, and it's still growing. Sequoia National Park offers two shuttle buses to visit the tree: one that lets off below it on the forest slope, and one above.
12. BIALBERO DI CASORZO (GENERA MORUS AND PRUNUS)

This bizarre double tree in Grana, Italy, consists of a mulberry tree with a cherry tree growing out of its trunk. You wouldn't think something like that would work, but the trees seem to be doing just fine, and the cherry tree blossoms every spring.
13. PANDO (POPULUS TREMULOIDES)

California's bristlecone pine may be the oldest single tree, but the family of quaking aspens known as the Pando is easily one of the world's oldest and largest organisms. The 107-acre forest contains more than 47,000 trees all attached to a single root system, making what looks like distinct trees a single organism.
14. THE CEDARS OF GOD (CEDRUS LIBANI)
Wikimedia Commons // CC BY-SA 3.0
These trees figure in the mythology of not one, but two ancient religions. Ancient Mesopotamian people believed these Lebanese cedars were under the protection of their gods, and the forest figures prominently in the Epic of Gilgamesh. The forest was also sacred to early Jewish and Christian peoples and appears several times in the Bible.
15. TREATY OAK (QUERCUS VIRGINIANA)
The city of Austin, Texas is very, very proud of its Treaty Oak. The tree is a symbol of both Texas history and the power of community. In 1989, the beloved 500-year-old tree was intentionally poisoned with herbicide by a resentful feed store employee. As city forestry officials quickly assembled a crack team of tree and herbicide researchers to see if they could save the oak, local tree-lovers were offering the sick tree their own solutions, including prayer, psychic healing, and offerings of chicken soup and stomach medicine. The tree survived, and is still growing today.