Is Gus Fring Coming to Better Call Saul? One Fan Theory Says Yes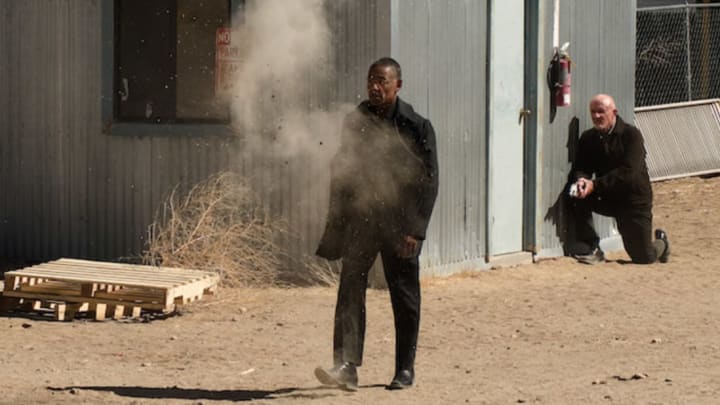 Ursula Coyote/AMC / Ursula Coyote/AMC
Could Gus Fring be getting ready to make his Better Call Saul debut? Some sleuthing fans of the Breaking Bad prequel say yes. Twitter user @sirena6783 and Redditor cassieboy81 took the first letter of each of Better Call Saul's season two episode titles—"Switch," "Cobbler," "Amarillo," "Gloves Off," "Rebecca," "Bali Ha'i," "Inflatable," "Fifi," "Nailed," and "Klick"—and rearranged them to hint at a possible surprise in the finale episode: "Fring's Back."
Fring (Giancarlo Esposito), as fans of Breaking Bad will remember, was the proprietor of Los Pollos Hermanos/drug kingpin who brought Walter White (Bryan Cranston) and Jesse Pinkman's (Aaron Paul) signature blue meth to the masses, via Saul Goodman (a.k.a. Jimmy McGill). Which makes it likely that he will make an appearance on Better Call Saul, with many fans hoping that it will happen in next week's season finale.
It wouldn't be the first time Vince Gilligan and Peter Gould, Better Call Saul's co-creators, used episode titles to foreshadow at an upcoming plot point. When the pair worked on Breaking Bad, the season two episodes (SPOILER) featuring black-and-white teasers were titled "Seven Thirty-Seven," "Down," "Over," "ABQ," which hinted at a Boeing 737 crashing over Albuquerque, New Mexico in that season's finale. In addition, the series finale of Breaking Bad was titled "Felina," which breaks down to the elements Fe+Li+Na—Iron, Lithium, and Sodium, or Blood, Meth, and Tears. It's also an anagram for "Finale."
Better Call Saul's season two finale, "Klick," airs on Monday, April 18 at 10 p.m. ET.
[h/t BuzzFeed]