The Making of Nirvana's "Smells Like Teen Spirit"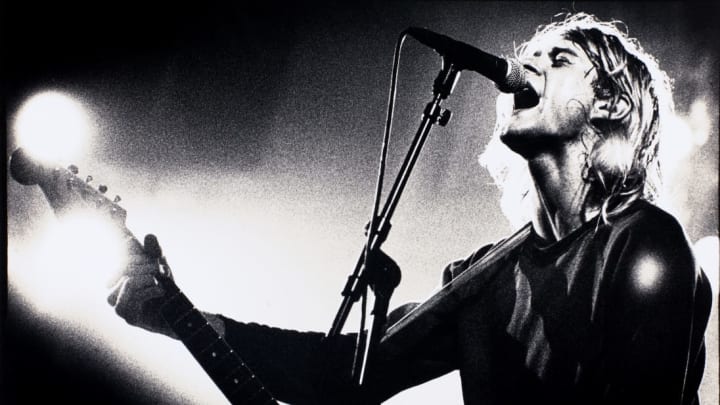 Kurt Cobain performing with Nirvana in Amsterdam in 1991. / Niels van Iperen/Hulton Archive/Getty Images
Deemed the most "iconic song of all time," scientifically-speaking, by researchers at the University of London, Nirvana's "Smells Like Teen Spirit" made its live debut on April 17, 1991, at Seattle's OK Hotel. Less than five months later, on September 10, it was released as a single.
Kurt Cobain, the band's frontman, wasn't usually very talkative during gigs; he mostly left the witty banter between songs to bassist Krist Novoselic and drummer Dave Grohl. On that night, however, Cobain couldn't help himself. The band was currently mulling over major label offers, and was ultimately two weeks away from signing with DGC, a Geffen record imprint. A shot at fame was imminent. "Hello. We're major label corporate rock sellouts," the man who would soon be a rock star told the boisterous crowd.
Holed up
Six months earlier, Cobain was holed up in the woods of Olympia, Washington. Cobain and Kathleen Hanna, singer/songwriter of the influential feminist riot-grrl punk band Bikini Kill, shared a bottle of Canadian Club whiskey and a goal on that October 1990 night: to deface a new teen pregnancy center, which Hanna described as "a right-wing con where they got teenage girls to go in there and then told them they were gonna go to hell if they had abortions." After doing some recon, Cobain was the lookout while Hanna made her way to the building and graffitied "Fake Abortion Clinic, Everyone." When it was Cobain's turn, he spray-painted "God is Gay" in six-foot red letters.
The two spent the rest of the evening celebrating their victory and ended up at Cobain's place, where Hanna "smashed up a bunch of sh*t" then took out a Sharpie and wrote "Kurt Smells Like Teen Spirit" on Cobain's bedroom wall before passing out. Cobain loved the line so much that he decided to make it the title of one of his next songs.
"I took that as a compliment," Cobain later told Michael Azerrad in the authorized band biography Come As You Are. "I thought that was a reaction to the conversation we were having but it really meant that I smelled like the deodorant. I didn't know that the deodorant spray existed until months after the single came out. I've never worn any cologne or underarm deodorant." Bikini Kill drummer Tobi Vail knew what Teen Spirit was, because she wore it. Vail was Cobain's girlfriend at the time.
Long before Cobain actually got Hanna's joke, he and Vail had broken up. The relationship ended in early 1991, while Cobain's band was writing new material that would not only appear on Nevermind but also on In Utero, Nirvana's third (and final) studio album, which wasn't released until September 1993.
Grohl, a newcomer to the band, lived with Cobain in Olympia when he first relocated to Washington. The two drove up to Novoselic's neck of the woods in Tacoma and practiced every night. At least half of what would become Nevermind—including "In Bloom," "Breed," "Lithium," "Polly", "Stay Away" (then "Pay to Play"), and "Something in the Way"—were already performed at an industry showcase gig in late November 1990. The other songs, including "Smells Teen Spirit," took shape during those practice sessions.
Grohl described the band's converted barn practice space as "weird," with its brown shag carpeting, stage lights, and a massive PA that no one knew how to use. It was there that Cobain first played the "Smells Like Teen Spirit" riff for Novoselic and Grohl. In early 1994, Cobain told Rolling Stone that when Cobain first played the now-legendary guitar part, "Krist looked at me and said, 'That is so ridiculous.' I made the band play it for an hour and a half."
According to Novoselic, he helped make it into more of an actual song. "We were just playing the chorus, 'When the light's out, and it's dangerous, here we are now,' over and over again," Novoselic recalled. "I said, 'Wait a minute. Why don't we just kind of slow this down a bit?' So I started playing the verse part. And Dave started playing a drum beat."
The Pixies Problem
There was just one problem: the song sounded a lot like something the Pixies—a band Cobain adored—might produce. "I really remember thinking, 'That is such a Pixies rip,'" Grohl said in 2011 in a BBC documentary about the making of Nevermind. "It was almost thrown away at one point because it just seemed too much like the Pixies."
Getty Images
"I was trying to write the ultimate pop song," Cobain admitted. "I was basically trying to rip off the Pixies. I have to admit it. When I heard the Pixies for the first time, I connected with that band so heavily I should have been in that band—or at least in a Pixies cover band. We used their sense of dynamics, being soft and quiet and then loud and hard."
Essentially since the band's founding, they had listened to a "steady diet" of the Pixies—as well as Mudhoney, Tad, Coffin Break, and The Sugarcubes—on their long road trips. Nirvana's debut album, 1989's Bleach, didn't use the soft-quiet verses/loud-hard chorus dynamic, but the 1990 single "Sliver" did.
While on a European tour to promote "Sliver," Cobain met with Ken Goes, the Pixies's manager, under the pretense of Goes possibly managing Nirvana. Instead, Cobain spent most of the meeting asking questions about the Pixies. Goes described Cobain as more than a fan of the Pixies; he was a "student." When Charles Thompson, a.k.a. Black Francis of the Pixies, suddenly walked into the hotel, Cobain turned down Goes's offer to introduce him and ended the meeting entirely; apparently, Cobain didn't feel worthy of meeting such indie rock royalty.
Months after "Smells Like Teen Spirit" had been recorded, Cobain still seemed worried it sounded too much like a Pixies rip-off. As Nirvana soundman Craig Montgomery drove with the group down to Los Angeles to shoot the music video for "Smells Like Teen Spirit", Cobain played him the song and asked, "Do you think it sounds too much like the Pixies?"
A Trail of Inspiration
Cobain also, likely unintentionally, took inspiration for the main riff from Boston's "More Than a Feeling." "I take it as a major compliment," Boston songwriter Tom Scholz said, "even if it was completely accidental." Nirvana made light of the similarity during their 1992 Reading Festival appearance. Cobain also wrote in his journal, probably half-jokingly, that "Smells Like Teen Spirit" and Blue Oyster Cult's "Godzilla" were also kind of similar.
But the song was too good to throw away. So it was on the set list on Wednesday, April 17, 1991, for Nirvana's headlining gig at the OK Hotel. It was a fundraising benefit event for Fitz of Depression singer Mike Dees, who was trying to avoid imprisonment due to massive traffic fines. At least, that's how the legend goes. Dees himself claimed it wasn't a benefit gig, but said that Cobain allocated $250 of Nirvana's earnings from the show to pay for a tour van for Fitz of Depression and to help Dees pay off some traffic tickets. The rest of Nirvana's earnings went to gas money for the band to drive down to Los Angeles to begin recording Nevermind.
The Seattle music scene was divided that night: Alice in Chains was nearby, at a warehouse on a pier masquerading as a music club, performing for Cameron Crowe's movie Singles (1992). Still, it was a packed house at OK Hotel—and the crowd was about to witness music history.
Watch the performance above and you'll notice that the song's memorable lyrics, especially with the verses, appear nowhere near finished. "Here we are now, entertain us" was already established—Cobain claimed it was something he used to say as an icebreaker when he showed up to a party.
A Gen-X anthem is born
As far as the other lyrics go, Cobain took his time, and at one point showed them to Novoselic and asked what he thought. "I checked them out and said, 'I think they're pretty cool,'" Novoselic recalled. "But then he seemed disappointed that I wasn't just raving about them. But the thing was that I just didn't get them the first time I read them. And then I started listening to it in the song format, and then I had an idea of what he was talking about. He was talking about kids, commercials, Generation X, the youth bandwagon, and how he's really disappointed in it, and how he doesn't want anything to do with it."
Novoselic wasn't alone in his interpretation of "Smells Like Teen Spirit." The song has been described as "an anthem for Generation X" so often that it may as well be an alternate title, but ultimately it's a song about Cobain and a moment in time.
For his 2001 Cobain biography Heavier Than Heaven, Charles R. Cross was given unprecedented access to Cobain's private journals. In the book, he writes:
"Though Kurt never specifically addressed it, his most famous song, 'Smells Like Teen Spirit,' could not have been about anyone else, with the lyrics 'she's over-bored and self-assured.' 'Teen Spirit' was a song influenced by many things—his anger at his parents, his boredom, his eternal cynicism—yet several individual lines resonate with Tobi [Vail]'s presence. He wrote the song soon after their split, and the first draft included a line edited from the final version: "Who will be the king and queen of the outcast teens?" The answer, at one point in his imagination, had been Kurt Cobain and Tobi Vail."
Cobain did not ask who the king and queen of the outcast teens were, nor did he sing about a woman who was over-bored or self-assured, to the OK Hotel audience that night, which consisted of approximately 500 fans, as well as the two bands that opened for Nirvana. One of those bands was Dees' Fitz of Depression, of course. The other was a band with a Teen Spirit-wearing drummer. Had her ex-boyfriend's lyrics about heartbreak been less oblique, her deodorant might have been given more of a test.
This story has been updated for 2020.