9 Ingenious Pieces of Space-Saving Furniture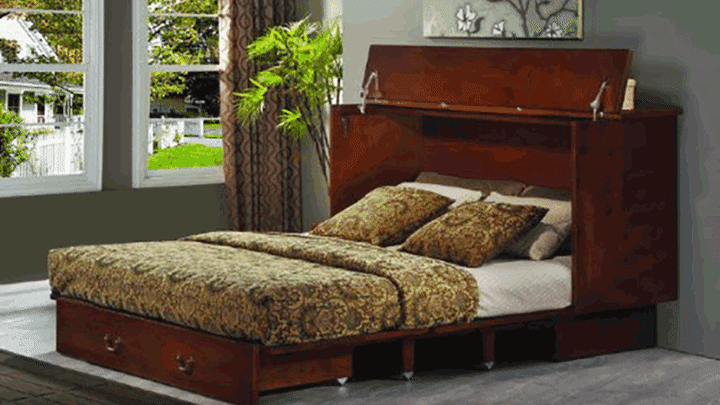 Amazon / Amazon
Furnishing a home can be difficult because you have to balance your desire to have cool stuff with the reality of having sufficient living space. Commissioning designers to custom build furniture that transforms and disappears can be very expensive, but you don't always have to go the custom route to get the best results. Here are some clever space-saving furniture options you can find online or at a store near you.
1. SONGMIC STORAGE OTTOMAN; $55.99
Ottomans are a classic way to store (or hide) your things when they're not in use while also providing additional seating for you and your guests. This model features over 44 inches of seating space and an easy-to-clean faux leather exterior.
Find it: Amazon
2. FURINNO FOLDING TABLE; $55.71
If your living space is limited, consider buying a dining table that can do triple duty. This table easily transitions between its three stages: a full dining table, a smaller desk, or a slim stand that can be tucked away until it's needed.
Find it: Amazon
3. PWR+ PORTABLE LAPTOP STAND; $39.90
Don't take up space with a desk that you hardly use. This lightweight aluminum collapsable desk can be locked into various working angles and heights, and it shrinks down small enough to be slid under a couch when you're done.
Find it: Amazon
4. KIDNIC FOLDING PICNIC TABLE; $65.27
Giving the little ones their own space to play is important, but that doesn't mean it has to be permanent. This kiddie picnic table is lightweight and collapses within seconds so that it can be stored for tomorrow's activities.
Find it: Amazon
5. FU-CHEST CREDEN-ZZZ CABINET BED; $1879
Advertised as an alternative to a Murphy bed, this mattress folds into a shorter freestanding cabinet rather than a tall wall unit or wardrobe.
Find it: Amazon
6. IVYDESIGN PICTURE TABLE; MODELS START AT $1067
Instead of hanging a beautiful picture above your rarely used dining table, invest in a table that becomes the art when not in use. See it in action in the video above.
Find it: IvyDesign
7. ORLA REYNOLDS HIDDEN CHAIR BOOKCASE; $800
Instead of stacking unused chairs in a corner, this bookcase hides them in plain sight by doubling as a storage rack.
Find it: Orla Reynolds
8. IKEA MALM STORAGE BED; $499
One of IKEA's staple pieces, the Malm Storage Bed frame comes in Full/Double or Queen sizes and features a large storage area beneath the mattress. Storage beds with drawers are cool, but the division of the drawers limits the size of the objects you can store. With this bed, ironing boards, containers filled with winter clothing, and other awkward objects finally have a place to go.
Find it: IKEA
9. URBAN SHELF SIDE TABLE; $15
This handy side table alternative gives you a flat surface to put your drink or smartphone on while lounging on the couch, and it can be easily tucked away when not in use. It unfortunately can't support the weight of a laptop, but a beer, the remote, and your charging phone will be right at home.
Find it: Amazon